Fox News' Shepard Smith Cuts Off Right-Wing Conspiracy Theorist Claiming Notre Dame Fire Was Deliberate
Fox News host Shepard Smith immediately shut down a controversial right-wing French caller's conspiracy theory suggesting that the Notre Dame Cathedral fire may have been intentionally set.
Smith offered a concise and immediate rebuke during live on-air coverage of the Paris cathedral's burning after Philippe Karsenty, a former right-wing political candidate, floated the idea Notre Dame was set ablaze by potential terrorists. Karsenty was previously sued for libel after he accused the France 2 network of staging the killing of a 12-year-old Palestinian boy, Muhammad al-Durrah, in 2004.
Smith labeled conspiracy theorists and similar unfounded claims "counterproductive and injurious to society."
French and Israeli media reports have described Karsenty as a "right-wing extremist" tied to far-right Jewish groups over the Palestinian hoax controversy and the ensuing legal battle. Conspiracy theories claming the fire was "deliberate" began popping up on American right-wing media outlets, including Infowars, within minutes of reports of the Notre Dame fire.
"I was close to the scene when it happened, but I left because I wanted people to work," Karsenty began. "Everybody was in shock, even if nobody died it was like a 9/11, a French 9/11, you know? And it's a big shock. This church that was there for more than 850 years, and even the Nazis there didn't destroy it."
But then Karsenty's phone call with Smith, widely considered one of Fox News' most moderate voices, descended into uncorroborated causes of the fire that Smith promptly shut down.
"For the past year we've had churches desecrated each and every week in France, all over France," Karsenty said. "So, of course, you will hear the story, the politically correct story, political correctness, that it is probably an accident."
"Sir, sir sir, we're not going to speculate here of the cause of something we don't know," Smith shot back. "If you have observations, or you know something, we would love to hear it."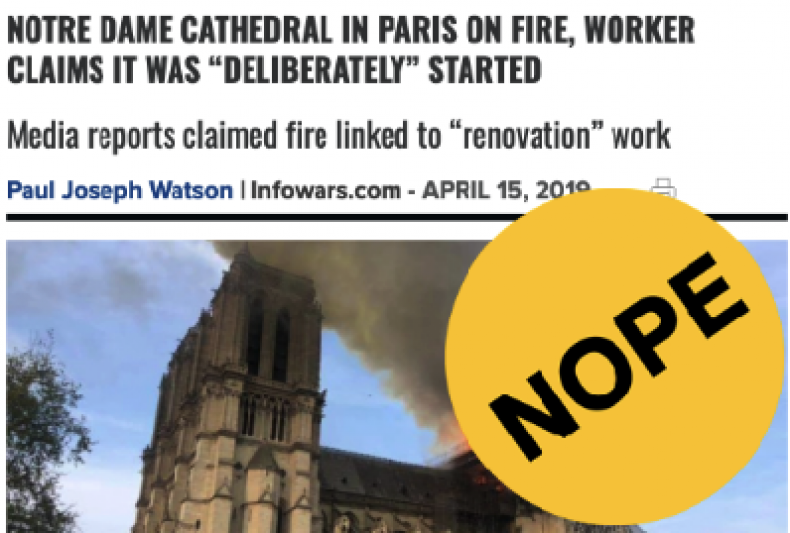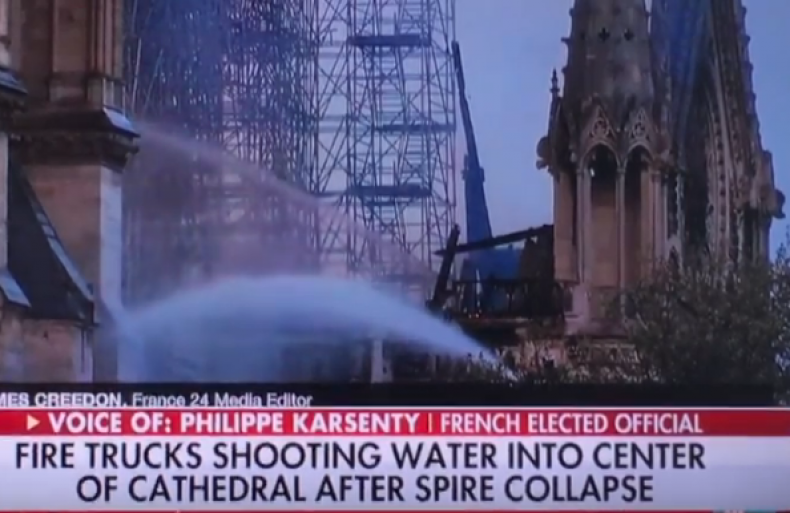 "No I'm just telling you something that we need to be ready—" Karsenty began, before Smith cut him off and ended their call.
"No sir, we're not doing that right here, not now, not on my watch," Smith said sternly. "Phillipe Karsenty, it's very good of you to be here."
The Fox News chyron during Smith's segment identified Karsenty as a "French elected official," although it's unclear if he holds office currently.
"We're watching at least the partial destruction of a world icon. Notre Dame Cathedral has been burning for two and a half hours. The initial reports we got were the fire started at a construction zone in the rear," Smith explained after ending the call with Karsenty. "We are thousands of miles away, and the man on the phone with us has aboslutely no information, of any kind, about the origin of this fire, and neither do I.
"The fire investigators will, at some point, come to a determination about what caused this and conspiracy theories about anything are worthless," Smith continued. "And in many cases, counterproductive and injurious to society. And those who entertain [conspiracy theories] are not acting in the best interests of the people in this planet."