Joe Arpaio Revives Birtherism, Defends Record as Sheriff, Teases Return to Politics in Fresno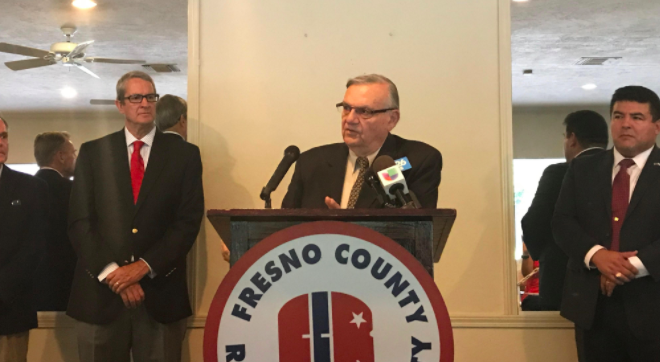 On a speech on Friday in Fresno, California, Joseph M. Arpaio, billed on the evening's program as "America's toughest sheriff," delighted local Republicans with his pronouncements. He promised to restart his investigation into the veracity of President Barack Obama's birth certificate, suggested he might run for a congressional seat, perhaps the one held by Arizona's Senator Jeff Flake, and lambasted professional football players for their National Anthem protests, which he called "little Mickey Mouse political games."
Arpaio served as the sheriff of Maricopa County, Arizona, for 24 years, relinquishing his seat on the same Election Day in 2016 that saw Donald J. Trump win the presidency. Arpaio, known for his unequivocally tough stance on illegal immigration, was an early endorser of Trump, giving the Manhattan billionaire credibility with the nativist wing of the Republican Party.
Trump did not forget the loyalty of Sheriff Joe. In late July, Arpaio was convicted on contempt of court charges, the result of his refusal to cease profiling Latinos in the greater Phoenix area that was his department's domain. In August, Trump bestowed his first presidential pardon on the 85-year-old former sheriff, whom he praised for "more than 50 years of admirable service to our nation." Critics saw in the pardon an endorsement of xenophobia and racism.
Arpaio's foray into blue-as-the-sea California was for a Fresno County Republican Party dinner celebrating the First and Second Amendments. The event was to be held at a banquet hall near the downtown of this Central Valley city, but was moved to a somewhat more distant country club because of a fear of protests by liberal activists. A heavy police presence ringed the venue, the Sunnyside Health & Tennis Club. Nevertheless, some protesters managed to make their point, gathering outside the police barricades. Inside the barricades, residents of a senior citizen center next to the Sunnyside country club displayed placards. "Arpaio Trumps Bitch," one of these said.
There was some hostility, too, during a pre-dinner press conference. Earlier in the day, Arpaio had announced that he would resume research into Obama's birth certificate, which was issued by Hawaii. Suspicion fueled by the extreme right that the certificate is fake has been definitively deemed a hoax, one with not-especially-subtle racial insinuations. Nevertheless, Arpaio seemed eager to go after the president whose Department of Justice began investigating him in the spring of 2009, two months after Obama took office. Now that Trump has pardoned Arpaio, the former sheriff is eager to go after Obama again.
Arpaio's renewed birtherism prompted a question from Jeffrey Hess, a reporter with Valley Public Radio, an NPR affiliate in Central California.
"Are you serious?" Hess asked, sounding both incredulous and pained. "I'm just curious if you're actually, seriously continuing this well-debunked argument." Hess added that Arpaio's was "a wildly irresponsible claim. I can't tell if you're serious or not."
"Of course I'm serious," Arpaio countered. "The facts are there." Arpaio asserted that he was not a racist. During both the press conference and the dinnertime speech that followed, Arpaio alluded to the fact that he has two Hispanic grandchildren. He did so by making a protracted promise of not talking about them.
Much like the president, Arpaio seems to thrive on conflict and to derive immense pleasure from theatrics. While it seems unlikely that he truly will revive the birtherism that once afforded him national prominence but is no longer a trenchant issue on the right, he was clearly energized by the exchange with Hess. Trump is similarly galvanized by confrontations with reporters. And as much as both men malign the media, they plainly love the attention of journalists.
The attention of adoring crowds is even better. Hillary Clinton won Fresno County by six percentage points last November, a far narrower margin than she enjoyed for the entirety of California, which she won by 30 percentage points. Located in the Central Valley, Fresno is an agricultural community that shares few concerns with San Francisco or Los Angeles. Devin Nunes, the local congressman, was an avid supporter of Trump who attempted to steer the House Intelligence Committee, which he chairs, away from an investigation of the Trump campaign's possible collusion with Russia. (The effort by Nunes failed.)

As the crowd grew and guests gathered around a cash bar, local right-wing radio host Trevor Carey inveighed against "socialist seditionists" who wanted to take away Californians' guns and rights. He called Arpaio a "great American." Nobody disagreed.
"This is a very conservative area," explained Steven C. Bailey, a former state judge who is now running to become the state's attorney general. "Fresno always has been."
The crowd that showed up on Friday night included a cowboy in a wide-brimmed hat and a Sikh man in a bright orange turban. There was the obligatory Make America Great Again gear, but also the navy blazers of establishment Republicans. One young man drove down from Berkeley, about three hours to the north. Wearing a sleeveless black T-shirt that called for respect of the American flag, he expressed relief at being in the company of so many conservatives and libertarians.
One young woman, who was a native of Fresno but now lives in San Francisco, described herself as a progressive. "My intent was to go to listen, learn and try to find even the smallest things we could agree and connect on." And while she endured the entire event, the comity she sought proved elusive. "Their politics were close-minded and harmful," she said.
It was not a night of political nuance. The region does not share in the prosperity of coastal California, making it more like Detroit than Pasadena in some respects. And while the region is famous for its agricultural fertility, the influx of undocumented workers has caused friction with the region's middle-class whites. That makes many here acutely receptive to the likes of Trump and Arpaio.
"I admire the sheriff," one middle aged woman said of Arpaio before the dinner began. "I'm glad the president pardoned him." That sentiment prevailed.
The dinner began with the county Republican chair, Fred Vanderhoof, noting that the head of the Democratic National Committee, Thomas E. Perez, had recently said that it was "shameful that the Fresno County Republican Party is fundraising off one of the nation's most notorious agents of racism and bigotry."
"We count that as a badge of honor," Vanderhoof said. A subsequent recitation of the Pledge of Allegiance was prefaced with an obligatory dig at players in the National Football League who refused to stand for the National Anthem the previous Sunday. Doing so in Fresno, it was suggested, would have been unwise.
Dinner was Mexican food, in what was an ironic touch, given Arpaio's longstanding hostilities with Arizona's neighbor to the south. And though the fare lacked spice, Arpaio provided plenty of that during his speech. His talk lasted only 30 minutes, but it managed to pack in an impressive amount of provocation, which the crowd of about 200 eagerly consumed.
The earlier exchange with Hess, the radio reporter, appeared to be on Arpaio's mind, as he alluded to Obama's birth certificate early and often during his remarks.
"I'm not done with it yet," he said of the investigation. Trump, himself an earnest birther, concluded in September 2016 that Obama "was born in the United States, period." Arpaio does not share that view, calling the 44th president's presumably faked birth certificate "the biggest coverup in the United States." Asked later in the program if he thought Obama was born in Kenya, as some on the extreme right believe, Arpaio demurred. "I don't know. I don't care," he said. "All I care about is his fake government document."
Arpaio also insinuated that Obama and his first attorney general, Eric H. Holder, were motivated to investigate him because they were doing the bidding of George Soros, the billionaire Hungarian-American financier and philanthropist who is frequently the target of anti-Semitic conspiracy theories. Judging by the audience's response at the mention of his name, Soros is even more disliked by the Republicans of Fresno County than Colin Kaepernick, the former San Francisco 49ers quarterback who began the National Anthem protest in 2016.
During both the press conference and the main event, Arpaio suggested that he would soon return to politics. "I'm not out of politics," he said. "I'm back in it." Arpaio was elected to six consecutive terms as Maricopa County sheriff. Despite a loss at last year's election to Paul Penzone, he believes voters yearn for his return. That could mean he intends to run against Flake, the Arizona Republican who is popular with his fellow senators, but not with his constituents (one attendee badly wanted Arpaio to challenge Sen. John McCain, who is not facing reelection until 2022, as Arpaio pointed out). Flake has repeatedly attacked Trump, including in a recent book, Conscience of a Conservative. Trump, in turn, has all but promised to provide him with a primary challenger next year. On Friday night, Arpaio implied he was up to the task, despite being 31 years Flake's senior (though he did not explicitly say he would challenge Flake). Perhaps he'd been bolstered by Tuesday night's victory in an Alabama special primary by Roy S. Moore, the twice-removed state chief judge who is even more extreme in his views than Arpaio.
Certainly, the notion that he engaged in the racial profiling of Latinos, or that the jails he administered violated human rights, does not burden Arpaio's conscience. "He knows I'm not guilty," Arpaio said of Trump's pardon, casting himself as a diligent public servant. "I'm not a hero," he said. "I'm just a guy doing my job."
And while some Republicans have grown despondent over Trump's performance in the Oval Office, Arpaio isn't one of them. At one point, he said he supported "everything" the president was doing, including a potential deal on Deferred Action on Childhood Arrivals with congressional Democrats. That would run counter to Arpaio's intransigence on illegal immigration. He did propose his own solution to the plight of Dreamers: Deport them, but afford them an expedited path for a legal return to the United States: "Get the right papers and come on back." The idea was met with applause.
Showing no signs of exhaustion, Arpaio took several questions from the audience. These revealed just how far Fresno is from San Francisco: certainly far more than the 190 miles that separate them on the map. One questioner wondered what could be done in California to replicate Arpaio's notorious Tent City jail, where inmates wore pink underwear and temperatures could reach 120 degrees Fahrenheit. Another asked, in earnest, if county sheriffs had the authority to apprehend elected officials. If so, could they slap a pair of handcuffs on California's 12th District representative, Nancy Pelosi?
One man wanted Arpaio to sign his copy of the U.S. Constitution, but Arpaio politely declined to do so. He didn't know the law regarding putting his signature on a federal document, and he didn't want to do something illegal.