Sheriff Sparks Outrage With Post Against 'Incentivizing' Beggars Amid Labor Shortage
A Colorado sheriff discouraged his town from giving money to beggars amid the COVID-19 labor shortage, sparking controversy on Facebook.
Larimer County Sheriff Justin Smith took to social media Saturday night to address the number of "panhandlers" waiting outside of businesses in the county.
"Have you noticed recently- every time you walk out of a business plastered with HIRING and HELP WANTED signs- you are confronted with these folks?" Smith wrote, captioning a photo of two men standing on a street corner.
One of the men pictured is shirtless and holding a handwritten sign on a piece of cardboard. The other man is sitting on the ground.
Smith asked the people of Larimer County, in the Fort Collins area, to stop giving money to people begging in the streets, like the ones he photographed.
"Here is a request from your Sheriff- Please don't give them money," Smith wrote. "If you are feeling generous....or guilty- instead, park your car, walk back into the store and hand that $5 to someone who is actually working and struggling to get by. That gesture will be appreciated and will help someone who is already working to help themselves."
The sheriff also criticized the government for giving "people more [money] to sit home" during the pandemic than they would make if they went back to work. He said offering the individuals money is "incentivizing them to not work."
"If you are fed up with the shortages in production, the broken supply chains and the punitive inflation we are seeing- incentivize people to get back into the workforce," Smith's post concluded. "That is the solution to our problem."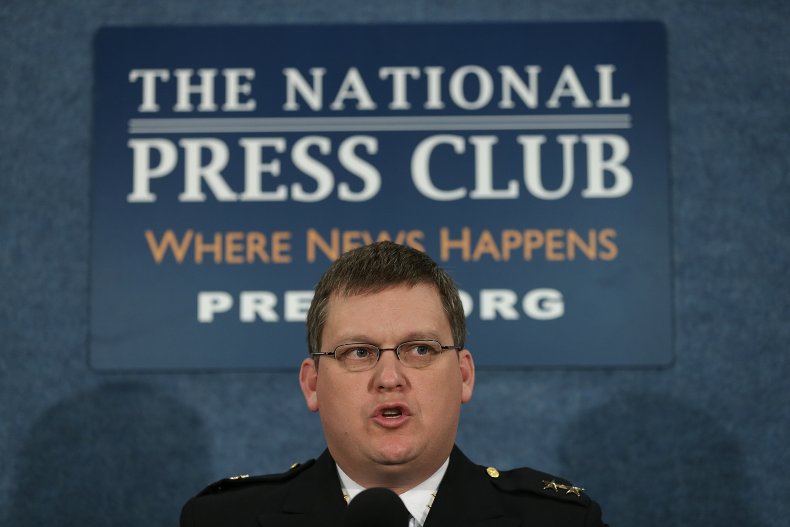 The post received over 3,000 comments, 1,800 shares and nearly 5,000 likes by Monday morning. Mixed reactions were shared by the community in the comments.
Some commenters called Smith's take "disgusting," "cruel" and "disgraceful." A number of dissenting comments brought up that unhoused people do not choose to be homeless citing factors including mental illness, criminal records and a lack of education preventing people from getting a job.
"Sorry, Justin, but most people are not homeless by choice. Many have a cascade of issues that can interfere [with] functioning and that includes a mental health crisis with most. Many homeless are VETERANS, that served and don't really have resources available where they can easily get care. Grow a soul, Justin," Ann Coolidge wrote.
"I can't believe a sheriff is actually asking people to stop helping those who need it. Because of this post, I'm going to give those people money more frequently. Some sheriff you are. Disgraceful," William Gross added.
Several community members praised the sheriff and agreed with his post. With the labor shortage caused by the pandemic, the sheriff's supporters cited community resources and an abundance of jobs in the community willing to help out people in need.
"Couldn't agree more with this. There are plenty of jobs out there. There is no reason that people supposedly can't find a job," Cody Pisacka said.
"Fort Collins has numerous services specifically to help these people. If you hand them money you are helping them to live in their problem. You are contributing to the dysfunction [sic] that puts them on the street," Dan Larsen said.
Compromising comments including carrying a "Blessing Bag" as suggested by Carla Jane, would help those in need without directly giving the individuals cash. Others suggested giving away blankets, food and clothing instead.
"While we shouldn't encourage panhandling, we can be kind to those that truly need help," Kirstin "Honsey" McLendon added.
Smith told Newsweek he has dealt with online controversy before, pointing to a number of the commenters being either from outside of the Larmier community or set up specifically to "attack people."
"It's sad that we live in a time that those with opposing views have no tolerance for differing opinions," Smith said. "I know my community I and I've watched as many of these programs sold as helping the homeless have failed miserably. I've served in the shelters and on homeless boards and have been involved in trying to turn the tide [sic] for years."
The sheriff said the 10-year initiative set up for the community's homeless population, Homeward 2020, "failed miserably."
The Homeward 2020 initiative was a think-tank designed to suggest policy, research causes and bring awareness to the homeless crisis in Fort Collins, Colorado.
One-third of the county jail's inmates are transients, according to the sheriff. Smith said the growing issue necessitated a separate population listing on the jail's records website. Nearly 150 inmates labeled as transient or homeless by the county have been booked in 2021, according to the website.
"The providers who are truly trying to help have also pleaded for people to give to programs that have a track record for helping, rather than handing money out to panhandlers," Smith said.
"I cannot in [sic] good conscience stand idly and watch my community turn into a small Seattle, Portland or Los Angeles," the sheriff added.
Updated 8/9/2021, 2:25 p.m. ET: This story has been updated with a statement from Larimer County Sheriff Justin Smith.