Video: 'Super Drunk' Michigan Sheriff Begs To Avoid DUI Arrest In Body Cam Footage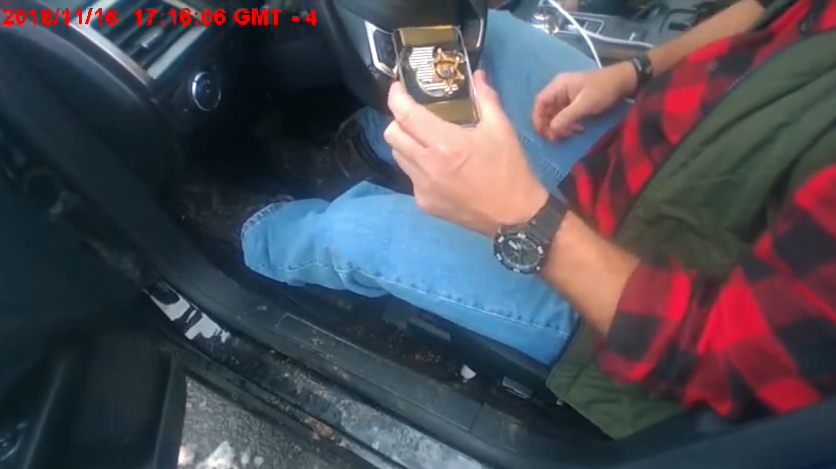 A Michigan deputy's body camera recorded "super drunk" Midland County Sheriff Scott A. Stephenson incoherently ranting and pleading not to be taken to jail after blowing a 0.233 roadside breathalyzer test.
A Freedom of Information Act request submitted by Michigan Live to the Kalkaska County Sheriff's Office revealed Sheriff Stephenson's drunken-driving arrest on November 16 a little more than 100 miles away from his own Midland county. The video begins by showing Deputy Ashley Vansloten waking Stephenson up on the side of the M-66 highway just south of Lund Road in Garfield Township. Vansloten is seen asking what the slumped over man is doing before Stephenson becomes irate and declares "I'm f***ing good."
"Sir. Sir. You need to wake up and talk to me... What's going on today? Nothing? You have got to give me a little more than that, we don't all just sit down and sleep on the side of the road," Vansloten says after opening his Ford Fusion driver's side door. "I need to know you're alright. Right now, you don't look alright."
Stephenson admits he's been drinking and ultimately claims he's consumed "four beers" prior to locals reporting him for being incapacitated on the side of the highway.
"I'm not driving," Stephenson declares, as a chuckling Ashley Vansloten attempts to figure out what happened before his arrival in the drunk-driving predicament.
A stammering Stephenson then attempts to tout his role as a sheriff and displays a commemorative badge in order to get a pass on going to jail. "Yeah, I know, bad, bad deal-ee-o. You know who I am or not? ... I'm the f***ing Midland County sheriff. I'm f***ing good. I had a bad day. I don't need EMS. I don't need you."
"Jesus Christ, I'm begging you," Stephenson continues, adding that he's "embarrassed" about putting Vansloten and Garfield Township Police Chief in the position of having to arrest him for the DUI. "Jesus Christ, I'm a sheriff. I'm a constitutional f***ing officer. You can't take me to f***ing jail. I'm a g**damn sheriff."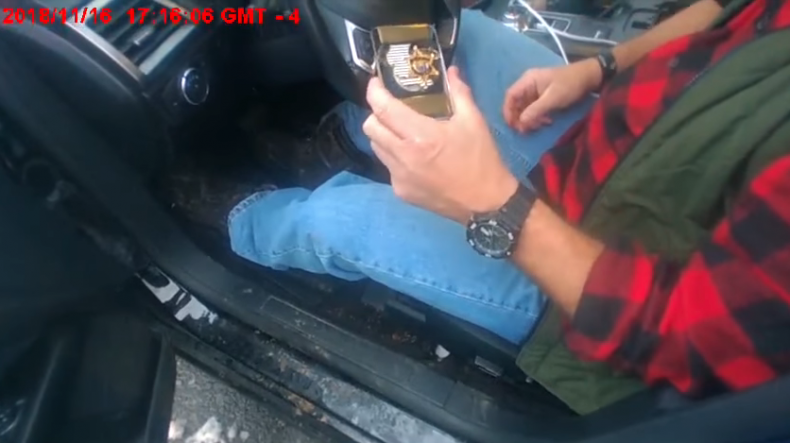 After finally agreeing to take the breathalyzer test, Stephenson's blood-alcohol level hit 0.233. Under Michigan state law, a person is considered legally intoxicated at 0.08 and is considered "super drunk" at 0.17.
Stephenson was ultimately transported from the scene to a local jail before being taken to Kalkaska Memorial Health Center to give a blood sample. On November 30, a few weeks after the arrest, Stephenson issued a press release informing residents he'd consumed alcohol at a deer camp prior to the arrest.
"I failed to hold myself to the standards to which I have set for myself," he said. "I am embarrassed, ashamed and deeply regret the decision to consume alcohol and drive. My poor decision affects not only myself, but my family, the Midland County Sheriff's Office and my constituents. I will accept full responsibility for my decision that day. No one else is responsible."
Stephenson was fined and paid $1,030 and the presiding judge in the case ordered Stephenson on probation for one year as he completes drug and alcohol safety awareness programs and vows not to consume any alcohol.