Sheriff's Comments That Atlanta Shooter Had 'Really Bad Day' Sparks Backlash
The phrase "for him" began trending on Twitter Wednesday in an apparent rebuke of comments that a Georgia sheriff made about the man accused of killing eight people during a series of shootings in the Atlanta area.
Robert Aaron Long, 21, was arrested in connection with the shootings, which occurred at three separate massage parlors Tuesday evening.
Though the shootings remain under investigation, law enforcement officials said Wednesday that the alleged gunman may have had a "sex addiction." Six of the individuals who were shot were of Asian descent, inspiring speculation that the attacks may have been racially motivated. Long is white.
Speaking to reporters at a Wednesday news conference, Captain Jay Baker with the Cherokee County Sheriff's Office said investigators he spoke with were under the impression that Long was aware of the "gravity" of the shootings. Baker said Long told investigators that his alleged actions were not motivated by race, though Baker acknowledged that the investigation was in its early stages.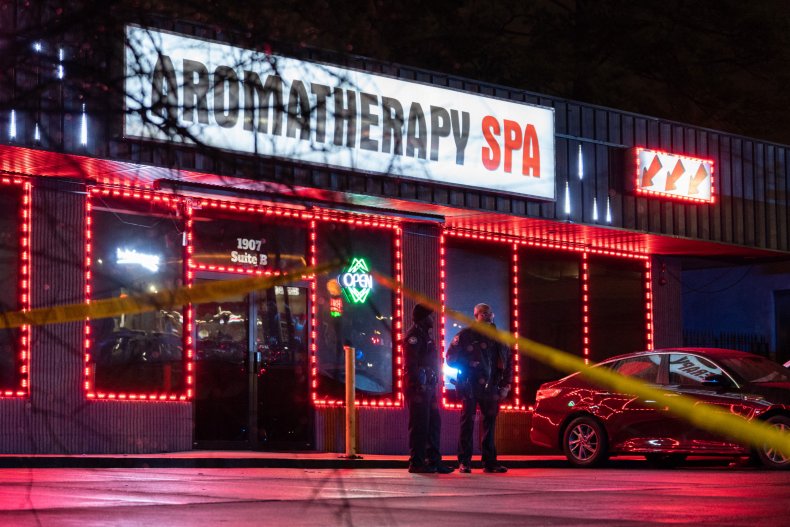 "I spoke with investigators that interviewed him this morning, and they got that impression that, yes, he understood the gravity of it," Baker said. "He was pretty much fed up and had been at the end of his rope, and yesterday was a really bad day for him, and this is what he did."
The mention of the prior day being "a really bad day" for the suspect triggered a wave of anger and frustration on social media. Twitter users recirculated clips from the press conference during which Baker made his comments and added criticisms of their own to his phrasing.
Some Twitter users suggested the phrasing may be evidence of law enforcement officials using "kid gloves" for a white suspect accused of a violent crime.
"'Yesterday was a really bad day for him' is something you say when a toddler misbehaves,'" one Twitter user wrote.
"It was a bad day for HIM??? Are you f***ing serious?" another user tweeted. "8 women are dead and these clowns are talking about how the shooter 'had a bad day.'"
Shannon Watts, founder of the gun safety organization Moms Demand Action for Gun Sense in America, also criticized Baker's phrasing in a tweet.
"It was a really bad day for him and this is what he did..." is a strange way for the Cherokee County Sheriff to describe the Atlanta gunman's murder spree," Watts' tweet said.
Newsweek reached out to the Cherokee County Sheriff's Office for comment and will update this story with any response.