Sheriff's Department Loses 9 Employees to COVID, Over Half of Staff Exposed to Virus
The Broward County Sheriff's Office in Florida has lost nine employees to COVID-19 since the early months of the pandemic, taking a steep toll on a law enforcement agency hit particularly hard by the virus.
At a church memorial service held Tuesday morning for the nine employees, Sheriff Gregory Tony said that more than half of the department's 5,600 employees have been exposed to the virus, while 1,800 employees, or 32 percent, have become infected.
"We didn't lose one, two, three — we lost nine," Tony said, adding that the first of the nine deaths occurred in April 2020.
After disclosing the extent of COVID-19 exposures and infections in the department, he voiced concern that the death toll would grow larger than nine.
"Every time that occurs, we worry about, are we going to lose number 10?" Tony said, calling on the department to continue fighting against the spread of the virus.
"We're not out of this yet. We're still battling, but the successes we've had over the last year and a half have come because we've been able to unite under conflict and not divide," Tony said.
Many states and cities in the U.S. have adopted COVID-19 vaccine mandates for public employees. The virus has become the top cause of death for law enforcement officers in 2021, according to a report from the National Law Enforcement Officers Memorial Fund. But police and other first responders, many of whom are hesitant to get the vaccine, have continued to see high infection rates.
The virus was also the top cause of line-of-duty fatalities for police officers throughout all of 2021, with a death toll of 241. There are no national statistics on the vaccination rate of all first responders, but the figures reported by police and fire departments across the country are far lower than the national vaccination average.
For more reporting from the Associated Press, see below.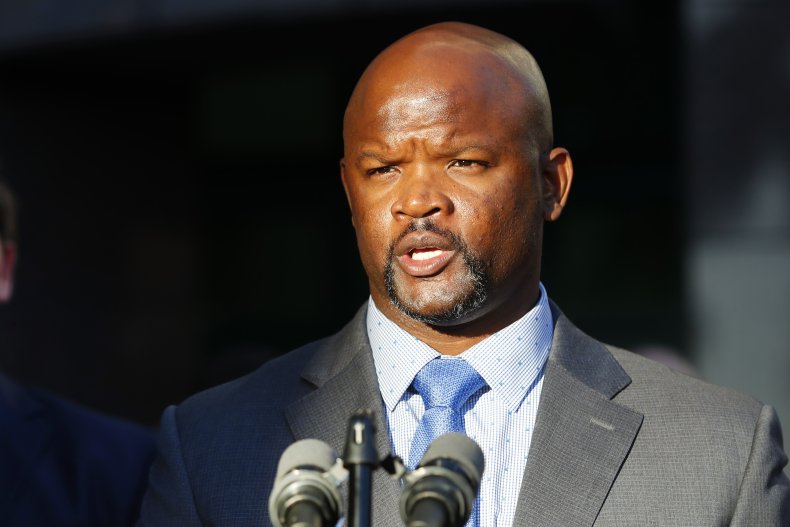 The South Florida SunSentinel reported that the black and white photos of the victims were on stage at the church in Sunrise: Deputy Shannon Bennett, 39; Nikima Thompson, 41; Wiley Huff, 73; Lt. Aldemar Rengifo Jr., 54; Pamela Ford, 54; Stephen Adams, 42; Sgt. Shane Owens, 48; Edwin Sanchez, 61; and Tasha Blackwood, 54.
Tony told their family members, friends and co-workers that each one is greatly missed. A bell tolled nine times in their honor. The sheriff was flanked by an honor guard as American flags were placed in the hands of their relatives.
In Florida, Gov. Gov. Ron DeSantis has prohibited vaccine mandates. The sheriff didn't mention vaccines, but urged his people to remain vigilant, reminding the crowd of several hundred that the pandemic is not over.