Sheriff's Office Removes Photo of Santa Filling out Gun Permit Application After Outrage
A sheriff's office removed a photograph showing Santa Claus filling out a gun permit application from their Facebook page after many accused the post of being insensitive.
The photo, originally posted last Friday by Colorado's El Paso County Sheriff's Office, showed the man dressed as Santa sitting at a desk filling out the form.
It was accompanied by the caption: "Guess who came in to receive his Concealed Handgun Permit today. Did you know the El Paso County Sheriff's Office has issued 49,750 Concealed Handgun Permits with another 2,560 awaiting to be issued?"
But the post was met with chilly reception online, where many social media users accused the sheriff's office of being insensitive as the post came only days after a school shooting in Oakland County, Michigan that left four students dead.
"I'm sitting here in downtown Oxford, MI, waiting for the candlelight vigil to start to pay tribute to 4 students who were murdered by a handgun smuggled into the school. But by all means, tell kids Santa carries a concealed weapon," wrote @jage750.
"I'm just speechless, this isn't a joke, an actual tweet from the El Paso Sheriff's office, days after a school shooting where the shooter got his gun for Christmas and in a state that has had some of the deadliest mass shootings in the country," wrote Twitter user @ CharHappyinMD.
"Another school shooting in the States this week, and this is the Merry Christmas response their cops think is clever and fun. Gross," wrote @Eric_M_V.
"I mean couldn't we at least let the parents bury their kids before we fantasize about Santa packing more than gifts in his sleigh?" Wrote @JohnFischesser.
The office removed the photograph and part of the caption from the post on Facebook Sunday, according to its edit history. However, the photo remained on Twitter as of Monday morning.
A spokesperson for the office told KKTV, a local television news station, that there have been requests to remove the post but that the office maintains a policy not to remove posts in nearly every circumstance.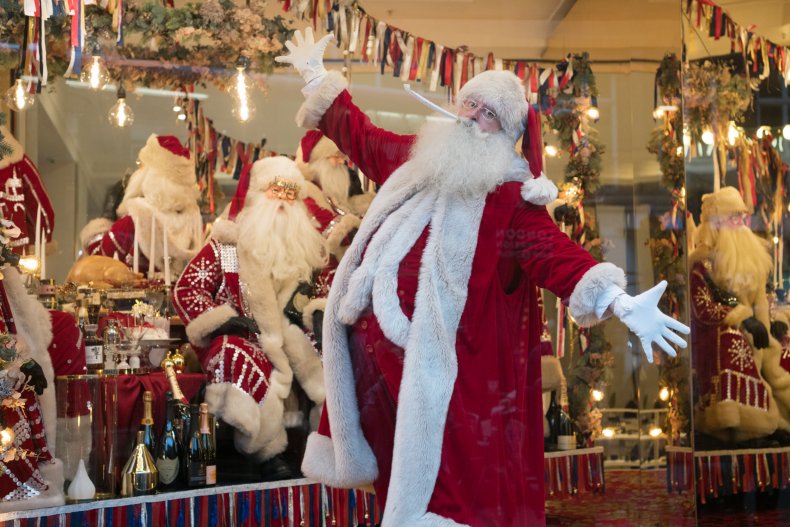 "EPSO intended to highlight our staff in the Concealed Handgun Permit Office, not to be insensitive. Santa correlates to the month of December and we thought he would help to recognize our hard working staff," the sheriff's office wrote in a Facebook comment.
El Paso County, which contains Colorado's second-largest city Colorado Springs, is home to nearly 840,000 according to U.S. Census Data.
Newsweek reached out to the El Paso County Sheriff's Office for comment.