What Happened to Sherri Papini? New Sketches, Details Released Nearly a Year After California Mom's Disappearance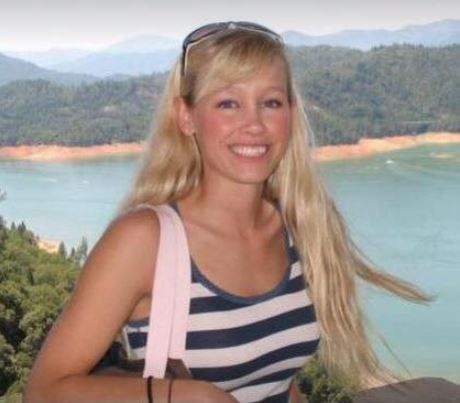 The mysterious kidnapping case of Sherri Papini took several new twists Wednesday that cast more doubt on her claims after authorities released new information that at least one of her statements could be false and that the mother of two had male DNA on her clothes when she was found—even though she claims two women abducted her.
The details, along with the first sketches of her suspected abductors, was the first new information released about the case after nearly a year, and raised even more questions about Papini's disputed claims.
The Shasta County Sheriff's Office released two separate statements to reporters Wednesday, both with differing information and details.
In one version, authorities said they found DNA from a man and a woman, even though Papini said two women had kidnapped her last November.
The version given to the Record Searchlight also said that Papini had an "alleged relationship" with an acquaintance in Michigan. The pair had planned to meet days before she disappeared.
Authorities questioned the man and found he was not involved in her kidnapping, Shasta County Sheriff Sergeant Brian Jackson said. The man's name was not released.
Authorities also released information about a fight Papini got into with one of her captors in which she claimed to have cut her foot, even though workers at the hospital could not trace the injury, the Record Searchlight reported.
Papini told investigators she slammed one of the suspects into a toilet when she was allowed to shower on one occasion. She said she got the injury when she was tussling with the suspect, the newspaper reported.
The sketches released by the FBI show two women, both with their mouths covered. One is younger, has thin eyebrows, curly hair and is wearing large hoop earrings. The other woman is older, has straight hair and bushy eyebrows.
Authorities said two sets of DNA were found on Papini's body. One set, from a woman, was found on her skin. The other was from a male and was found on her clothing, the Record Searchlight reported. The revelation intensifies scrutiny of whether her kidnapping claims were real.
After she disappeared November 2, reports surfaced that Papini's parents called 911 on her multiple times, including one time after Papini was hurting herself and blaming her mother.
Papini was found on Thanksgiving Day in Yolo County, nearly 150 miles from her home. She was covered in bruises, her hair had been chopped off and she'd been branded with a "message" on her right shoulder, something authorities still don't know the meaning behind.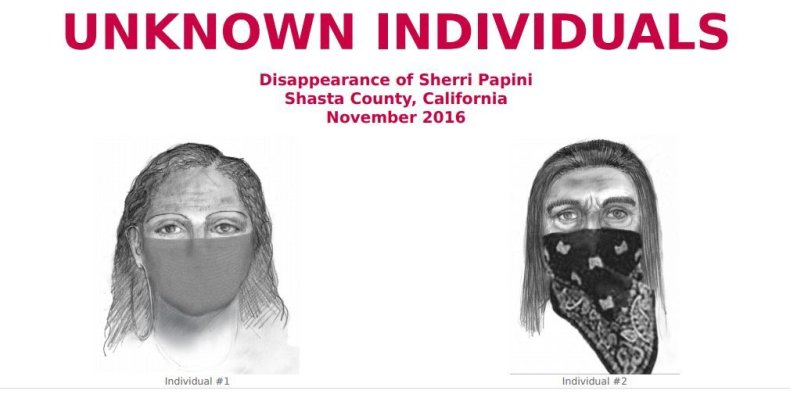 The Shasta County Sheriff's Office also released more information about the message engraved on Papini's skin, saying it was "obscure letters" that were hard to read because "the quality of the brand is poor," the Record Searchlight reported.
Authorities said they have received more than 600 tips in the case and have followed kidnappings in other communities to see whether there are any similarities.
Sherri Papini's husband, Keith, passed a polygraph test after her disappearance and his DNA was tested against the two profiles found, but he was not a match, Shasta County Sheriff Sergeant Brian Jackson said.
Sherri Papini still has not been able to provide a full detailed statement on her 22-day captivity due to her "poor recollection," Jackson said.
A reward of $10,000 is being offered for information that leads to an arrest.
Check back for updates to this breaking-news story.