Sherrod Firing Shows Federal Overreaction on Race Issues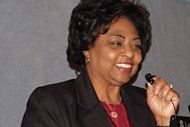 Well, that was quick. Less than a day after she was forced to resign from her job as a state-level USDA director following the discovery of a video that purportedly showed her recalling racist behavior toward a white farmer, the tide is already turning for Shirley Sherrod.
As of Tuesday morning, the NAACP was calling her statements in the video "shameful." Secretary of Agriculture Tom Vilsack demanded her resignation, a decision reportedly supported by both the White House and the NAACP. By evening, after CNN aired an interview with the white farmers in question that suggested that Sherrod had actually gone out of her way to help them save their land, NAACP president Ben Jealous deleted his earlier accusatory tweets. In their place were apologetic ones, claiming he'd been "snookered" by the conservative activists who put the video out there without context in the first place. He followed up with a formal statement:
"With regard to the initial media coverage of the resignation of USDA official Shirley Sherrod, we have come to the conclusion we were snookered by Fox News and Tea Party Activist Andrew Breitbart into believing she had harmed white farmers because of racial bias.
"Having reviewed the full tape, spoken to Ms. Sherrod, and most importantly heard the testimony of the white farmers mentioned in this story, we now believe the organization that edited the documents did so with the intention of deceiving millions of Americans."
Get your unlimited Newsweek trial >
Even Breitbart's friends seem to be abandoning him. By afternoon, fellow conservative commentator Erick Erickson tweeted, "I'm hoping there is more to the video of Shirley Sherrod, because otherwise it seems like the right just got the scalp of a penitent lady." Breitbart, for his part, shows no trace of penance for posting a video that appears to be strategically edited, although he says he's working on getting a copy of the full thing.
The full tape was just released Tuesday evening. Will Vilsack reinstate Sherrod after seeing it? Greg Sargent predicts that he won't. For now, it seems as though the only person who has acted with any integrity at all in the whole affair is Shirley Sherrod. The Department of Agriculture, in contrast, appears to have jumped to conclusions based on insultingly shoddy source material and run with its tail between its legs at the first sign of racial controversy.
Sherrod Firing Shows Federal Overreaction on Race Issues | News