'She's Not Talking to Me': Man Dragged For Criticizing Girlfriend's Frequent Doctor Visits
The internet was quick to tear apart one man after he criticized the frequency of his girlfriend's doctor visits in a viral post on Tuesday.
In a Reddit post published in the platform's popular r/AmITheA**hole forum, Redditor u/RoitersWw asked the subreddit's 3.5 million members if he was in the wrong for raising concerns about his partner's health. Titled "AITA for telling my girlfriend she's seeing the doctor too often?," the viral post has received over 7,600 votes and nearly 3,000 comments.
Explaining that his girlfriend goes to the doctor "A LOT," meaning once or twice per month, the Redditor said that she claims to have many health issues, including hypotension, chronic migraines and a "minor heart condition." u/RoitersWw added that he believes all of her health issues are minor, and lamented that his girlfriend is taking too many medications.
"They all seem like minor issues (except for her migraines) and I feel like she's causing more harm than good by pumping her body full of pills," he wrote.
Describing a handful of symptoms his girlfriend suffers from as a result of taking a myriad of prescribed medications, u/RoitersWw said he confronted her about her prescriptions and frequent doctor visits and questioned their necessity and sustainability.
"I decided to talk to her about her frequent trips to the doctor," he wrote. "I told her that taking too much medication might compromise her health further. That I haven't met someone else that frequents the doctor as much as she does."
"And I also brought up the fact that health care is expensive... and asked her how she's planning on sustaining her lifestyle," he added.
According to the Katz Institute for Women's Health, many serious women's health issues are misdiagnosed or dismissed as something less critical. From heart disease being diagnosed as anxiety to various autoimmune disorders being mistaken for depression, the institute reports that women receive disproportionately less-severe diagnoses, even when dealing with critical health issues.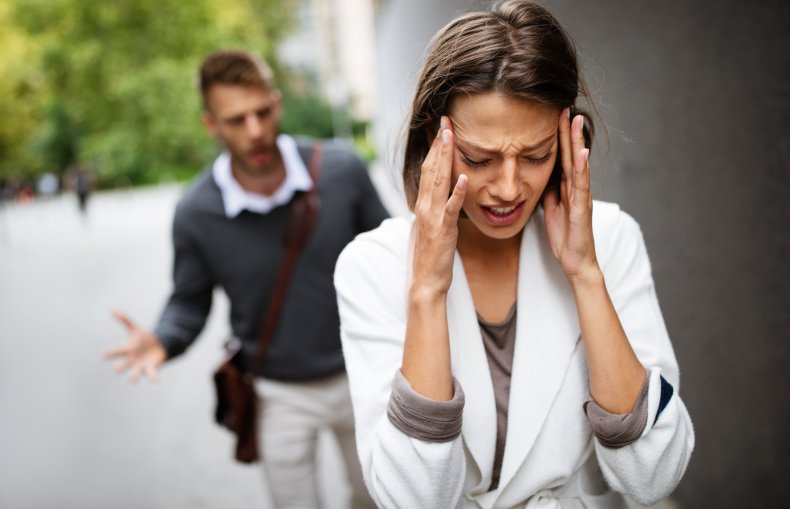 However, diagnoses made by medical professionals and opinions offered by romantic partners are surrounded by two entirely different conversations. While data collected by American Emergency Medicine shows that women in emergency rooms with severe stomach pain often have to wait 33 percent longer than men with similar symptoms, access to quick medical care can be impacted before ever reaching the hospital or doctor's office.
Last June, Psych Central reported that attempts to question or affect a romantic partner's medical care are a sign of a controlling and potentially-harmful relationship. Keeping close track of a partner's medical appointments or preventing them from seeking medical care are two ways for a controlling partner to gain more control and border on psychological aggression.
More than 43 million women and 38 million men have reported experiencing psychological aggression by an intimate partner in their lifetime, according to the Center for Disease Control and Prevention. A study published by the National Institutes of Health also show that, in the mid-2000s, 4.6 percent of women outpatients "reported that their partners prevented them from seeking or interfered with health care."
Although u/RoitersWw maintained he is simply concerned for his girlfriend's health, the Redditor said his inquiries about her medical care were met with vitriol.
"She got upset at me and said that I have no right to speak on behalf of her body. That's she's fully aware of the side effects of the meds she's on, but that she's fine with it," he wrote.
In the post's top comment, that has received over 30,000 votes, Redditor u/benm421 stood firmly with the original poster's girlfriend, and eviscerated him for not taking her health concerns seriously.
"Hypotension and a heart condition are more concerning than migraines," they wrote. "In short you have no idea what the hell you're talking about. She's seeing her doctor about her health. [You're the a**hole]."
Another Redditor, u/Sweeper1985 echoed those sentiments, and said that u/RoitersWw was wrong for his response to his girlfriend's frequent doctor visits.
"Well someone's got this completely a**-backwards. She's not sick because she's going to the doctor a lot. She's going to the doctor a lot because she's sick," they wrote. "She doesn't need your unqualified advice or judgment on top of the health issues she's dealing with."
Further examining the original poster's medical merit, Redditor u/scampwild punctuated the viral thread with one final question.
"So," they began. "What medical school did you go to?"