Shia LaBeouf Wrestled Tom Hardy While Completely Naked
First We Feast's Hot Ones web series — in which celebrities are asked probing questions while being subjected to chicken wings doused in sauces that steadily climb the Scoville Unit scale — is well-known for drawing surprising and meme-worthy revelations out of its guests.
Actor Shia LaBeouf is no exception to the rule. When the actor appeared in the series' Season 10 premiere, confessions flew fast and furious as the bones piled up. He spoke about finding his own agent in the yellow pages as a kid, giving his Indiana Jones hat to Kanye West, mocked his own red carpet looks and told a rather cheeky story about the time he wrestled fellow actor Tom Hardy completely in the buff.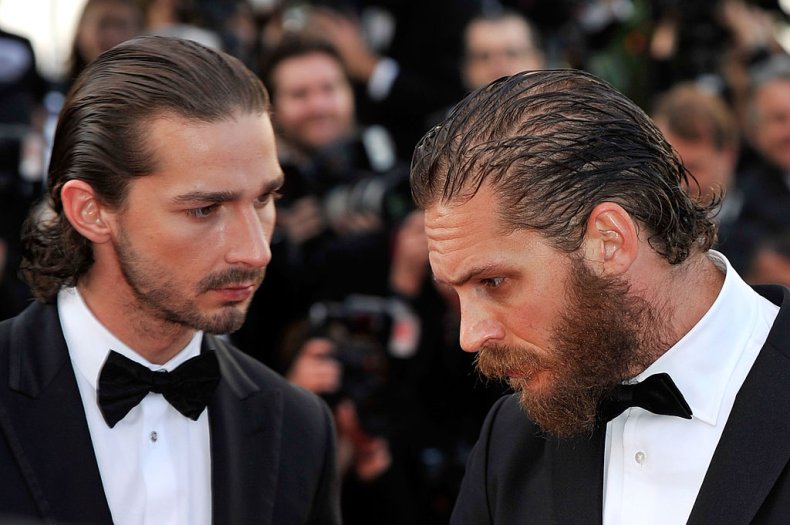 Asked to set the record straight by host Sean Evans about infamous myths surrounding his career, LaBeouf was more than happy to spill some tea. When he was questioned if rumors surrounding a fight in which the actor knocked out Tom Hardy on the set of the movie Lawless were "overstated." LaBeouf replied that they were "a bunch of bullshit."
"We used to wrestle all the time," LaBeouf continued, "and he's a big f*cking person. Especially then, he was getting ready for Bane." Hardy portrayed the super villain in the DC Universe film The Dark Knight Rises.
"My girlfriend at the time was over at my house and we were on his balcony. We saw him and his trainer coming back from the gym — and we used to f*ck with each other all the time, but if just so happened that this one week my girlfriend was in town," LaBeouf added.
An animated illustration portraying LaBeouf nude in bed with his girlfriend while Hardy burst into their room then began to play out over audio of the rest of the story.
"And he runs into the room — my girlfriend that I was with at the time was terrified... And she covered up and she ran into the kitchen ... he picked me up. I didn't have [anything] on, so now I'm naked on his shoulder, we're in the hallway we're wrestling around."
LaBeouf reports that someone named Peanut filmed the entire encounter, to his discomfort.
The wrestling match concluded with Hardy falling down a staircase after LaBeouf managed to inch him towards it. According to LaBeouf, Hardy was indeed knocked out by the fall and hurt his back, but no fight took place.
"We were having some cutie wrestling match," LaBeouf concluded.
New episodes of Hot Ones are uploaded every Thursday afternoon.