Ship Any Item With Shyp Without Putting Your Pants On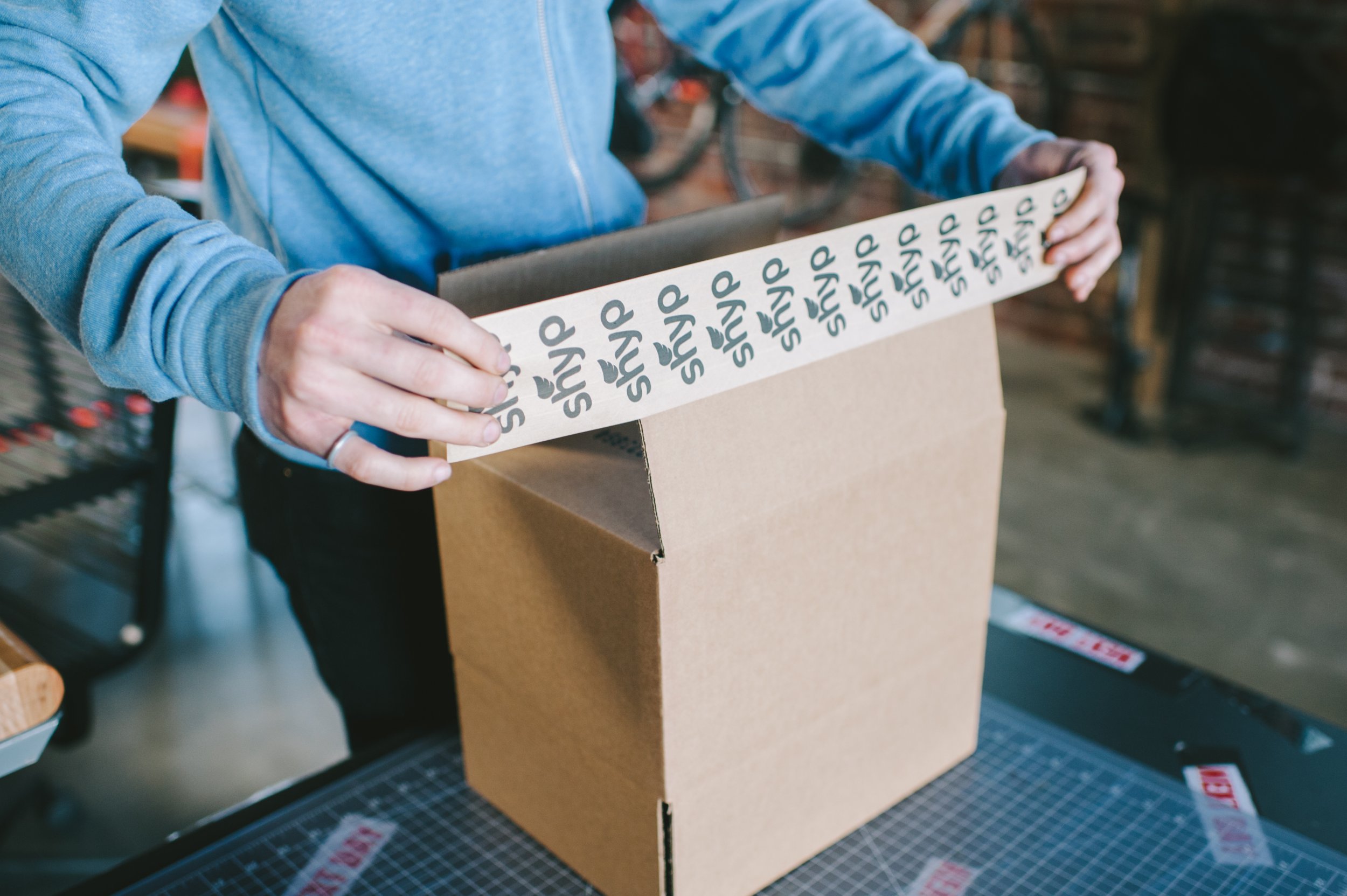 It is already possible to summon almost any item to your doorstep without leaving the comfort of your home, but now you don't have to leave the house to send items either. Thanks to a new startup called Shyp, launching in New York City today, the days of lugging a package to the post office and waiting in line to send it may soon be a distant memory.
Using the Shyp app, customers take a picture of the item or items they wish to send, identify a pickup point and enter a destination. You can also indicate special delivery instructions, such as expedited delivery or "meet me in Starbucks to pick up the item." Within 20 minutes, a "hero," as Shyp calls its couriers, will arrive to take the package off your hands. And that's it on your end—no weighing, packing material or boxes required. And you can easily track your package as it makes its way to its final destination.
The back end of the Shyp service is a bit more complex than that happy-face scenario. On the day of its launch, Shyp had 10 heroes stationed around NYC on bikes or in cars. Once a pickup request is submitted, the closest hero is pinged. If the notified courier is traveling on bike and the item requires a car, he or she will pass the request along.
When the item is retrieved, the hero places it into a bag with a unique, trackable QR code. A larger vehicle, called a "satellite," travels around the city to collect items from couriers and transport them to a warehouse for packaging and pickup.
Shyp warehouses have machines that create custom-sized packaging for each item out of cardboard. This customization ensures the smallest box necessary for your delivery, which brings shipping costs down. Shyp is given discounted bulk-shipping rates by shipping companies because it has just one location for them to pick up items. The company charges customers the retail price for shipment, plus $5.
How does pawning off your errand stay affordable? In a Kayak-like fashion, Shyp automatically compares Postal Service, FedEx, UPS or DHL prices and chooses the cheapest option.
But Shyp won't ship everything. It works within the guidelines of shipping companies to determine what it will and will not package. It will not accept illegal items, and alcohol is off limits. Due to current capabilities, the size limit is restricted to "must fit in the backseat of a car." But as long as an item fits those guidelines, it is up to them to make it work. Not to give future customers any ideas, but Kevin Gibbon, Shyp's co-founder and chief executive, said in an interview with Newsweek that if you provide the dry ice, they'll even ship ice cream.
Shyp also assures that its packaging is top-notch by offering a $1,000 guarantee. Even if the shipping company is responsible for any damage, Shyp will write you a check for the price of the item and refund the shipping cost within 48 hours.
The company launched six months ago in San Francisco and has handled 25,000 shipments there. Though many startups are short-lived, especially ones that require expensive warehouses and large staffs, Gibbon is optimistic his company will thrive.
Small businesses are the moneymakers for Shyp, and in many cases Shyp is the most convenient option for them. Shyp eliminates the need for buying materials and dedicating manpower and time to shipments. Conversely, small businesses more consistently need items picked up, which sweetens the deal for Shyp. But Gibbon does not discount the value of single customers, predicting that the holiday season "is going to be huge" in terms of usage.
Note for New Yorkers: Shyp currently serves only Brooklyn (Greenpoint to Redhook) and Manhattan (up to 96th Street). Hours for the city that never sleeps are slightly different from those in San Francisco: Shyp will pick up items between 8 a.m. and 8 p.m., seven days a week. As long as an item is picked up before the end of business, it will be sent that day.
Shyp plans to continue expanding the area it covers in San Francisco and New York and is expected to launch in Miami by December.
Ship Any Item With Shyp Without Putting Your Pants On | Tech & Science