Passengers aboard a ship off the east coast caught a glimpse of a giant shark swimming next to the vessel, a heart-stopping video has shown.
Alex Albrecht, a student who was on board, managed to capture the eerie footage of the huge creature as it swam near the surface, alongside the tall ship SSV Corwith Cramer.
Albrecht shared a clip to his TikTok page @.alex.albrecht, saying: "Sailed six weeks in the Atlantic saw this big f****** shark."
The student has an incredible view of the shark, as he is above the crowds, standing on the topsail yard of the ship, which was sailing from Florida to Massachusetts.
In the background of the video he can be heard saying "holy f***," and there are shrieks and cries from the passengers below as they rush to the edge to try to catch a glimpse of the shark.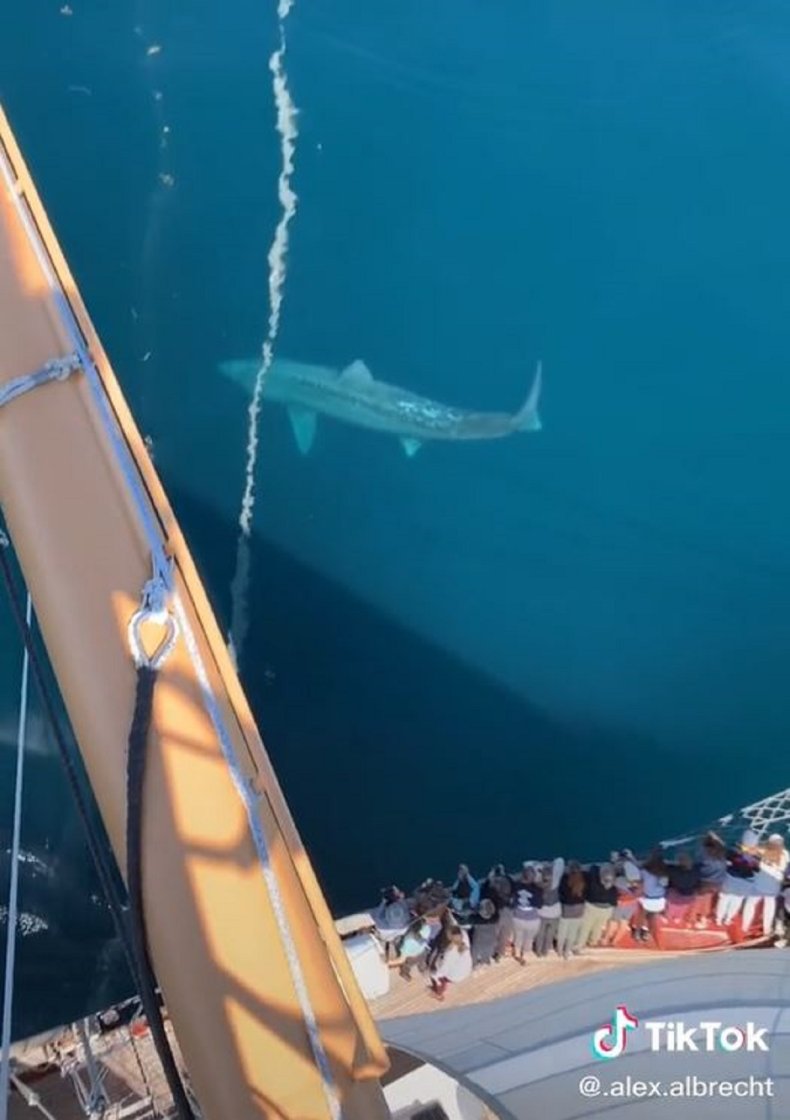 Speaking to Newsweek, Albrecht said: "We could climb up into the rigging whenever we wanted and I was lucky enough to see the shark from up there. When I first saw it, I was frozen with awe, then yelled down "big ass shark" to the people on the deck below.
"I'd never seen one before, but a shipmate saw one from aloft a few days before. We thought it was about 25 feet long but easily could have been a bit longer. We saw it for probably less than 5 minutes before it swam away."
Albrecht is thought to have been with other students on the ship, which is owned by the Sea Education Association. He said: "I was doing a program on marine biodiversity and conservation and we sailed from the Gulf Coast of Florida up to Woods Hole, Massachusetts."
The clip, shared on Tuesday, has already amassed more than 37 million views, with numerous people identifying the animal as a basking shark.
The species is the second-largest fish in the ocean, reaching up to 39 feet in length and a weight of up to six tons.
Despite their size, the basking shark isn't considered dangerous to humans because it feeds on plankton, which it filters out of the water via its giant open mouth.
The shark sighting caused quite a stir on TikTok as well as on the ship, as Stephen Curry commented: "Thinking the depth of that water scares me."
Addie agreed, writing: "I wonder how deep in the water it really is."
Cap Eman joked: "What in the jurassic world."
Dreams raved: "The video couldn't have been recorded from any better angle."
Tosh posted: "That's a dream, I would love to have witnessed this."
MsCurvySize thought: "Yea shape at the front and the size it's deffo a basking shark."
Matt Krath had a different idea, posting: "It's a meglaodon!"
But Tristzz added: "It's a basking shark they are harmless."
Update 5/27/21, 11 a.m. ET: This article was updated to add comments from Alex Albrecht.