A ship that sunk around 200 years ago, killing hundreds, has been found to be in an "excellent" state of preservation by experts.
The vessel, called the Santa María Magdalena, was a wooden frigate built in 1773 in the region of Galicia, northwestern Spain. The Spanish navy ship was 134 feet long and featured an armament of 38 guns.
The ship sank in 1810 along with another vessel, the Palomo, in the Viveiro estuary—located on Galicia's northern coast—amid a storm. The event resulted in the deaths of more than 500 people.
Underwater archaeologists have been conducting investigations in the estuary and have recently made a number of findings at the site of the wreck, much of which is buried under sand.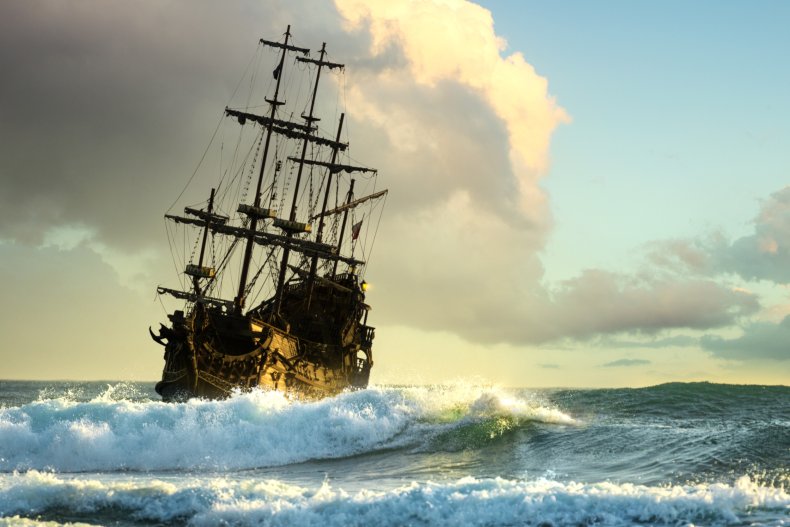 This month, a team led by the Spanish Federation of Underwater Activities (FEDAS) has been examining the bilge of the wreck, which was already probed last year.
The bilge is the lowest part of a ship where the bottom curves up to meet the sides. The intention of the recent work has been to document the structure of the vessel.
These investigations have revealed a large part of the ship's structure, including around 86 square feet of the bilge and also a section of one of the ship's gunwales—the top edge of a vessel's hull.
One of the archaeologists and director of the investigations, Antón López, told La Voz de Galicia that the wreck is in an "excellent" state of preservation, almost appearing as if it had just sunk yesterday.
"With the amount of structure there is, we have enough material to carry out a good research project. As for naval architecture, it is a real underwater museum," López said.
The team also found abundant ammunition, including a cluster of round projectiles roughly 6 feet in length, and ballasts—materials used to provide stability to a vessel.
The wooden lining of the ship, which covers the structure of the vessel, appears to be in "perfect condition, without biological damage or breaks," López said.
By revealing the structure of the wreck, the researchers will be able to learn more about the technology that was used to build the frigate.
"We want to know the techniques applied by the riverside carpenters and also the construction design. Today we do not have the plan of the ship," López said.
To help reveal the hidden structures of the shipwreck, the team employed a water suction device, which displaces the sediments at the bottom of the estuary. To prevent deterioration, the researchers will cover the wreck with sand again to protect the wood, once investigations have been completed.