Wreck of 207-year-old Whaling Ship Crewed by Slave Descendants Discovered
The wreck of a 207-year-old whaling ship that would have been crewed by the descendants of slaves has been discovered at the bottom of the Gulf of Mexico.
Footage and images showing the long lost ship have been released by the National Oceanic and Atmospheric Administration (NOAA), along with 19th century documents relating to the whaling vessel.
The wreck was found by accident in February during an exploratory expedition to test out some remote operating vehicles and mapping systems ahead of projects that are due to take place later this year.
The shipwreck has now been fully explored and its history uncovered, with experts saying this particular boat shines a light on a little known chapter of black history, where slave descendents and Native Americans were used as crews in whaling industry.
"This is an important discovery for American history," Don Graves, U.S. Deputy Secretary of Commerce, said in a statement.
"This 19th century whaling ship will help us learn about the lives of the Black and Native American mariners and their communities, and the immense challenges they faced at sea and on land."
Whaling in the U.S. was big business in the 19th and 20th centuries. Whales were hunted for meat, blubber and the oil in their bodies, which was used to make lamp oil and soap, among other things.
Many species of whale were hunted so extensively they were pushed to the brink of extinction.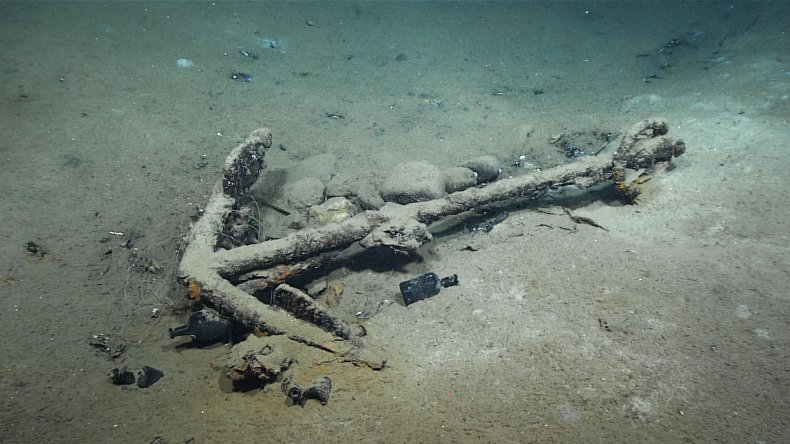 After spotting the shipwreck, the NOAA teamed with archaeologists and the cultural resource management firm SEARCH Inc to learn more about the wreck they found.
They were able to confirm the boat was the "Industry," a 64-foot ship built in Massachusetts in 1815. It was used to hunt whales across the Atlantic Ocean, the Caribbean and the Gulf of Mexico, where it was lost in a storm in 1836.
James Delgado, senior vice president of SEARCH Inc, told Newsweek whaling was a dangerous industry: "Far more so for the whalers in the small boats confronting the whales," he said.
"Whalers were lost, though, usually to storms, running aground in or out of harbors—especially on Pacific reefs—being crushed by ice, or catching fire at sea.
"I've worked on several whaling shipwrecks, including another NOAA project where we looked at the site where dozens of whalers were caught in Arctic ice and trapped and then crushed in 1871."
While researchers do not have the crew list for the voyage where it sank, previous lists show crew members and officers included Black people, Native Americans, multiracial and white people.
Luckily, the crew of the Industry was picked up at sea by another whaling ship and they were returned to Westport, Massachusetts.
"This was so fortunate for the men onboard," Delgado said in a statement. "If the Black crewmen had tried to go ashore, they would have been jailed under local laws. And if they could not pay for their keep while in prison, they would have been sold into slavery."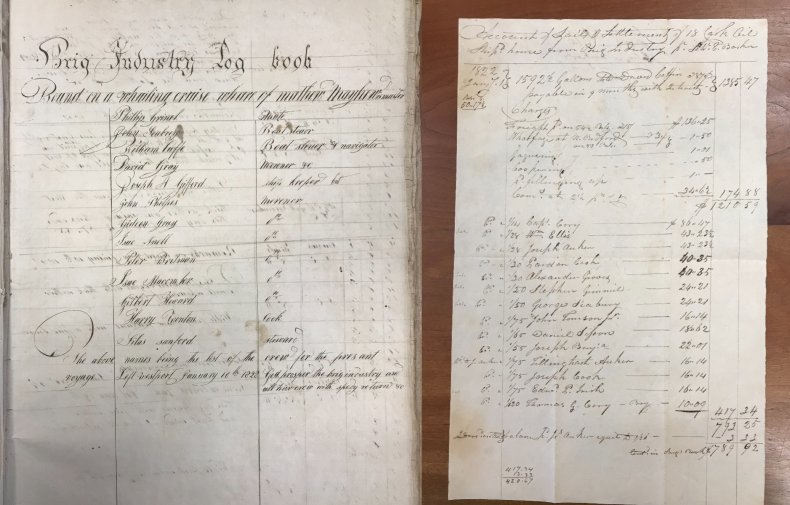 Delgado told Newsweek that by the 1830s, whaling was having a huge impact on the U.S. economy and on whale numbers, with populations rapidly declining.
"For those who worked in whaling, it was a tough life, with extended periods of absence with some voyages lasting over a year," he said.
"Industry cleared Westport on its final voyage for what was to be a fourteen-month absence. It was hard work, too, with inherent dangers. And if you did not get enough whales, and little oil came back with you, depending on your role in the crew, your percentage of the profits was very small.
"All of the crew's pay came from selling the oil and any other 'product,' as some whalers brought back baleen and whale bone to sell. Sperm whale oil was the most expensive 'premium' grade and so whalers were eager to kill and render those whales into profit."
SEARCH Inc., along with the U.S. Bureau of Ocean Energy Management, now hopes to nominate the wreck site for the National Register of Historic Places.
In a statement, NOAA Administrator Rick Spinrad, said: "Today, we celebrate the discovery of a lost ship that will help us better understand the rich story of how people of color succeeded as captains and crew members in the nascent American whaling industry of the early 1800s.
"The discovery reflects how African Americans and Native Americans prospered in the ocean economy despite facing discrimination and other injustices."