Al Jazeera Accuses Israel of 'Blatant Murder' of Shireen Abu Akleh
Al Jazeera said Israeli forces committed a "blatant murder" of its veteran Palestinian-American correspondent Shireen Abu Akleh, who the network said was killed by Israeli forces on Wednesday morning.
A household name in the Arab world, Abu Akleh, 51, was mourned by friends, colleagues and those who long admired her well-respected work. The journalist died from a shot to the head during Israeli forces' raid of the Jenin refugee camp in the West Bank.
Al Jazeera, the Palestinian health ministry, and eyewitnesses said she was killed by Israeli fire. Israel said Palestinian gunmen were likely the perpetrators.
Al Jazeera released the following statement: "In a blatant murder, violating international laws and norms, the Israeli occupation forces assassinated in cold blood Al Jazeera's correspondent in Palestine, Shireen Abu Akleh, targeting her with live fire early this morning, Wednesday, May 11, 2022, while conducting her journalistic duty, clearly wearing a press jacket that identifies her a journalist, covering the Israeli occupation forces storming of Jenin refugee camp in the West Bank."
"Al Jazeera holds the Israeli government and the occupation forces responsible for the killing of Shireen. It also calls on the international community to condemn and hold the Israeli occupation forces accountable for their intentional targeting and killing of Shireen."
The network said Israeli authorities are also responsible for targeting its producer Ali Al-Samudi, who is being treated for gunshot wounds to the back sustained in the same incident. Al Jazeera further pledged to "prosecute the perpetrators legally, no matter how hard they try to cover up their crime, and bring them to justice."
Eyewitnesses among the group of journalists covering the refugee camp raid on Wednesday said they had all worn body armor identifying them as press. But Israeli forces began firing at them, they said, killing Abu Akleh and preventing others from helping her due to the barrage of bullets.
At least two journalists who were present at the scene said Abu Akleh was particularly targeted with a deliberate shot to an exposed part of her head.
Israeli officials maintained it was likely Palestinian gunmen, not Israeli forces, who killed Abu Akleh.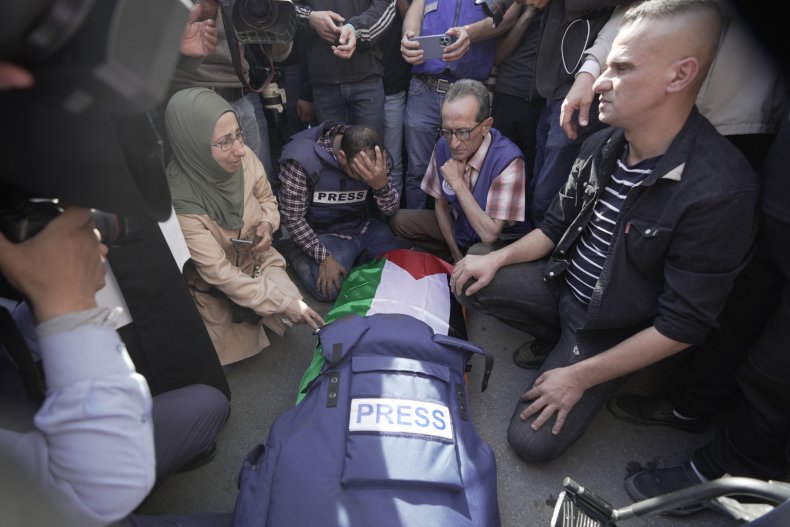 After Palestinian Authority (PA) President Mahmoud Abbas said he held the Israeli government fully responsible for Abu Akleh's death, Israeli Prime Minister Naftali Bennett said the PA is "hurling unsubstantiated allegations" at Israel when "initial data" shows "there is a significant chance that the journalist was hit by Palestinian gunfire."
"We need to conduct a real investigation, and the Palestinians at this stage are preventing this," Bennett said. "Without investigating truth we will not reach truth."
Israel's foreign ministry shared footage it says depicts "Palestinian terrorists" claiming they hit an Israeli soldier, when, according to the ministry, no IDF soldier was injured in Jenin at the time.
"Palestinian terrorists, firing indiscriminately, are likely to have hit Al-Jazeera journalist Shireen Abu Aqla," the video accompanying the tweet said.
The Israeli foreign ministry said the Palestinians have refused Israel's offer of a "joint pathological analysis and investigation, which would be based on all of the existing documentation and findings, in order to get to the truth."
A PA spokesman confirmed the rejection to Al Jazeera.
"We reject and refuse the participation of any Israelis in this kind of investigation," he said. "They have to be taken to the International Court. We call on the ICJ to open an investigation into the killing of Shireen and other crimes committed against the Palestinians."