Al Jazeera Reporter Shireen Abu Akleh Killed By Israeli Fire, Network Says
Veteran Palestinian American journalist Shireen Abu Akleh died after being shot in the head Wednesday morning during Israeli forces' raid of a refugee camp in the West Bank city of Jenin, according to her employer Al Jazeera.
Al Jazeera, the Palestinian health ministry, and journalists who were at the scene said Abu Akleh, 51, was killed by a live round from Israeli forces. Israel said Palestinian gunmen were likely the perpetrators.
Footage of a slain Abu Akleh showed she was wearing a vest marked: "Press." Eyewitnesses told news outlets Abu Akleh was also wearing a helmet indicating she was a journalist.
Al Jazeera said its producer Ali Al-Samudi is being treated for gunshot wounds to the back sustained at the same event.
"In a blatant murder, violating international laws and norms, the Israeli occupation forces assassinated in cold blood Al Jazeera's correspondent in Palestine, Shireen Abu Akleh, targeting her with live fire early this morning, Wednesday, May 11, 2022, while conducting her journalistic duty, clearly wearing a press jacket that identifies her a journalist, covering the Israeli occupation forces storming of Jenin refugee camp in the West Bank," Al Jazeera said in a statement.
"Al Jazeera holds the Israeli government and the occupation forces responsible for the killing of Shireen. It also calls on the international community to condemn and hold the Israeli occupation forces accountable for their intentional targeting and killing of Shireen."
Testimonies from journalists who were with Abu Akleh at the time of her death said Israeli snipers deliberately targeted an exposed part of her body, and fired indiscriminately so that others could not help her.
Journalist Mujahid Al-Saadi, who was with the group of media workers that included Abu Akleh—who were all wearing garb indicating they were journalists—said they initially gathered near Israeli forces and revealed themselves as members of the press.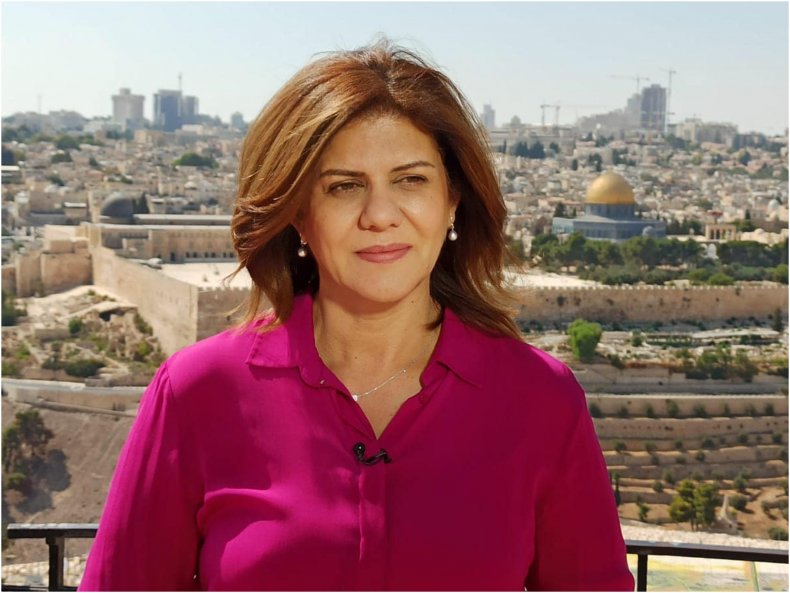 "The occupation targeted Shireen while she was wearing the helmet, the injury was under her ear," Al-Saadi told media. "The occupation was intent on killing us through the snipers.
"Shireen fell while wearing the press sign, and everyone who tried to rescue her was targeted with bullets. It was clear that Shireen was particularly targeted."
Footage of the incident made public by Al Jazeera shows Abu Akleh lying motionless on the ground as resounding gunshots can be heard. Journalist Shatha Hanaysha can be seen standing helplessly close by, while other journalists screamed Abu Akleh's name from a distance.
"She was wearing the helmet on her head, and it's clear that the person who killed her was intent on injuring her in an exposed part of her body that is not covered by the helmet," Hanaysha later told media.
In a tweet, Israeli Minister of Foreign Affairs Yair Lapid said: "We call on the Palestinians to present a satisfactory joint investigation following the unfortunate murder of journalist Shireen Abu Akleh."
U.S. ambassador to Israel Tom Nides identified Abu Akleh as Palestinian American in a tweet: "Very sad to learn of the death of American and Palestinian journalist Shireen Abu Akleh of @AJArabic @AJEnglish. I encourage a thorough investigation into the circumstances of her death and the injury of at least one other journalist today in Jenin."
The Israeli Ministry of Foreign Defense shared a video it said depicts "Palestinian terrorists" who "likely" killed Abu Akleh.
"This morning, in Jenin, terrorists heard saying: 'They've hit one, they've hit a soldier, he's laying on the ground,'" the tweet says. "But no IDF soldier was injured in Jenin
"Palestinian terrorists, firing indiscriminately, are likely to have hit Al Jazeera journalist Shireen Abu Aqla"
The IDF said it was "looking into the possibility that journalists were hit by the Palestinian gunmen" during the Jenin refugee camp raid.
On social media, friends and colleagues of Abu Akleh mourned her passing.
"I'm reeling from the news of the death of my friend and colleague Shireen Abu Akleh, a veteran Al Jazeera correspondent," said Al Jazeera journalist Dena Takruri. "Israeli forces shot her in the head while she reporting in Jenin while clearly wearing a press vest. This is absolutely horrifying"
Al Jazeera English's Arwa Ibrahim tweeted: "I grew up listening to Shireen Abu Akleh's brave voice on Palestine & became privileged to work alongside her while reporting from Jerusalem & the occupied West Bank. Shireen was shot dead by Israeli police while doing her job - reporting. This news tears into all of us."