Shireen Abu Akleh Funeral Video Shows Israeli Police, Mourners Clash
Violent scenes marred the funeral of slain Palestinian American journalist Shireen Abu Akleh as Israeli police clashed with Palestinian mourners in Jerusalem on Friday.
Television footage showed the moment violence erupted between Israeli security forces and mourners during the funeral procession of the Al-Jazeera journalist as mourners attempted to carry her casket out of St. Joseph's Hospital in Israeli-annexed east Jerusalem.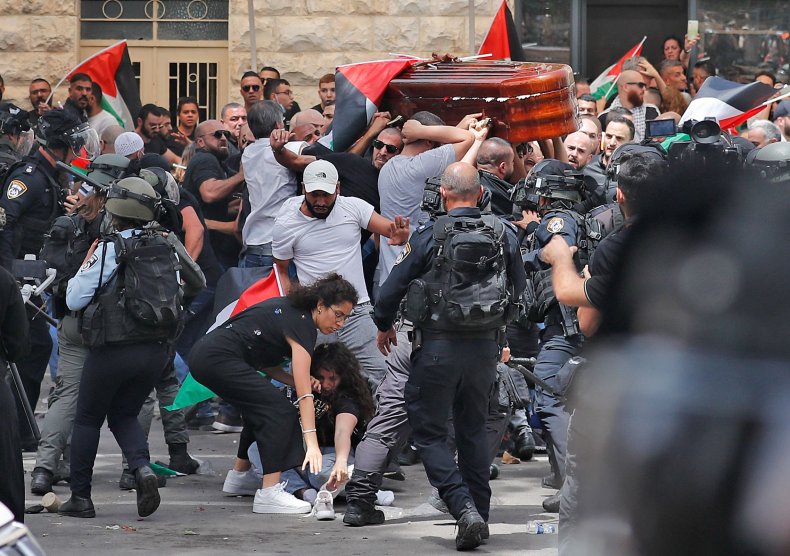 Footage posted on Twitter shows police officers beat the crowd with batons until the coffin nearly fell to the ground.
Police also fired tear gas during the funeral procession of Abu Akleh, 51, who was reporting on an Israeli raid in the city of Jenin when she was shot dead on May 11 while wearing a press vest.
Stun grenades were also deployed, Haaretz reported.
Mourners were initially prevented from carrying the slain journalist's coffin out of the hospital compound. The coffin was later moved into a hearse and eventually departed the compound with a strong Israeli security presence.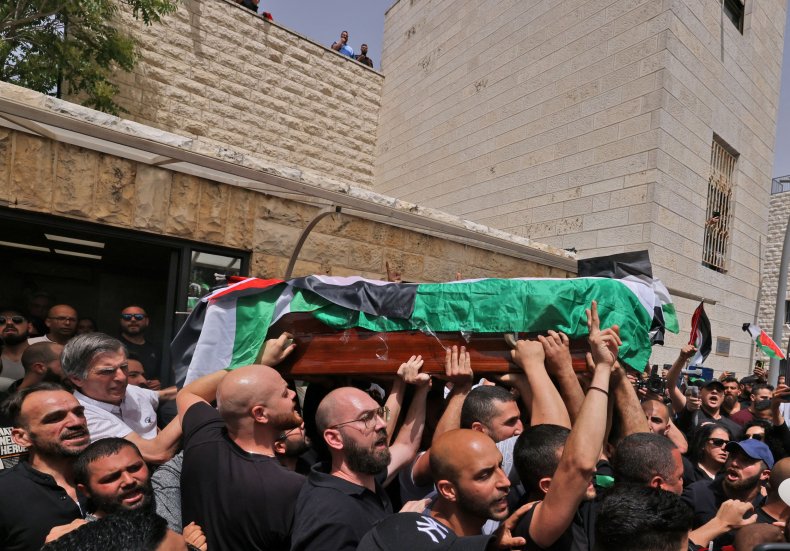 Abu Akleh's body was eventually brought to the Cathedral of the Annunciation of the Virgin in Jerusalem's Old City, before she was laid to rest alongside her parents in a nearby cemetery.
Israeli security agencies had said they were prepared for the possibility of violence erupting Friday.
Moments before the funeral procession began, the Israel Defense Forces (IDF) released its preliminary findings from an investigation into the death of the journalist.
The military said it hadn't yet been able to determine who fired the shot that killed Abu Akleh on Wednesday, but it noted that it was likely one of two scenarios—indiscriminate Palestinian gunfire, or possible errant sniper fire by an IDF soldier, the Times of Israel reported.
The Al Jazeera news network, where Abu Akleh worked as a correspondent, said she had been shot by Israeli troops, while Israel said she was caught in crossfire.
'Iconic Woman'
Aya Odeh from Nazareth was one of thousands to attend the journalist's funeral.
"Who doesn't know Shireen? I have known her my whole life" from television, she told The Washington Post. "She is like my mother. I feel like I have lost my mother."
Abu Akleh reported for Al Jazeera for more than 20 years.
"This is the least I can do—participate in the funeral of this iconic woman who has changed the history of Palestine," Rima Baqleh, a sociologist from Jerusalem, told the news outlet.
"She has united Palestinians, Christian and Muslim," said Baqleh. "For the first time, she managed to raise the Palestinian flag by thousands of Palestinian people in Jaffa Gate."
Update: 05/13/22, 11:35 a.m. EDT: This article was updated with additional details, quotes, and background information.