Shirley Manson on 'The Jump,' Her Music Podcast Series: 'A Masterclass'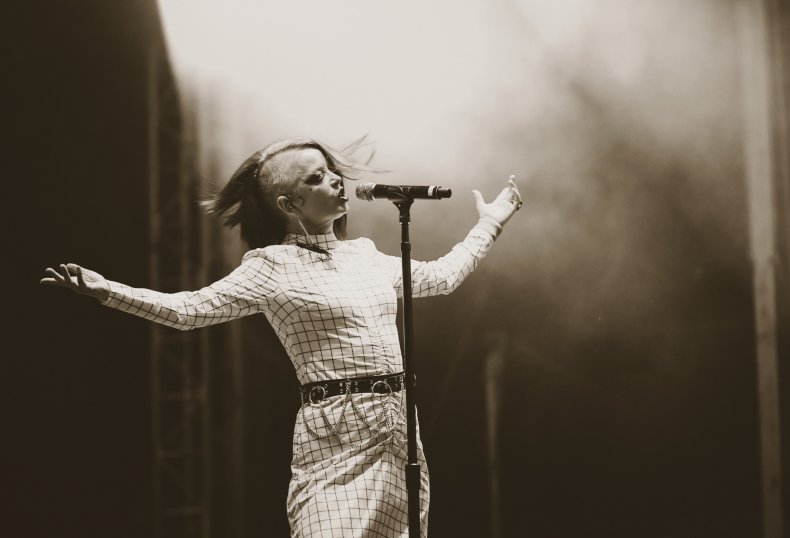 Shirley Manson, the legendary singer of the famed alternative rock band Garbage, says she's still bemused about hosting The Jump, a music podcast series that is now entering its third season. Having been interviewed by journalists all throughout her long career, Manson now finds herself in the role of an interviewer talking to fellow musicians about their craft. She admits that at first it wasn't in her natural comfort zone and was concerned she didn't know enough.
"This podcast has a strict sort of idea," she explains to Newsweek. "Because of the rigidity of the idea, I'm able to just relax and really focus on songwriting, which I think has been something people have really not been talking [about] or interested in musicians and music making. They're into the stars and the vehicles, but they're not particularly into the actual obsession with chasing an idea. And that is what The Jump is about."
Each episode of The Jump, which debuted in 2019, features Manson interviewing an artist about a defining song of theirs that changed everything for them. The third season of the series, a Mailchimp Presents production, kicks off today with episodes featuring such guests as David Byrne, Robyn, Run the Jewels, Rapsody, and Joe Talbot of the band Idles (see the full lineup below).
"I've been lucky to snag some amazing artists," Manson says. "You just let them talk and they give you amazing material. It's a miracle."
Manson's involvement in the series began when Hrishikesh Hirway, the creator of the popular podcast Song Exploder, suggested that she would be perfect to host a new music podcast he was working on. "I don't know why I felt scared," Manson recalls of her earlier hesitation with a laugh. "My manager was like, 'You're an idiot if you turn this down. You must do this.' He never says things like that to me, he's always very respectful. But in this particular case, he was like, 'I really want you to give this a try.' I realized I'd be leaving an opportunity on the table, so I consented to doing it."
Selecting the musicians for the series is a collaborative process between Manson, talent booker Mara Davis and Mailchimp. "[Mara] and I are like the same brain split into two," Manson says. "We love the same personalities, the same creatives. And so we'd come up with a big list. These are the people who we're thinking about. Mailchimp would have a look and say, 'Yes, this is all great. We love all these people, too.' Then Mara would just go around trying to find who's available on a particular day. It's been a very effortless experience, actually."
Perhaps because Manson is a musician herself as Garbage's singer for nearly 30 years now, she naturally relates to her guests with genuine enthusiasm and awe. That is evident from one of the episodes from this new season, in which Manson talks to Patti Smith about her song "Pissing in a River," off of the 1976 album Radio Ethiopia. Manson describes that conversation was one of the most intense and magical experiences of her career.
"I couldn't believe it," she recalls. "I was like, 'How am I being given this gift?' She's very important to me not just as a musician, but as a figurehead. There's not very many people like that left with a history and a perspective. There's nobody like her, there probably never will be. She is the architect of modern alt-rock."
Also appearing in The Jump's new season is Alanis Morissette who discusses the backstory behind her breakout and signature hit "You Oughta Know" from the multiplatinum 1995 smash album Jagged Little Pill. The choice of Morissette for the podcast makes perfect sense given that both she and Manson made their mark during the 1990s.
"It's funny because Alanis was a peer of ours," says Manson. "When you are emerging with other artists, you view them in a different way than you do others. When you bump into them at places, you share the stage with each other. Despite being an '90s artist myself, I had no idea how many records she had sold and the absolute Alanis effect that took place around that record. I had no idea. My perception of the song back then was so different to how I see it now."
One of the unique distinctions about The Jump is that each season's lineup offers a mix of both legendary artists like the aforementioned Smith and Morissette, and relatively new artists like Kelsey Lu and Thundercat. "We all have very diverse tastes in music," Manson says. "So that was something important to me when I signed up for The Jump, that it was going to be a diverse line up, And of course, these artists are so fantastic."
Other artists who had previously appeared in the first two seasons of The Jump reads like a who's who of music from the last few decades--including Liz Phair; Sharon Van Etten; Big Boi; Angel Olsen; Esperanza Spalding; and George Clinton, the legendary leader of Parliament-Funkadelic, who discussed the Parliament classic "Chocolate City" in season 2.
"What an extraordinary person," Manson says of the funk icon. "My mind was blown from the second I sat down with him to the minute he left, and every single thing about him was unexpected and profound and generous and humble. I know he's been feted, but he deserves all the flowers. He's a really magnificent person and really a true jewel in the crown of music and art."
The premiere of The Jump's new season coincides with Manson's own musical activities, as Garbage recently released their latest album No Gods No Masters and are touring this summer with Morissette and Cat Power. As for who she would love to have on a future episode of the podcast, Mason immediately says rapper Lil Nas X.
"I'm just so bewitched by that story [of his] and the bravery of it, and the boldness of it, the excitement of it. I'm like, 'Whoa, who are you? Where did you come from?' And so that force, I find fascinating. Quite honestly, I'll talk to anyone about music, I'm just really into it, it excites me."
With three seasons of The Jump now under her belt as host, Manson says she's enjoyed the experience after that initial hesitation. "I really love it, and I really love sitting and listening and getting an opportunity. I feel like I could get even more into where I want to go. I'm a novice, but I know I can get better. I love to listen and learn. I'm still curious. So to sit down with these people and learn from them is like going to a masterclass."
Lineup of the third season of The Jump now available on various streaming platforms:
David Byrne: "Loco de Amor"
Joe Talbot/Idles:"1049 Gotho"
Rapsody: "Afeni"
Patti Smith:"Pissing in a River"
Run The Jewels: "A Christmas F***ing Miracle"
Kelsey Lu: "let all the poisons that lurk in the mud seep out"
Thundercat: "Dragonball Durag"
Robyn: "With Every Heartbeat"
Alanis Morissette: "You Oughta Know"