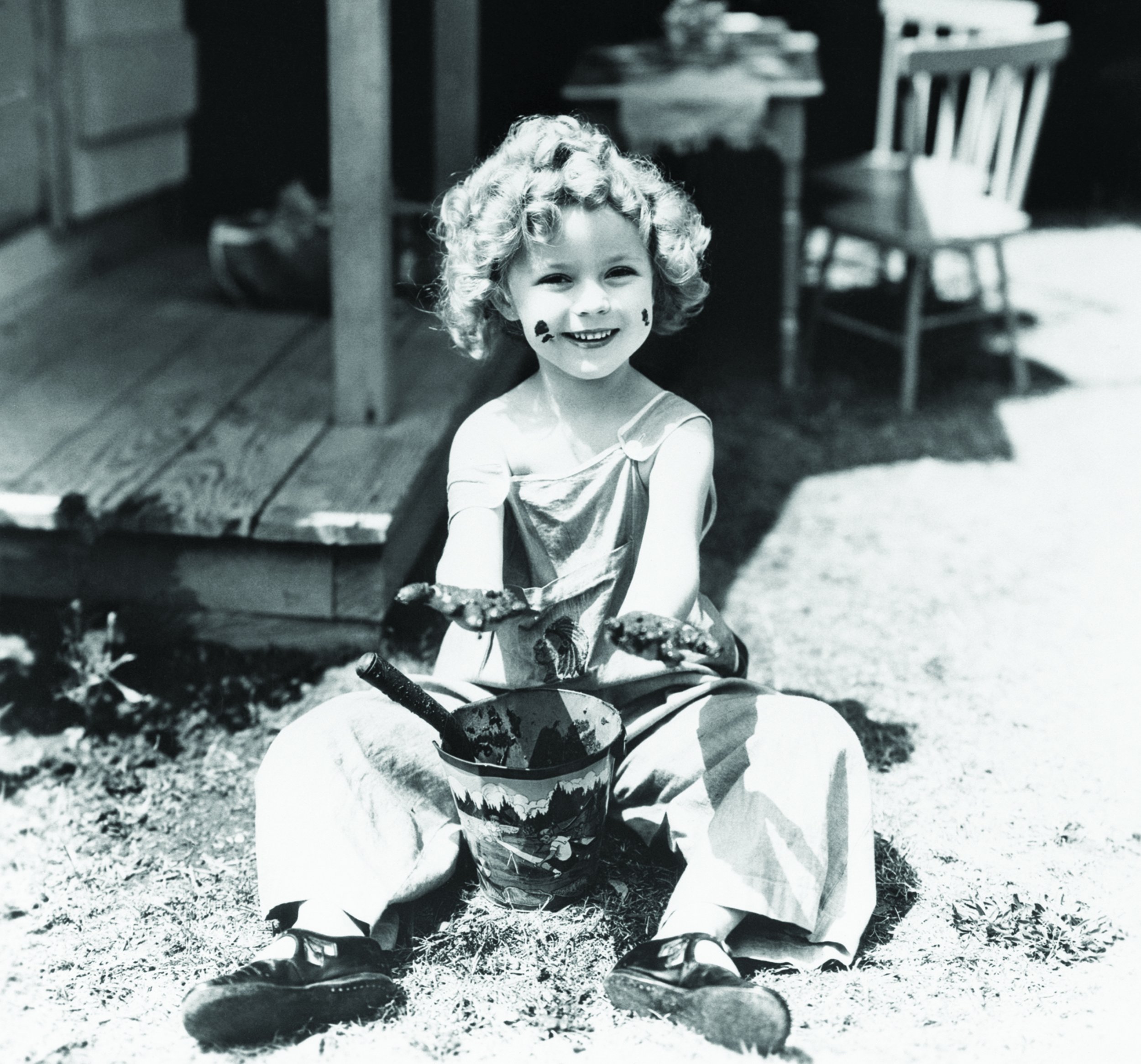 This article, along with others celebrating 90 years of America's original sweetheart, is featured in Newsweek's Special Edition: Shirley Temple.
MGM's most promising young star in the early 1930s couldn't meet the height requirement for most of today's amusement park rides: Shirley Temple, coming into her own in starring roles at the tender age of 5, was almost immediately headhunted by bigger, more profitable studios. And Fox was definitely that. The Depression might have affected their bottom line, but the name Fox still commanded enough respect and, more importantly, credit to make a power move against MGM, buying their young star out from under them.
The move solidified Shirley Temple's place as the most beloved young star of her era and perhaps of all time, and is also credited in retrospect with saving the Fox studio; Temple's uplifting fare was able to draw cash-strapped moviegoers to the theater better than any other Depression-era star's.
The saga started in 1933 with Fox Film songwriter, Jay Gorney. He was walking out of a viewing of an episode of Temple's multi-part series, Frolics of Youth, and saw her charming fans in the movie theater lobby with song and dance numbers. He immediately arranged a screen test with Temple for the film Stand Up and Cheer! in early December of that year. She got the part and was signed to a two-week-guaranteed, $150-per-week contract. On December 21, 1933, her contract changed with a year extension, including the same $150-per-week rate, along with a seven-year option.
In 1934, Stand Up and Cheer! released to theaters and became Shirley Temple's breakout full-length film. The movie was a hit, and audiences adored the innocence of both Temple and her character. Fox then made another shrewd business move by loaning Temple to Paramount for their film Bright Eyes, which would introduce the world to "The Good Ship Lollipop," a song whose popularity would further increase Temple's box office draw for Fox.
Not only did this first single sell more than 500,000 copies, on February 27, 1935, 6-year old Shirley Temple became the first child star to be honored with a miniature Juvenile Oscar for her film achievements. She added her foot and handprints in front of Grauman's Chinese Theatre a month later. Fox and 20th Century Pictures merged, thanks in large part to Temple's success, creating 20th Century Fox, and as one of the crown jewels in the new studio's collection, Temple's star began to grow ever higher. By the end of that year, Temple's salary rose to $2,500 a week. One of her most popular films, Curly Top, came out that July, pulling in $1.1 million dollars at the box o ce and introduced another incredibly popular song, "Animal Crackers in My Soup."
Twentieth Century Fox enhanced the terms of Temple's contract in 1936, paying her $50,000 per film. She came out with four films that year, which included the popular fi lm Dimples, making her one of the highest-paid actors in Hollywood. Based on Temple's success and popularity, 20th Century Fox increased budgets and production values specifically for her films.
During the Great Depression, an era when taking a large-scale gamble was considered by more conservative commentators to be nothing if not reckless, Fox (and later 20th Century Fox), almost immediately began to see the benefits of banking on the precocious young talent of Shirley Temple. As her star rose higher and higher, Fox was able to showcase more of their stars in Temple movies, using these beloved vehicles to springboard actors such as Cesar Romero into star-making roles of their own. Shirley Temple, put simply, showed 20th Century Fox that the kind of movie capable of selling in the economic misery of the Depression was the exceedingly optimistic fare she was creating. In turn, Fox's returns on their investment in this optimism allowed them to make similar investments elsewhere, in actors that would become mainstays of Hollywood and television for decades to come.
This article, by Senior Editor Tim Baker, was excerpted from Newsweek's Special Edition: Shirley Temple. For more on the diverse life of the movie star and ambassador pick up a copy today.