Machete-wielding Shirtless Man at New Orleans City Hall Disarmed by Stun Gun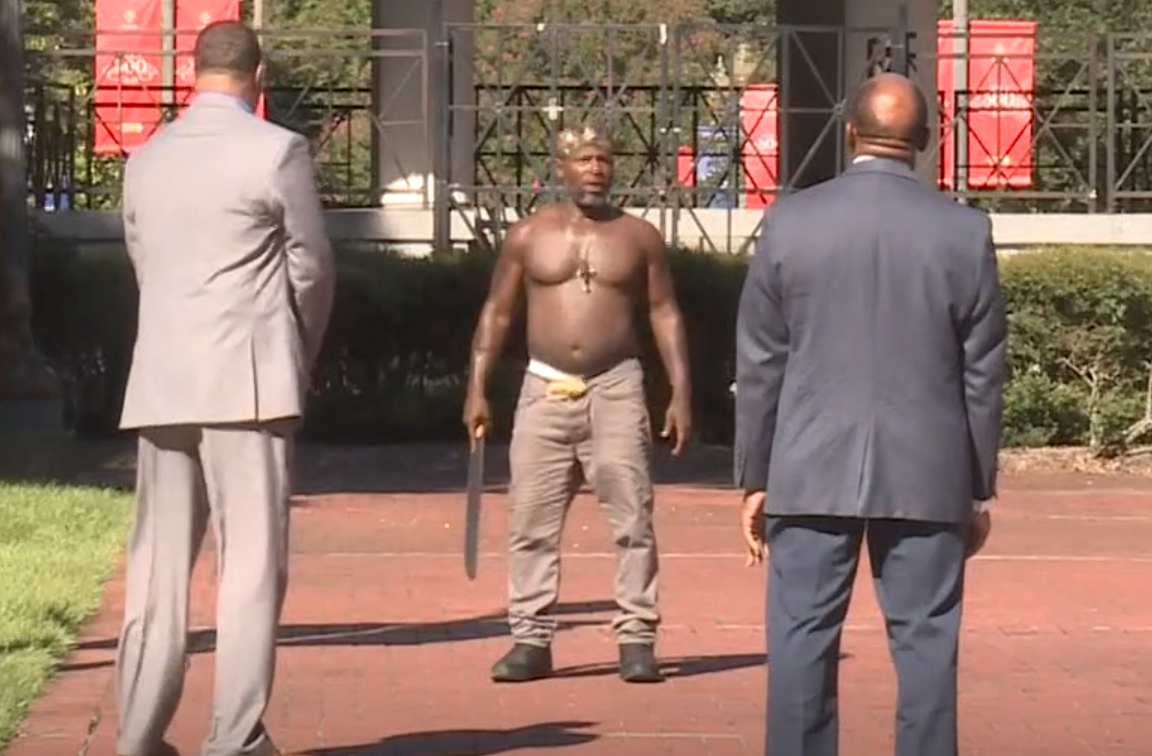 A man wielding a machete close to New Orleans City Hall was taken into custody this week after being subdued with a stun gun, police said Tuesday.
Video recorded by WWL-TV showed the confrontation between the man and law enforcement officers. A Louisiana State Police trooper is seen approaching the man's left side. The man, who refused to drop his weapon, was disarmed by a stun gun and escorted from the scene.
Louisiana State Police, the New Orleans Police Department (NOPD) and the Orleans Parish Sheriff's Office (OPSO) all responded to the scene. The state police received a call about the suspect yelling and waving the machete in Duncan Plaza, across from City Hall, at 3 p.m. CDT, WWL-TV said.
There were no injuries recorded, and the man's identity was not released. In a Facebook post on Tuesday, state police described the scene and added, "Great job to all involved!"
"A trooper relied heavily on his training to help defuse a tense situation in New Orleans," the post said. "The trooper responded to a call in front of City Hall where a man was wielding a machete. As the trooper arrived, deputies had the man surrounded. The trooper assessed the situation, and as deputies assisted the trooper used his Taser to safely subdue the man."
The police added, "As a result of the trooper's extensive training which guided his actions, and the partnership with other law enforcement agencies, no one was seriously injured." The man was sent to a local hospital for evaluation and booked for aggravated assault and resisting arrest.
Mayor LaToya Cantrell issued a statement on Tuesday evening following the arrest, according to Nola.com, the website linked to New Orleans-based newspaper The Times-Picayune.
"The disturbance…this afternoon was an unfortunate, frightening event," Cantrell said. "I'm grateful to all of our law enforcement partners, including our building security team, the NOPD, the OPSO and the Louisiana State Police, for moving quickly to resolve the situation.
"Thankfully, no one was seriously hurt and the individual in question was taken into custody, where he can be evaluated with regard to his mental and medical condition," Cantrell added. "Mental health issues are a serious component of our commitment to addressing public safety as a matter of public health, and I hope this individual is able to get the treatment he needs."