Shock G's Speech about Tupac Goes Viral: 'He Was Not Scared of Death and Neither Am I'
A speech Shock G gave about Tupac Shakur and death is going viral following the rapper's passing.
The Digital Underground hip hop legend died on Thursday aged 57. His father confirmed to TMZ that his son was found dead in a hotel room in Tampa, Florida. The cause of death is unclear at this time.
Born Gregory Jacobs, the performer was also known by his alter ego Humpty Hump, famed in Digital Underground's hit "The Humpty Dance."
Jacobs was a regular collaborator with Tupac Shakur before his death in 1996, having produced his breakthrough single "I Get Around", and co-produced 2Pac's debut album "2Pacalypse Now."
Now a clip of Jacobs speaking about his late friend on the red carpet at the 2017 premiere of Tupac biopic All Eyez on Me is going viral on Twitter.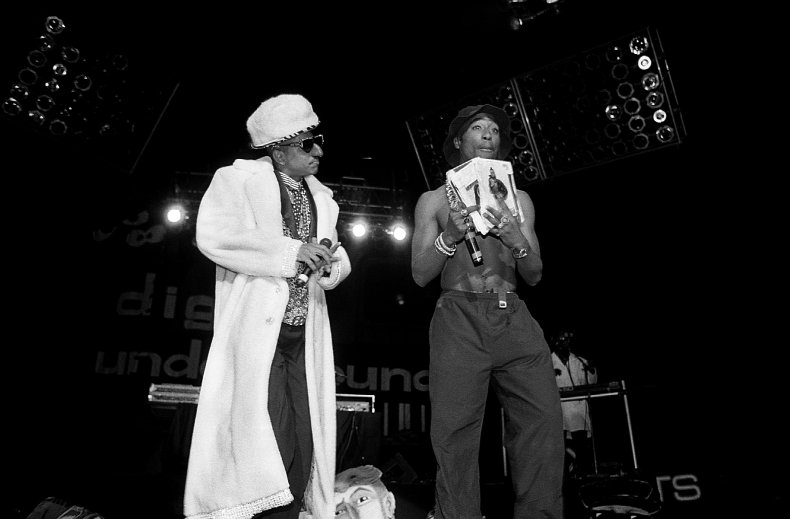 The clip was initially shared by Twitter user @itscolebe and shows Jacobs saying: "He was not scared of death and neither am I."
Reflecting on the last days of Tupac's life, he told reporters he offered the "Changes" rapper his home when he was worried for his safety.
"So I pulled Pac out of the party and I said 'yo, they got two more hits on you, they already got two in Oakland, now two in L.A.—four people are paid to kill you. Take it easy, take my key, live in my condo while I'm on tour. Watch The Jeffersons. Relax.'"
He continued: "You know what Pac told me? "He said 'You finished? You don't get it, do you? I don't give a f***.' And walked away.
"And before he got out of sight, he looked back one last time, and went [mimics looking back]."
Jacobs said that his friend "was ready."
"He was ready, he knew he was done here. On to his next planet, on to his next adventure, maybe he was reincarnated on Earth, who knows? But Pac wasn't worried about death. He was not scared of death and neither am I.
"I might go tonight, I might go tomorrow, I might live another 20 years, God don't bless me. But who knows? But Pac wasn't afraid of death, man."
He ended his speech with the mantra: "None of us should be. Stand for something, die for nothing. Stand for something better than dying for nothing. Amen."
The clip had amassed almost 200,000 views at the time of publication.
2Pac's official Twitter account paid tribute to Jacobs, and shared a 1995 quote from the late rapper, which read: "I look back [on my times with Shock G] with the greatest fondness. Those were like some of the best times of my life..."