'Final Destination': Shock as Man Cheats Death After Log Pierces Windshield
The internet has been left shocked after a viral picture showed how a tree branch smashed through a man's windshield in a Reddit post this week.
Shared on Monday by Nick Wiltgen—who uses the Reddit handle NicholasStevenPhoto—the picture on r/pics now has more than 55,000 upvotes.
From Vancouver, Washington, Wiltgen shared the photo with the caption: "Glad I didn't decide to sit in my car this morning and defrost it."
"Your window scraper is too big," joked one commenter, to which the poster said: "Yeah it's not very efficient."
Another Redditor said: "Did you accidentally set your car to deforest instead of defrost?"
Wiltgen told Newsweek: "There was a freak show storm on April 11—something incredibly rare for this region. We literally never get snow in April, let alone much even in the winter. Because of this, many trees, limbs and branches fell down. Unfortunately for me, one of them somehow speared through the windshield of my car which was parked outside my house.
"Luckily no one was inside the car. Had I decided to go into my car moments before and turn it on to defrost it, I probably would have been obliterated."
Auto Glass City, a mobile service in Florida that offers auto glass replacement said that an accident like this shouldn't cost the vehicle owner anything if they are well insured.
While each policy is different, comprehensive coverage insurance should protect your car against things that haven't happened as a result of a collision, including theft, fire, vandalism, and road debris.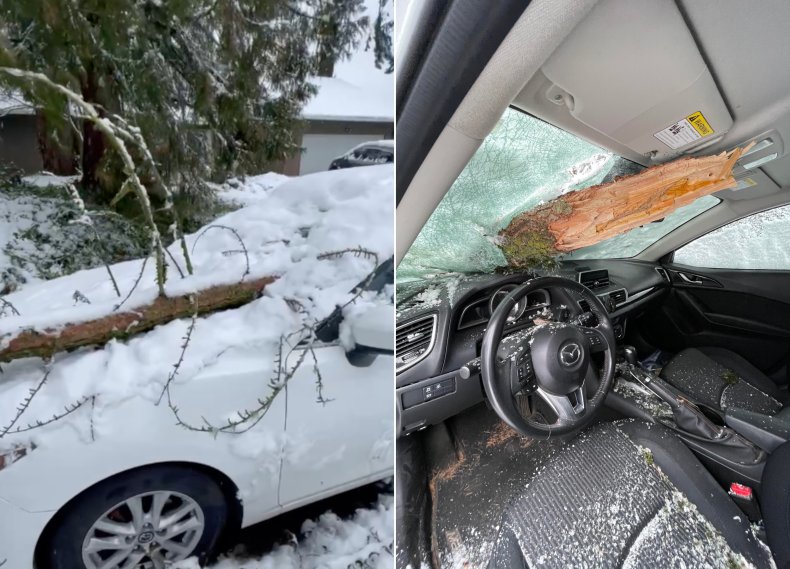 Insurance Journal has reported that windshields constitute the number 1 insurance claim in the U.S., at 30 percent.
Jim Olson, director of national accounts and brand awareness for NOVUS® Windshield Repair, in Minneapolis, Minnesota, said: "There are no Federal or State regulations governing the safety or quality of windshields that are replaced once the car is on the road—just new vehicles. Most motorists are not glass experts so assessing the quality of the glass and installation are problems."
Around 80 percent of windshield replacement claims relate to smaller repairs than the one in the viral Reddit image, often being for edge cracks, according to Insurance Journal.
In an accident, your windshield can save your life. For that reason, Olson advises repairing windshields even if they are only slightly damaged with stars, scratches, small cracks or holes: "Repairs not only eliminate unsightly flaws, preventing further spread, they also allow you to keep the factory-installed windshield which is safer and sounder. That is always the better option where possible."
"Think you went a bit far with the size of your pine air freshener," joked another Redditor in the comments.
"This is some Final Destination s***," wrote one user. "But anyways glad you're okay."
"Oh wow. Glad you weren't in the car. This is gnarly," said another comment.
"With full insurance coverage and not a lot I could do, I just kind of shrugged it off and felt grateful for not being hurt, snapped some photos and videos and put them on the internet," said Wiltgen.
Hopeful about the outcome, Wiltgen says that he is currently dealing with organizing a repair of the car—which he really hopes will be possible.
"I didn't think at the time it was going to go viral," said Wiltgen. "But initially posted it hoping to get some laughs from comments turning a bad situation into a positive one—and that's exactly what happened."
UPDATE 04/13/22 at 02:30 a.m. ET: This article was updated with a new image, video footage and comment from the poster.