'Shocked' Couple Traveling to Greece Arrested During Layover Due to COVID Technicality
A couple from California decided to take the vacation of their dreams to Greece when they were unexpectedly arrested while boarding a connecting flight in Switzerland.
Cindy Miller and her traveling partner Brett planned on spending three weeks touring around Greece. Everything was planned, Miller and her friend had all of the travel and COVID documentation required for entry into Greece, but when they got to the airport in Switzerland the situation took a shocking turn.
The two friends started the trip by flying out of San Francisco into Zurich before connecting on their flight to Greece. But while the pair attempted to board their connecting flight, Swiss officials stopped them at the gate and they were both arrested.
"I was shocked. At first I thought that was some kind of a joke," Miller explained to KGO-TV.
Miller said that she hadn't traveled in the past 18 months due to the pandemic and was ready to splurge on a nice vacation. She said it's been a dream of hers to travel to Greece.
"The guy in passport control says you can't come in," Miller told KGO-TV. "What do you mean we can't come in? There's my gate, my flights leaving in two hours. That was when the whole thing happened."
Miller said that the man took her and her friend's passports and called the police. She said that police in full uniform and weapons met the travelers and led them into the basement which served as a police station.
The CDC recommends travelers avoid traveling to Greece because even vaccinated travelers are at a high risk of getting and spreading COVID. They also recommend understanding the various documents necessary for international travel since each country has its own criteria.
After returning from international travel, the CDC recommends getting a viral test three to five days after arriving back home. Travelers are also expected to follow state and local requirements after travel.
Swiss officials said that technically their gate was inside the Swiss border and Americans are banned from traveling to and from the country due to the ongoing pandemic. Authorities then told them that they would need to be deported back to America.
"I'm crying. They showed us deportation papers, they put us in this area that had bunk beds, mixed men and women bunk beds," Miller said. "They said, 'here is where you're going to sleep for the next day.' I was like no! I'm not sleeping in a bunk bed with all these men."
Miller said she spent the night with other travelers who were kicked off their flights and were awaiting deportation.
"I think I was in a state of shock," Miller told KGO-TV. "I'm in the basement, surrounded by police with giant rifles, and nobody cares one bit about our situation."
But the pair were able to persuade police to deport them back to a New York airport rather than all the way back to California. The next day, Miller and her friend flew back to New York.
But after landing, the friends received an alert from Swiss Air that their baggage never made it on the plane.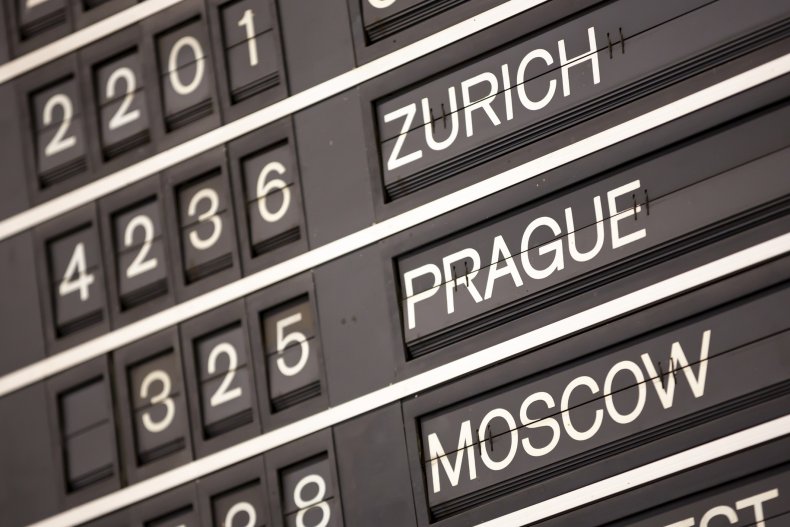 "I just burst into tears again," Miller said. She explained how she was still wearing the same clothes as the day prior and was worried she would have to go shopping for all new clothes. But she and her friend decided to just check baggage claim just in case.
"Our bags were there! We were jumping up and down and hugging each other," Miller said. The two friends then boarded a flight from New York direct to an airport in Athens, Greece. Luckily, Miller and Brett were able to make the three-week tour around Greece.
Miller blames Swiss Airlines for allowing her to book a connecting flight through their country even though travel was prohibited for American citizens.
Swiss Air denied refunds to any passengers affected, saying it is travelers' responsibility to always carry the proper travel documents. When KGO-TV told the airline that technically no documentation would allow travelers into the country, the airline decided to refund $3,400 for "extra costs."
Since the incident, travel restrictions have been lifted and vaccinated travelers can now enter Switzerland and take connecting flights out of the airport.