Shocking footage of thousands of dead cows has emerged on TikTok during an intense Kansas heatwave.
The TikTok video posted by barbiedollhenderson1973, shows thousands of cattle lying dead across a ranch. Newsweek could not verify that the deaths were related to the heat wave, or where and when the video was taken. But extreme temperatures have been seen across the southwest of the state in recent days.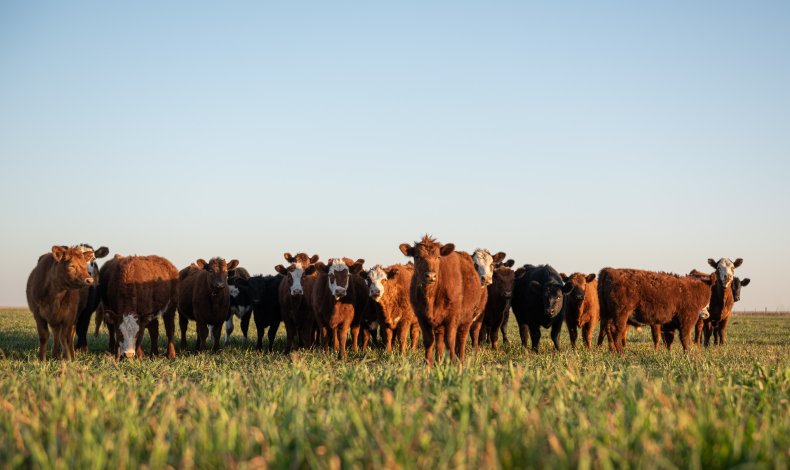 According to the video, of which a caption read "3,000 cows died over the weekend in SW Kansas" the rancher had "no idea why," so many cattle had died.
On June 13, temperatures reached 108 Fahrenheit in Southwest Kansas, president of World Weather Inc Drew Lerner told Reuters. The heat has been so extreme in parts of the state that many areas were under a heat advisory in recent days. This coming weekend may see temperatures nearing 110 degrees, and this could continue to have severe effects on the state's cattle.
Matthew Lara, a spokesperson Kansas Department of Health and Environment, told Reuters that at least 2,000 cattle have died due to high temperatures and humidity as of June 14. The 2,000 figure comes from facilities that are helping ranchers dispose of the dead bodies.
Cattle struggled to acclimatize to the sudden change in temperatures, Scarlett Hagins, spokesperson for the Kansas Livestock Association, told Reuters.
This was because cooling winds suddenly disappeared, replaced with the humidity and heat.
"It's going to be oppressively hot and stressful for the animals," Lerner told Reuters.
Mass deaths such as this are a blow to the state's cattle industry, which is one of the biggest in the U.S, after those in Texas and Nebraska.
According to Reuters, there has been added pressure on the industry recently following rising feed costs, triggered by supply chain issues amid Russia's Ukraine invasion.
There are an estimated 6.35 million cattle in Kansas. The state also has a large influence in the cattle processing sector, according to the Kansas Department of Agriculture.
The TikTok video theorized that bovine respiratory disease—a condition that affects the lungs or upper respiratory tract— may also have caused the deaths, but this has not been confirmed. Towards the end, the footage also said that an autopsy of the animals was pending.
Certain types of cattle are at higher risk of dying from heat. Those who have a previous history of respiratory disease tend to be more vulnerable to the heat. Younger animals and darker-colored animals also suffer more adverse effects.
Cattle living in extreme heat need a huge daily water supply.
Brenda Masek, president of the industry association Nebraska Cattlemen, told Reuters that ranchers must be out every day, "making sure that their water is maintained."