'Shocking' Video of Police Throwing Black Woman to the Floor in Waffle House Arrest Sparks Protests
Alabama police are investigating an arrest caught on a now-viral video at a Waffle House in Saraland. The video shows white officers throwing a black woman to the floor of the restaurant.
The Saraland Police Department said it was investigating the arrest of 25-year-old Chikesia Clemons in the city of Mobile, Alabama.
According to a police report viewed by AL.com, the incident began at around 2:45 a.m., when Clemons asked a Waffle House employee for plastic utensils after placing an order. The employee apparently told Clemons she would have to pay an extra 50 cents for cutlery, which reportedly sparked an argument. Clemons and her friend, Canita Adams, argued that they had never been asked to pay an additional charge before.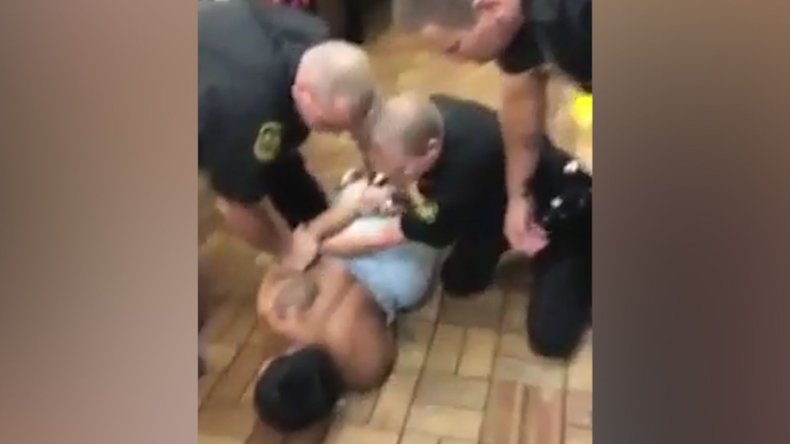 The employee then canceled the order, according to the police report, which prompted Clemons to ask for the contact information of the restaurant's manager.
Clemons's mother, Chiquitta Clemons-Howard, told AL.com that the restaurant then called police without asking her daughter to leave the restaurant or warning her.
"When they went to go get the card, that's when the police showed up," Clemons-Howard said, adding, "The officer should've come in and said, 'We need you to leave.'"
Video captured by Adams appears to show Clemons sitting on a stool at the Waffle House, with a police officer holding her by the wrist with one hand.
Clemons can be heard saying she wanted a "corporate number" before saying, "You're not going to grab on me...for no reason."
The video then cuts to Clemons saying "I haven't done anything" as two police officers throw her to the floor. From there, Clemons says, "What are you doing?" and one officer appears to reply, "I'm about to break your arm, that's what I'm about to do."
A third officer appears to get involved as police hold Clemons down, with the woman's dress coming down at the top, showing her breasts. After turning Clemons around and handcuffing her, one of the officers asks Adams if she wants to "come fix her clothes."
Police booked Clemons on charges of disorderly conduct, as well as resisting arrest, placing a $1,000 bond on the 25-year-old.
The Saraland Police Department said in a statement shared online that it was "aware of the arrest at Waffle House and the accompanying video on social media." The department said the "situation is being thoroughly reviewed and is under active investigation right now.
"Saraland's public safety director, Chief J. C. West, and the mayor are aware of the situation and are awaiting the results of the investigation. When the facts of the investigation are gathered, we will have a response," the press release stated. "Our department strives for transparency and we encourage our community to be aware of current events."
Waffle House Spokesman Pat Werner told AL.com that while the company was "still obtaining and reviewing information," it believed there was a reason to question Clemons's account of the incident.
"[I]t's fair to say that the information we have received at this point differs significantly from what has reportedly been attributed to Ms. Clemons and strongly supports the actions taken by the Saraland Police Department," Warner said.
The Waffle House has not responded to a request for comment from Newsweek.
Read more: Starbucks racial bias training: What will coffee chain teach its baristas?
There were protests outside the restaurant the Sunday following the incident, which came as police faced increasing scrutiny over brutality and use of excessive force against black people. Just last week, Starbucks and Philadelphia police were accused of racism after workers called police to report two black men for "trespassing" as the pair waited for a friend to meet them before placing an order.
In a social media post, Adams said she and Clemons felt "blessed" to still be here, adding the "situation could've turned out way worst [sic] then what it was." She said they would not stop speaking out about the incident "until justice is served."
The NAACP's Mobile branch said the video was "shocking." Mobile County NAACP President David Smith said in a statement that he and other members were "disturbed" by the way Saraland police officers handled Clemons during the arrest "in light of the current situation in our country–such as the arrest of two young black men at a Philadelphia Starbucks coffee shop.
"When incidents like this happen in our own backyard, it is incumbent upon the local NAACP to take a closer look and move the matter to whatever level is appropriate," Smith continued.
Clemons and Adams have not responded to a request for comment from Newsweek.