Shocking Video Shows Repairman Dangling Over Highway After Truck Collision
A maintenance worker has been caught on video dangling precariously from a traffic camera rig above a busy road after a dump truck crashed into the back of his aerial ladder.
The traffic equipment technician, who fortunately suffered no serious injuries during the scare on Sunday, was later helped back onto the ground when a second truck stopped beneath him.
Changsha resident Yu Xinxin, who witnessed the freak accident in Hunan province in central China, said her husband parked their car by the side of the road and got out to help the worker.
The technician and another coworker were repairing traffic cameras in Changsha's Wangcheng district when the operator behind the wheel of the fully-loaded dump truck failed to notice them and caused the incident, according to local media reports.
Yu told Chinese news site The Paper that the truck slammed into the service vehicle and aerial frame, upon which the repairman was standing.
"At about 5 p.m., we saw a truck crash into the back of the maintenance frame, which immediately collapsed," Yu told the news agency headquartered in Shanghai. "The maintenance worker on top of the frame grabbed hold of the traffic camera pole."
Yu shared images to her personal account on Douyin—the original version of TikTok still used on the Chinese market.
A picture taken immediately after Sunday's crash showed the repairman dangling more than 10 feet above the road as he held on to the horizontal bar carrying several surveillance cameras.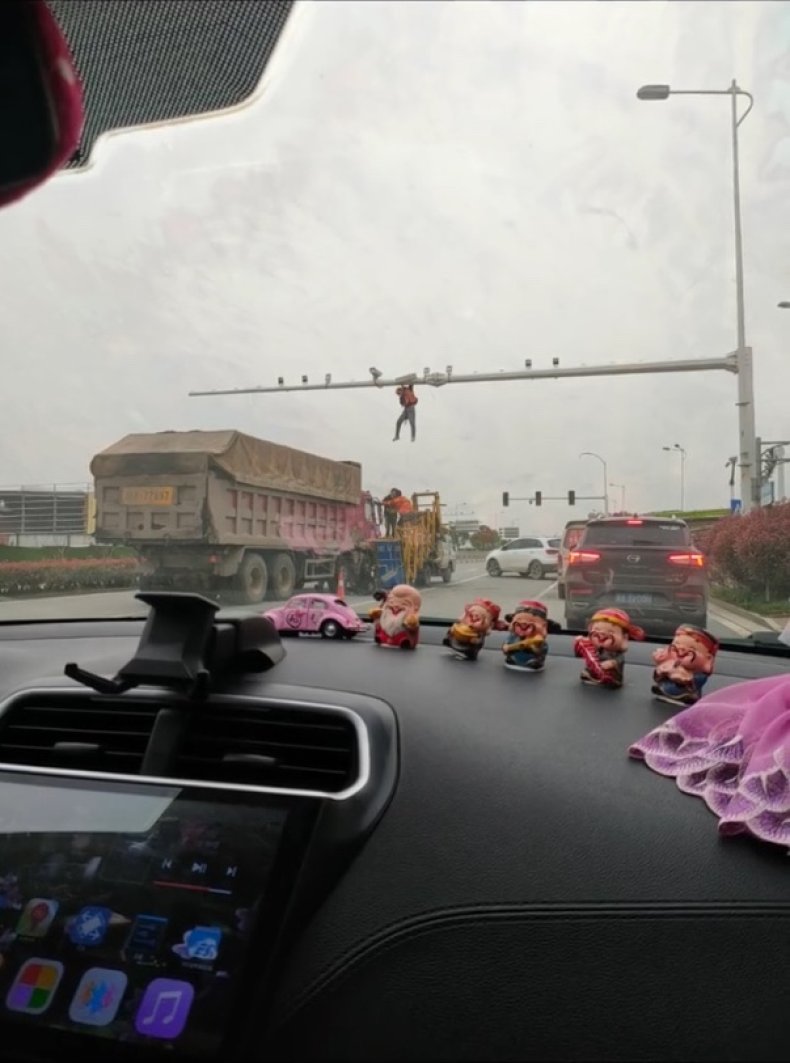 A video she later shared to TikTok showed the technician being helped down the traffic pole by a group of rescuers, including his coworker.
"Another truck drove up to the repairman and stopped underneath the traffic cameras," Yu told The Paper. "Thank goodness the truck arrived. The worker might have grown tired and fallen off," she added.
Yu said three drivers, including the truck operator who caused the collision, helped the repairman down from the traffic camera rig.
He was not harmed, reports said, but traffic authorities in Wangcheng did not say whether they were involved in any subsequent investigations into the incident.
Social media users have commented on the apparent lack of safety equipment used by the maintenance workers, including neither a harness nor traffic cones behind their service vehicle.
"Where are the work safety standards? This is the result of endless rounds of outsourcing," one TikTok user wrote.
Another added: "That'll make him reconsider his line of work."