One former shoe store employee is facing legal consequences for his actions on the job that were, arguably, worse than stealing or mismanaging merchandise.
New Zealand One Shoes employee Malachai Wylie stands accused of exploiting his professional position to take covert photos of his customers and co-workers before committing sexual acts with their footwear, according to Newshub.
Wylie allegedly also photographed or filmed the acts for the purposes of sharing them on what the outlet describes as "a network of porn, fetish and Facebook pages."
The 23-year-old man was arrested on April 23 and has since been charged with one count of theft and two counts of offensive behavior for surreptitiously sniffing, spitting, and ejaculating into shoes at his workplace.
The shoes included a pair of Converse that belonged to a young co-worker and a pair of Nike Air Force 1s that belonged to a blonde customer.
"As you may imagine from time to time there are some pretty sexy experiences - my favourite is when hot girls leave their shoes lying around as they walk across the store to get other shoes," Wylie's profile wrote on an internet forum frequented by foot fetishists. "I don't want to get too crazy (I don't want to lose my job) but am open to ideas!"
While Wylie allegedly began posting photos taken at Number One Shoes on the forum in December 2020, Newshub reports that he has been committing similar crimes since his days as a student at St Patrick's College in the suburb of Silverstream. In 2014, evidence suggests, he created a Facebook page dedicated to aggregating pictures of his female acquaintances' shoes.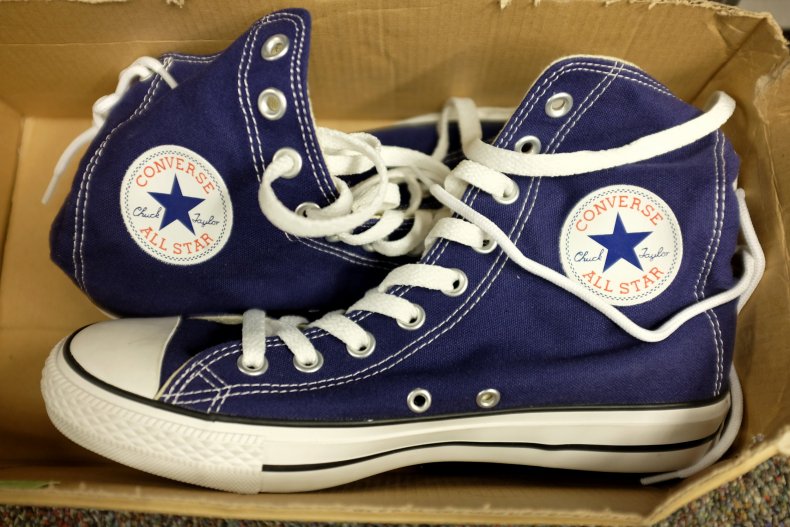 "I ask them if they would be willing to help for an 'art portfolio' I'm doing at school and tell them the art portfolio uses photos of their shoes to express the influence of brands on consumer behaviour," his profile wrote on the forum.
Wylie was allegedly able to obtain photos of hundreds of pairs of shoes this way, many of which he posted along with their owners' names, pictures, and contact information.
The Facebook page currently has nearly 1,000 followers.
The ruse came to light when a German woman identified only as "Ellen" noticed that photos of used clothing and shoes were appearing on foot fetish sites and managed to identify some of their owners and locations based on the candid photos Wylie allegedly took and the detailed description he used in his posts.
"I was really conflicted if I should even try to do something about it because I don't know how I would react after being told something like this," she told Newshub of her decision to come forward. "Maybe it would be better not to know? But that the guy could just continue doing this to people without consequences didn't sit right with me."
Wylie, who is currently out on bail, is scheduled to appear in court again on May 25, a police spokesperson said. In addition to stealing and defiling shoes, Wylie also allegedly claims to have stalked a "fit" brunette and sexually assaulted a sleeping girl, according to Newshub.