What if Shohei Ohtani Really Is This Good? Japanese Star Dazzles in Home Debut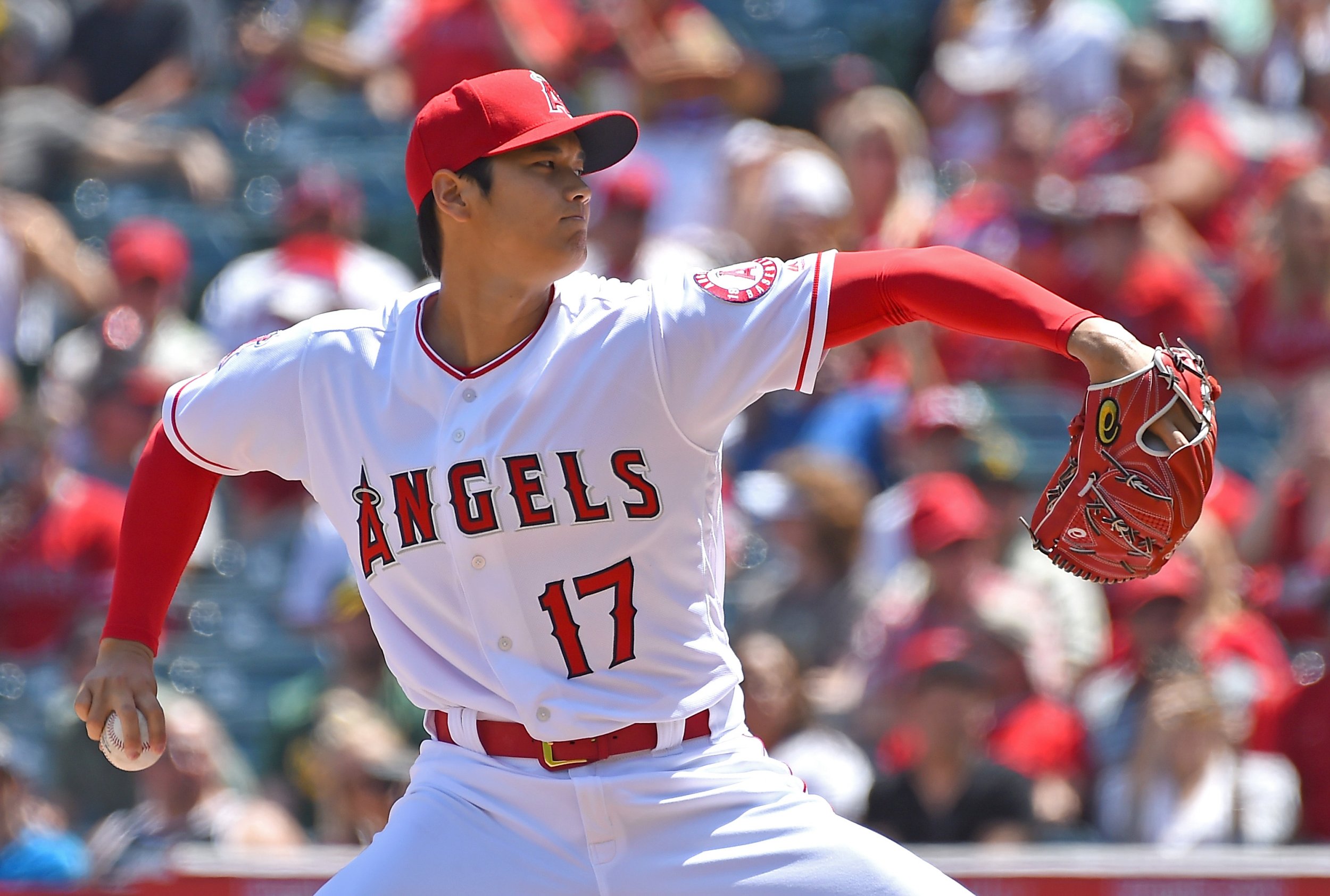 Shohei Ohtani made his home debut for the Los Angeles Angels on Sunday and ensured it was an occasion to remember.
The Japanese rookie threw seven shutout innings of one-hit ball as the Angels beat the Oakland Athletics 6-1, with no runners and 11 strikeouts in the first six innings.
Marcus Semien's one-out single disrupted Ohtani's chances of throwing a perfect game but the 23-year-old still ended his first home game with seven innings of one-hit ball, with one walk and 12 strikeouts.
"I wanted to keep a clean zero on the board," Ohtani was quoted as saying by ESPN. "One hit would [mean] two runs, and it's a huge difference. I wanted that strikeout, and I got it."
Mike Scioscia, the Angels manager was full of praise for the two-way rookie.
"That was as good a game as you could ever see pitched," he told USA Today.
Ohtani's performance was even more impressive considering he endured a very difficult spring training, struggling both on the mound and with the bat. The Japanese rookie batted .125 and his ERA was 27, prompting speculation over whether he could handle himself in the major league.
However, Ohtani has swiftly quelled those fears. On Tuesday night he crunched his first home run—becoming the first Angels rookie to do so in the first three home games of the season—as he helped his team to a 13-2 win over the Cleveland Indians and he is clearly growing more confident.
"Especially with how my spring training went, I wasn't really imagining [the start of the season] to be this good, to be honest," Ohtani said, as reported by ESPN.
"I feel better every day. I feel like I'm getting used to everything more and more each day. But it's just the first week."
His performance on Sunday certainly drew praise from both teammates and opponents.
"If he's hitting his spots, they're going to have a really hard time with him,'' the Athletics' outfielder Matt Joyce told USA Today.
"But it's a game of adjustments. The big leagues is the top level and these guys can make adjustments like that […] Obviously he's been doing it on both sides of the ball and he's an exciting player for baseball to have.''
According to the Elias Sports Bureau, during the win against Cleveland on Tuesday, Ohtani became the first player since the American League adopted the designated hitter (DH) in 1973 to start a game in a season as a pitcher and then hit a homer in another game as DH.
Angels second baseman Zack Cozart suggested the Japanese rookie's ability to deliver in two different roles singled him out as a special talent.
"It's a rare kind of talent to do it both ways, and it's great to watch," he said. "It didn't look like [Oakland] had a chance up there, the way he was throwing."