Shohei Ohtani Listed as Heavy Favorite Over Aaron Judge, Mike Trout in 2023 A.L. MVP Odds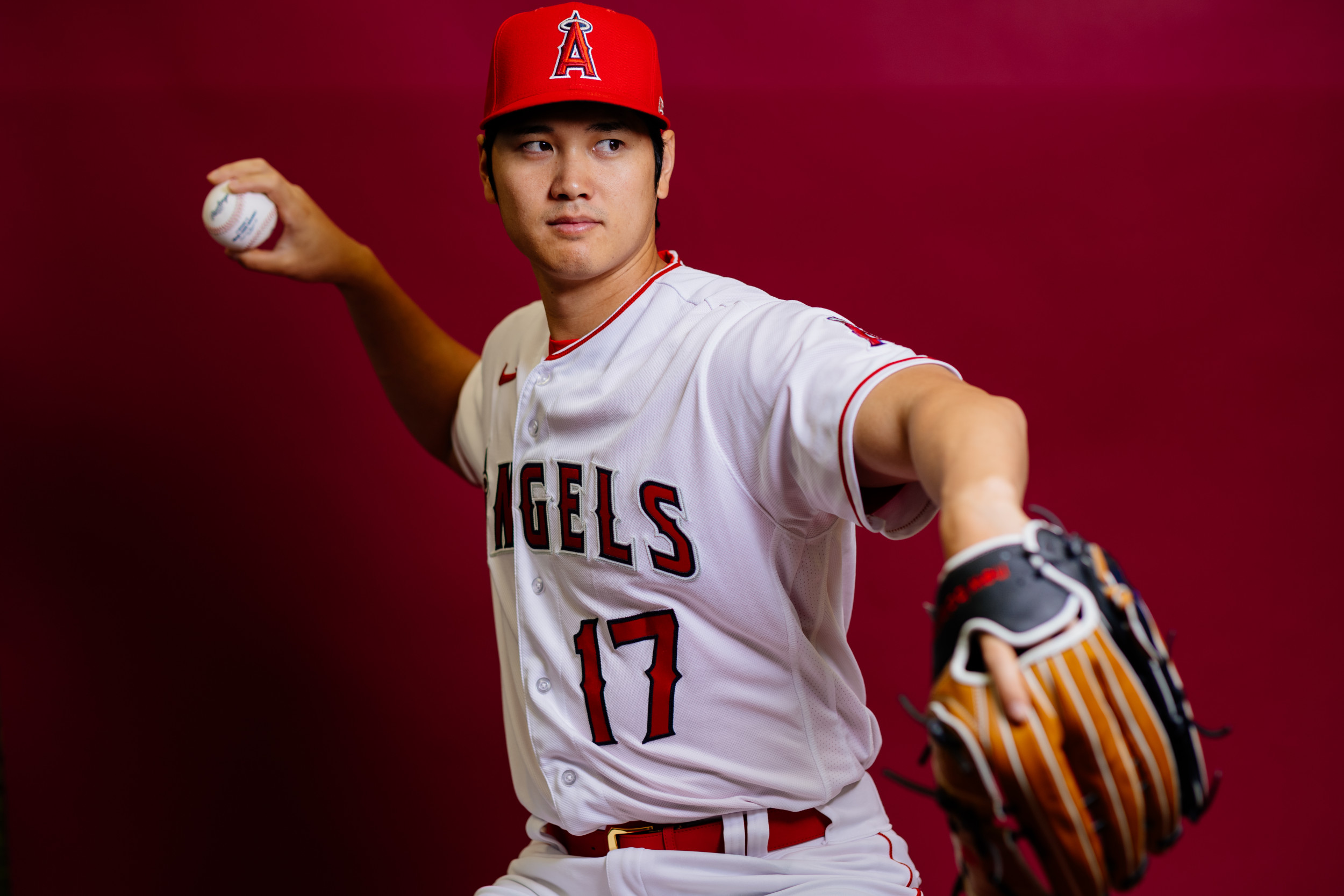 Sports Betting Dime provides exclusive sports-betting content to Newsweek, including picks, analysis, tools and sportsbook offers to help bettors get in on the action. Please wager responsibly.
Spring training is in full swing and Opening Day on the 2023 MLB season is now just 30 days away.
The early player-award futures have been released at online sportsbooks and, in the American League, it's clear that oddsmakers see a large divide between 2021-winner Shohei Ohtani and the rest of the field, which is led by reigning champ Aaron Judge.
Ohtani is a short +200 favorite, with Judge and Ohtani's Angels teammate Mike Trout next at +450.
American League MVP Odds 2023
| | |
| --- | --- |
| Player (Team) | Odds |
| Shohei Ohtani (LAA) | +200 |
| Aaron Judge (NYY) | +450 |
| Mike Trout (LAA) | +450 |
| Julio Rodriguez (SEA) | +700 |
| Yordan Alvarez (HOU) | +1100 |
| Vladimir Guerrero Jr (TOR) | +1200 |
| Jose Ramirez (CLE) | +1500 |
| Corey Seager (TEX) | +2000 |
| Rafael Devers (BOS) | +2000 |
| Kyle Tucker (HOU) | +2500 |
| Wander Franco (TB) | +2500 |
| Adley Rutschman (BAL) | +2500 |
| Byron Buxton (MIN) | +3000 |
| Bo Bichette (TOR) | +3500 |
| Carlos Correa (MIN) | +3500 |
| Marcus Semien (TEX) | +4000 |
| Luis Robert (CHW) | +4000 |
| George Springer (TOR) | +4000 |
| Alex Bregman (HOU) | +4000 |
| Jose Altuve (HOU) | +5000 |
| Tim Anderson (CHW) | +5000 |
| Bobby Witt Jr (KC) | +5000 |
| Jeremy Pena (HOU) | +5000 |
| Giancarlo Stanton (NYY) | +6000 |
| Jose Abreu (HOU) | +7000 |
Ohtani's +200 odds carry an implied probability of 33.33%. At +450, Judge and Trout have an implied win probability of just 18.2%. In other words, the odds suggest Ohtani is nearly twice as likely to win 2023 A.L. MVP than his closest rivals.
Ohtani coming off (another) phenomenal season
In 2021, his fourth season in the majors, Ohtani fully lived up to the two-way hype that accompanied him when he came over from Japan in 2018. He mashed 46 home runs and 100 RBI with a 0.965 OPS in 155 games (639 plate appearances). He also pitched 130.1 innings with a 3.18 ERA and 1.090 WHIP. Cumulatively, he compiled a WAR of 9.0 (4.9 batting and 4.1 pitching).
Ohtani ran away with the MVP vote that season, garnering all 30 first-place votes.
Ironically, the advanced metrics say Ohtani was even better in 2022.
He had a WAR of 9.7 thanks in large part to a stellar season on the mound and another solid year at the plate. Ohtani managed to pitch 166 innings last year with a miniscule 2.33 ERA and solid 1.012 WHIP. His pitcher WAR alone was 6.2. His power numbers at the plate declined some (34 home runs, 95 RBI) but his batting average actually rose from .257 to .273, and his WAR at the plate was still an excellent 3.5.
The difference when it came to the MVP vote was that a certain Yankee had a season for the ages.
Can Judge follow-up historically good campaign?
Aaron Judge looked like a man among boys last season. The 30-year-old led the league in almost every meaningful batting category, including home runs (62, a Yankee record), RBI (131), OPS (1.111), slugging (.686) and walks (111). It all amounted to a WAR of 10.6, a number that surpassed (by 0.1) the best season ever compiled by Mike Trout.
It's understandable that there would be scepticism around Judge replicating those numbers. The 2022 campaign marked the first time since 2018 that Judge managed to surpass 40 home runs. It was also the first time in his career that his batting average was over .300. But he was full value for his numbers (i.e. it wasn't luck). His hard-hit percentage of 61.9% was the best of his career, and his average on balls in play (BABIP) of .340 was actually below his career average (.345).
His 25.1% strikeout rate narrowly missed his career-best of 25.0% which he set in 2021. But those two seasons taken together show a marked decline from his first 4.5 seasons, when his strikeout percentage was 31.7.
What about Trout?
The perennial preseason MVP favorite for the better part of a decade, Mike Trout has been supplanted as much due to his own injury struggles as the brilliance of Ohtani and Trout.
The three-time A.L. MVP was limited to just 91 games combined in 2020 and 2021. He managed to suit up for 119 last year and put up some tremendous numbers, but his return to form was overshadowed by what Judge was doing in the Bronx.
Trout finished 2022 with 40 home runs, 28 doubles, 80 RBI, and a .999 OPS. His WAR of 6.3 was fifth-best in the American League despite missing over a quarter of the season.
Trout's 2022 back injury forced him to miss time in the middle of the year (mid-July to mid-August). He returned for 40 games from Aug. 19 to Oct. 5 and was phenomenal, clubbing 16 homers and 11 doubles with a .308 average and 1.056 OPS. By his own account, he is heading into 2023 fully healthy. Somehow still just 31 years old, the 12-year veteran captured the A.L. MVP in 2014, 2016, and 2019.
Newsweek may earn an affiliate commission if you sign up through the links in this article. See the sportsbook operator's terms and conditions for important details. Sports betting operators have no influence over newsroom coverage. If you or a loved one has a gambling problem call the National Council on Problem Gambling 24/7 at 1-800-GAMBLER. Must be 21 or older to gamble.