Shoigu's Phone Blitz of Foreign Counterparts Hints at Worse Things to Come
Russian Defense Minister Sergei Shoigu on Sunday told Western counterparts in phone calls about an alleged Ukrainian plan to use "a dirty bomb" in a false flag attack so it can accuse Russia of using weapons of mass destruction, in a move that could pressure Ukraine into concessions and intimidate NATO, a leading military think tank said.
A dirty bomb is a mixture of explosives and radioactive powder or pellets. A "false flag attack" is when an armed force carries out an attack on its own territory and blames it on the other side, as a pretext to escalate a conflict.
The Russian authorities and media have also been saying that Ukraine is planning to use such a bomb and blame it on Moscow, but Kyiv denies the claims.
The Institute for the Study of War (ISW) think tank wrote in its Ukraine war update on Monday that Shoigu mentioning the alleged "dirty bomb" attack was "likely to pressure Ukraine into concessions and intimidate NATO."
The ISW said that using this tactic, Shoigu is seeking to slow down or suspend Western military aid to Ukraine or potentially weaken the NATO alliance amid his calls with several NATO defense ministers on Sunday. He spoke with the defense ministers of the U.K, the U.S., France and Turkey.
An expert told Newsweek that accusations of a dirty bomb could also help Russian to gain time to regroup its military and launch fresh attacks in Ukraine.
Ukraine's foreign minister, Dmytro Kuleba, tweeted on Monday morning that he had spoken with his French counterpart.
"We both condemned Russia's 'dirty bomb' disinformation campaign," Kuleba said. "We also coordinated next steps in our work with other countries and within the UN and IAEA to counter these lies and avert any false flag operations by Russia."
The U.S. France and the U.K. issued a joint statement following the phone calls on Sunday.
"We, the Foreign Ministers of France, the United Kingdom, and the United States, reiterate our steadfast support for Ukraine's sovereignty and territorial integrity in the face of Russia's ongoing aggression. We remain committed to continue supporting Ukraine's efforts to defend its territory for as long as it takes," the statement said.
It also confirmed calls between the defense ministers, including Shoigu.
"Our countries made clear that we all reject Russia's transparently false allegations that Ukraine is preparing to use a dirty bomb on its own territory," the three NATO countries said. "The world would see through any attempt to use this allegation as a pretext for escalation. We further reject any pretext for escalation by Russia."
The foreign ministers also discussed their shared determination to continue supporting Ukraine and the Ukrainian people with security, economic and humanitarian assistance in the face of President Putin's aggression.
"I think it's another Russian psy-op aimed at forcing the West to push Ukraine to start negotiations with Russia," S&P risk analyst Alex Kokcharov told Newsweek.
"Such negotiations, as Russia likely is hoping, would temporarily freeze the current lines of contact, significantly lower, but not entirely stop, kinetic operations and allow the Russian forces to regroup, rearm and retrain for a renewal of full operations in early 2023."
Dr Kerim Has, an independent Russia analyst, said there were a variety of reasons for Shoigu's calls.
"When I look at [British defense minister] Ben Wallace's tweet on the phone call, I see that Shoigu directly and openly blamed the UK for facilitating the use of a "dirty bomb" by Ukraine. Probably a similar harsh tone of speech happened between Shoigu and General Austin, Chief of Pentagon," Has told Newsweek.
"But France is another issue, it's one of the two leading countries of European Union with Germany, but it's also the unique nuclear power in the EU. And from the beginning of Russian invasion of Ukraine, Paris supports dialogue with Moscow and calls for a diplomatic solution to the crisis though it continues to send military aid to Ukraine, but, not to that extent that the U.S. and U.K. do," Has pointed out.
"It's sure that if a "dirty bomb" or weapon of mass destruction is used in Ukraine, EU will also hugely suffer. So, as the only nuclear power in continental Europe other than Russia, France can also play a critical role whose position may differ from U.S. and U.K.'s," he added. "Therefore, it seems to me logical that Shoigu wished to have a contact on this issue with his French counterpart."
Turkey on the other hand is different, Has said, being the only NATO member with close ties to both Russia and Ukraine. It didn't impose any sanctions against Moscow and is located in the Black Sea region, controlling the Bosporus, a strategically important gateway for Russia.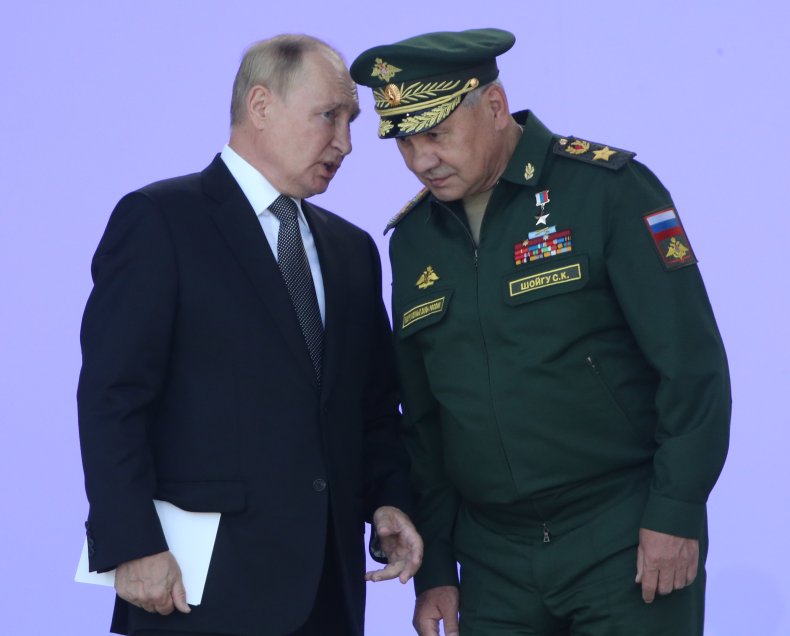 Has also noted that Turkey is helping Russia to bypass Western sanctions and playing "a main distributor role" in selling Russian and Ukrainian grain and fertilizers to global markets. It might also become a future "gas hub" for Russia's energy transfer to Europe, meaning that Moscow wouldn't want to lose it as a partner, Has added.
Dr Peter Caddick-Adams, a military historian, said he didn't know what to make of such "normally secret" diplomacy being in the public eye.
"No idea what the real agenda is here & a good chance it has nothing to do with dirty bombs. Good that the hot lines are still open and work. Perhaps that was one aim: testing chief to chief talks," he told Newsweek.
Meanwhile, on the battlefield, Ukrainian forces are continuing their counteroffensive operations in northeastern Ukraine, and Russian forces continued to set conditions for a withdrawal from Kherson in the south.