Man Shoots and Kills Restaurant Worker for Making His Sandwich Too Slowly
An unstable customer shot and killed a restaurant worker in France "because his sandwich wasn't prepared quickly enough," witnesses report.
Around 9pm Friday night, surprised neighbors heard a loud bang from Mistral, a small cafe in the outskirts of Paris.
Some stepped outside moments later to see emergency crews crowding the entrance the pizza and sandwich shop, which opened earlier this year, according to French outlet Le Parisien. The victim reportedly died on the scene.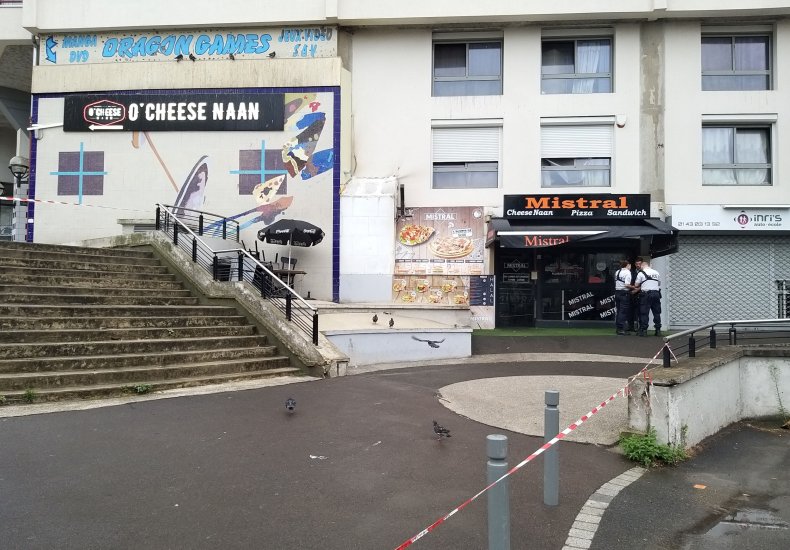 After shooting the 28-year-old restaurant staffer in the shoulder, the unnamed assailant then fled. He is still reportedly at large.
Police identified the alleged gunman in the sandwich shooting as a 34-year-old man with a criminal background. Authorities raided his home on Saturday evening but failed to locate him.
Detectives with France's judicial police told RTL their manhunt will be "difficult and possibly dangerous."
Locals in are still in shock, "This restaurant just opened," a neighbor identified as Louise told Le Parisien. "It's run by three people, two of them work the counter. We get takeout there often. They're very nice and seem to be hard workers,"
One woman told The Daily MailMistral was "a quiet restaurant, without any problems."
The eatery, located in Noisy-le-Grand, is in a mixed use multicultural area near a Holiday Inn. Signs outside advertising businesses selling naan bread and video games. One resident told Le Parisien the neighborhood had developed a "degraded atmosphere" with "drunk and inebriated people hang[ing] out more and more."
About 15 miles east of Disneyland Paris in the department of Seine-Saint-Denis, Noisy-le-Grand has about 66,000 residents. Saint-Denis experienced the second highest crime rate in France last year. The banlieues, or suburbs, of Seine-Saint-Denis are known for high unemployment, poverty, and crime—a reputation that intertwines with a legacy of housing marginalized immigrant communities.
Recent governmental administrations, including that of Emmanuel Macron, have denounced living conditions in St-Denis and vowed to bring quality of life up to par with the rest of France. "When one believes in the Republic, we can not accept this reality of unequal potential," Prime Minister Manuel Valls said in 2016, stressing the need for greater "equality and citizenship" within the banlieues.
But gun crimes are still relatively uncommon in France, which ranks 20th in gun violence worldwide: According to data collected by PBS, in 2016 there were only 2.7 shooting deaths per 100,000 residents.
By comparison, the United States was ranked No. 2 after Brazil, with 10.6 Americans dying by gun violence per 100,000 people.
France was the only EU member country among the Top 20 in global gun violence.