Shooting at Buffalo, Minnesota Health Clinic Injures at Least Five, Bombs Also Reported
Multiple people are injured and a suspect is in custody after a shooting occurred at a health clinic in Buffalo, Minnesota, on Tuesday morning.
The Wright County Police Department has since identified the suspect as 67-year-old Gregory Ulrich of Buffalo.
"We're not looking for any additional suspects, we believe he acted alone," Wright County Sheriff Sean Deringer said during a press conference on Tuesday.
Deringer added that Ulrich was well-known to authorities before the attack, and had criminal complaints dating back to 2003.
"The history we have with this individual makes it most likely that this incident was targeted at that facility or someone in that facility. Because of that previous contact with him, this was an isolated incident or only directed at people within [the clinic], Buffalo Police Chief Pat Budke added.
Police were first called to the scene at the Allina Health Clinic on Crossroads Campus Drive, located about 40 miles northeast of Minneapolis, at around 10:55 a.m on Tuesday morning.
Authorities have since confirmed that at least five people were injured in the attack and transported to hospitals in the area.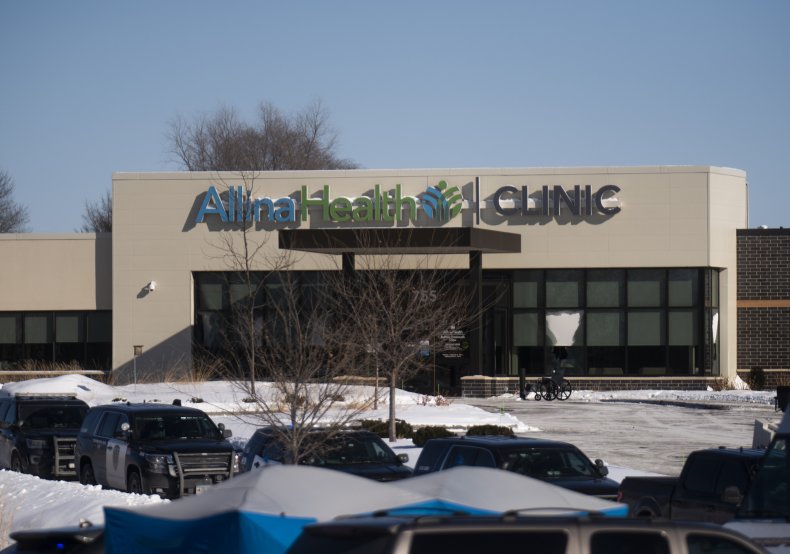 "Our thoughts and our prayers go out to them and their families, and our staff at the Allina Health system," said Kelly Spratt, president of Allina Health Buffalo Hospital.
On Tuesday afternoon Minnesota Governor Tim Walz said explosive devices were involved in the incident.
"It was an active shooter situation and some improvised explosive devices. It's not confirmed yet the casualties or those injured," he said.
Previous news reports had indicated there were at least four homemade explosive devices found on the scene, but police have since retracted that information and said they cannot yet confirm if there were bombs on site.
"There may have been [an explosion] prior to our being able to go inside and evacuate the building," Budke said Tuesday.
"We don't know or can't confirm what those devices were, or anything about what the intention behind those devices may have been until we're able to complete the investigation," he added.
Three victims were been taken by ambulance to North Memorial Health Hospital in Robbinsdale, Minnesota, which is equipped to handle the most severe of critical incident injuries, while two others were taken to Allina-operated Buffalo Hospital, The Star Tribune reported.
On Tuesday afternoon, authorities imposed a flight ban over the area and deployed helicopters to the scene. Budke told TV station KSTP that the situation was contained shortly before noon and that there was no additional threat to the public's safety.
FBI spokesman Kevin Smith said the agency's bomb technicians were on their way to the scene, along with members of the state's Bureau of Alcohol, Tobacco and Firearms, the Associated Press reported.
Minnesota Department of Public Safety spokesperson Bruce Gordon told USA Today that Minnesota Bureau of Criminal Apprehension special agents and crime scene personnel were headed to the scene to assist police in the ongoing investigation.
Allina Health, a nonprofit health system based in Minneapolis, owns or operates 12 hospitals and more than 90 clinics in Minnesota, according to the company's website.
Newsweek reached out to Allina Health Clinic and the Buffalo Police Department for additional comment.
This article has been updated with additional information.