Shooting at the Ivory Tower: A New Documentary Sets Its Sights on America's Higher Education Crisis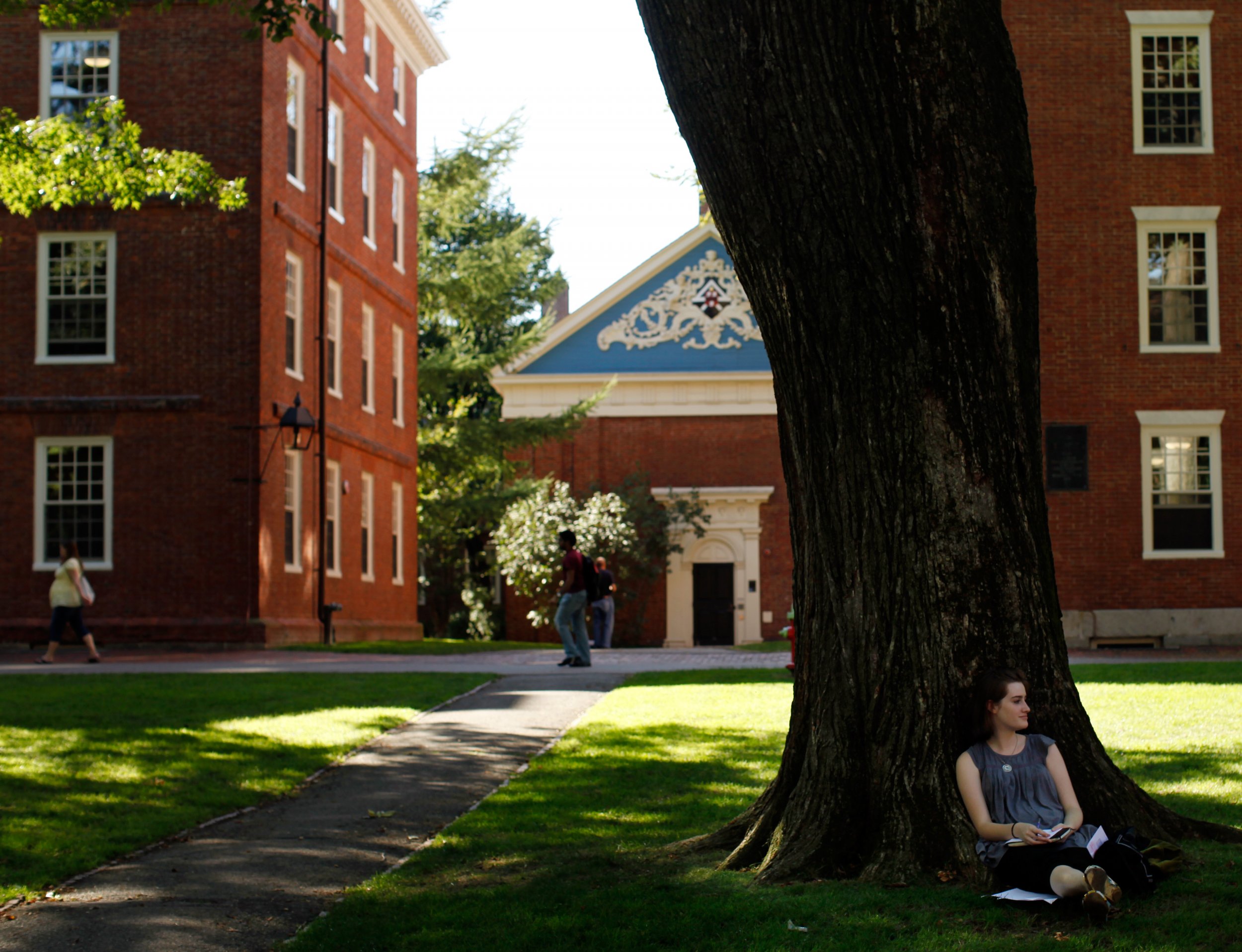 Documentarian Andrew Rossi has an odd eye for institutions in crisis. His last feature, the 2011 film Page One: Inside the New York Times, was a tour of the Gray Lady at a 150-year business low, when print advertising revenue had dwindled beyond repair and buyouts loomed. Recent scuffles aside, the Times has mostly righted its path—or at least avoided a shipwreck—since then.
Higher education, which broadly forms the focus of Rossi's new film, Ivory Tower, may not be so lucky. As billionaire venture capitalist Peter Thiel puts it in the film, "Twenty years ago, we said that all the kids who aren't going to college are the victims. Now it's actually turning out that a lot of the kids who are going to college are the victims." This could be a low point, as Page One depicted with the Times—or it could be the inevitable bursting of a bubble.
"The idea was to find another great cultural institution that's at a moment of crossroads and trying to address how it needs to change itself from the bottom up," Rossi said in a recent phone interview. "I think there's a similar sense of urgency and crisis in both films."
There were several developments that drew him to the subject. The first was the news in spring 2012 that national student loan debt had exceeded a trillion dollars, accompanied by the disclosure that the cost of college tuition has increased by 1,120 percent since 1978—more than any other good or service in the U.S. economy. Running parallel to those numbers in Ivory Tower is the marketing of major college campuses as luxury-minded products.
"I think there is an entire culture surrounding this notion that college for many students is a social playground—and that's been part of the mythology about college since even before Animal House," Rossi said. "That's actually an extremely dangerous route for students who are disadvantaged or don't have the same financial cushion to be able to afford some of that partying. When they graduate, if they don't have the grades or the connections to be able to get a job like some of their wealthier peers, they can find themselves in bad jobs with a lot of debt, and with a lot of their life choices proscribed as a result.
"I think it's important to challenge that sort of gauzy, nostalgic idea of college," Rossi added. "That's what the movie is trying to do."
It was filmed quickly, throughout the 2012-13 academic year, because its targets are moving quickly. (Consider the wave of headlines even now: The media is obsessed with a college porn star who cites high tuition fees as her career motivation, student debt is making it more difficult to own a home, and Obama has expanded the student debt repayment cap.) Along with solemn-voiced proclamations about the unprecedented plight of today's graduates, Ivory Tower explores the extremes of college life, from Harvard, where we meet a formerly homeless student attending on a full scholarship, to Deep Springs, the tiny, two-year institution in California's High Desert where students forgo tuition and instead labor on a cattle ranch. (It's "the ultimate contrast to the 'student-as-customer,'" Rossi said.)
We also visit schools as sprawling as Arizona State, where the largest undergraduate enrollment in the country meets a long-heralded party campus, and as intimate as Connecticut's Wesleyan University, where a parent's concern about post-grad job prospects bumps up against the liberal arts philosophy—the value of critical thinking over specialized job skills.
"Each school was chosen with the idea of trying to create a range of perspectives that would come as close as possible to showing what is happening on the ground in colleges and universities and what is working and what is failing," Rossi told me.
Ivory Tower is not entirely prescriptive, and Rossi doesn't claim to have the answers. Many of his subjects do, however—or their livelihoods depend on the illusion that they do—and so the film's latter half plays out as a roving road map of proposed cures for what ails education. There is a lengthy rumination on the rise of MOOCs (Massive Online Open Courses)—too lengthy, perhaps, given their uncertain value—and another excursion to Silicon Valley, where Thiel has founded a fellowship that pays students under 20 to drop out of college and try their hand at independent research or entrepreneurship instead.
These topics could warrant documentaries of their own. At its best, Ivory Tower takes on the student debt disaster with a flashier and more visceral sense of urgency than any trend piece could. Of the stories within the story, the most compelling is one Rossi stumbled upon midway through shooting. This is the ongoing crisis at Cooper Union, the Manhattan college founded upon the radical notion that education should be "as free as water or air." In 2012, financial woes led the school to consider charging tuition for the first time in its 150-year history. Student activists occupied administrative offices for a week in protest, and then did so again, for two months at a time, early last summer.
Rossi learned of the occupation while filming in San Francisco; within days, he met student Victoria Sobel, one of the most vocal occupiers, and was on the scene collecting footage. This piece of the puzzle is crucial: It shows students not as victims but as agitators, seizing control of the debate.
"These types of struggles aren't specific to Cooper. They're happening all around the country," Sobel told Newsweek. "I don't just want students and their parents to watch this film—they already relate to it. I really want to challenge people who don't have students in school or who are outside this community of students and educators."
The Cooper Union fight, Ivory Tower shows, is a bitter one. Perhaps the film is too trusting of some of its subjects. They include Thiel, the PayPal billionaire whose dropout experiment has been derided as anti-intellectual, and some of the campus administrators and presidents who have presided over recent tuition hikes and whose compensation, a recent study found, is the highest at universities with the fastest-growing student debt.
Rossi says he remained skeptical when, for instance, Arizona State president Michael Crow sought to dismiss the school's Playboy-certified party reputation. But no public figure depicted is so divisive as Jamshed Bharucha, the Cooper Union president who has presided over a steady trampling of the school's tuition-free vision. He claims the school's budget is unsustainable; student protesters are quick to note his salary of $750,000 and a free house.
At the height of the film's dramatic pitch, Rossi captures Bharucha venturing into the occupation to meet with the student resistors, who've literally set up camp in what was once his office. One of them makes a plea to the administrator, urging him to recognize that the challenge of Cooper Union is the broader one of higher education as a business and as a squandered promise.
"To effectively lead us, you need to realize the moment you're in and the position you're in," the student says. "It's a historic moment. This is a big step that you came here to meet with us. And we need a leap, not a gamble."
Offscreen, Bharucha exits, and the occupation ends weeks later with the promise of a working group, whose proposals are months later deemed too risky. The Board of Trustees officially decided in January to begin charging tuition.
Sobel says the fight carries on. If it's a case study for higher education at large, it's yet to prove an optimistic one.