Police in Chesterfield County, Virginia, say that a shooting at a party on Friday evening left seven people injured and one dead.
Police responded to a report about a shooting and when they arrived, determined that six people had been shot and two others had suffered "non-firearm related injuries," Chesterfield County Police stated in a press release provided to Newsweek.
Police found one man, Taborri J.Carter, suffering from a gunshot wound. First responders attempted to give him emergency aid, but he died at the scene.
"The five other shooting victims, who appeared to have non-life threatening injuries, had left the scene and gone to area hospitals and other locations before police arrived. The investigation indicates the two victims with non-firearm related injuries were struck by a vehicle as they fled from the shooting," police stated in the news release.
Chesterfield Police Lieutenant George Turner told The Progress-Index on Saturday that police received a call about a "large party," heard about gunshots in the area and when they arrived at the scene "immediately found one victim in the roadway who was deceased."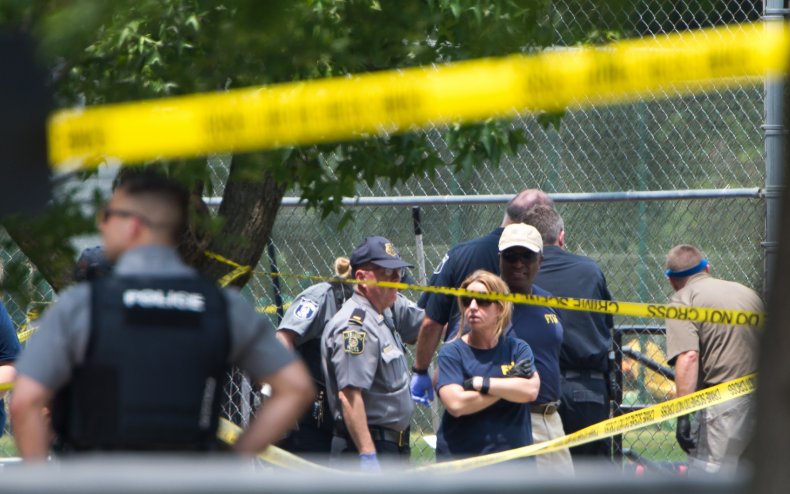 Neighbors reported seeing cars swerving near the party, party-goers standing on vehicles, fighting and wandering into driveways, according to the newspaper, which cited a dispatcher report. One caller estimated that there were 50 to 100 people at the party.
The Progress-Index reported police found some victims of the shooting in other locations—one in a high school parking lot, and another at a nearby shopping center. The shooting occurred in Chester, which is part of Chesterfield County.
Police said more than 50 shots were fired at the scene.
Other Parties That Faced Gun Violence
In a separate shooting in Georgia last weekend, multiple teenagers were injured after gunfire broke out at a graduation party. At least 200 people attended the party, and one person, 18-year-old Akeem Ellison, was killed. Police said they believed the shooting started following a fight between party-goers.
Also last month, three teenagers in Des Moines, Iowa, were injured after a shooting at a post-prom party. The shooting reportedly occurred after a group of uninvited people arrived at the party where at least 200 people were present. A 17-year old female and two 18-year old males were shot. The principal of a local high school said officials didn't believe any of the injuries were life-threatening.
In another incident last month, a man in West Virginia opened fire into a crowd at a party and was then shot dead by another party-goer. Police said that people at the party confronted the man, Dennis Butler, for driving dangerously in the area while children were playing outside. Butler left and then returned shortly afterwards with an AR-15 style rifle and allegedly shot at the group. Police said someone at the party then fatally shot Butler with a pistol, according to a local news report.
Update 6/4/22, 3:27 p.m. ET: This story has been updated with comment from the Chesterfield County Police Department.