U.S. Capitol on Lockdown, Alert Issued to 'Seek Cover'
The U.S. Capitol was put on lockdown, with people advised to seek shelter, amid Initial reports of shooting outside the building.
Capitol Police posted on Twitter that they were responding to the North Barricade vehicle access point along Constitution Avenue after reports that someone rammed a vehicle into two Capitol officers. Both officers were injured, and the suspect was taken into custody. All three people were transported to the hospital.
An alert sent out on Friday advised people that there was an external security threat and that entry and exit to the Capitol campus buildings was prohibited. People were able to continue moving about inside the buildings but were advised to stay away from doors and windows. Those who were outside were advised to seek shelter.
The Washington, D.C., Fire Department told Newsweek it responded to reports of a shooting with "at least one" victim.
Newsweek reached out to the Capitol Police for comment but did not receive a response in time for publication.
Two law enforcement officials told the Associated Press the driver of the vehicle was shot and was in critical condition. The suspect reportedly appeared to have a knife. One officer was taken to the hospital by car, and another was transported by emergency medical crews, according to the AP.
"Praying for the United States Capitol Police officers who were attacked at the Capitol. We are still learning what's taken place. Grateful to all the USCP and first responders who are on the scene," Senate Minority Leader Mitch McConnell tweeted.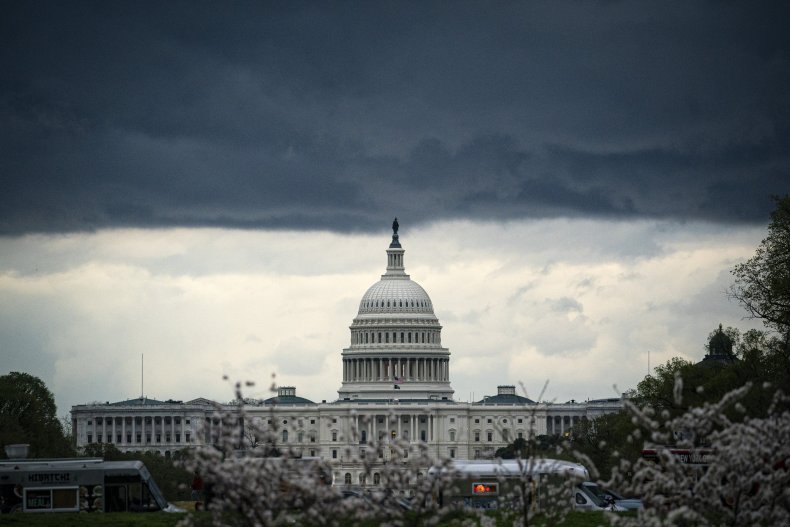 White House press secretary Jen Psaki was holding a press briefing at the time of the security threat. Asked about who was briefing President Joe Biden, who went to Camp David on Friday, she told reporters that he was being kept informed.
As a result of the security threat, the Capitol Police closed down Constitution Avenue between Second Street Northeast and First Street Northwest, and First Street between Constitution Avenue Northeast and Independence Avenue Southeast.
The ramming of the barricade comes three months after the January 6 insurrection at the Capitol, during which a mob invaded the building as Congress convened to certify Biden's Electoral College victory. An insufficient law enforcement presence came under heavy scrutiny in the wake of the attack, prompting a significant increase in security at the Capitol campus. Authorities had started to remove an outer ring of fencing in the past couple of weeks.
Unlike January 6, when the Capitol was filled with legislators, neither the Senate nor the House was in session on Friday. Congress has been on a district work period since March 29 and isn't set to return until after April 9.
The suspect, according to the Associated Press, has died, as has one of the officers.