Shooting Scare At Florida High School Was 'Cruel Prank': Police
A shooting scare at a Florida high school was a "cruel prank" by several students and online trolls, according to police.
In a Sunday, September 11 Facebook post, the Daytona Beach Police Department (DBPD) said its officers became aware of a threat written on a bathroom stall at Mainland High School in Daytona Beach on Thursday.
The post said both police and school officials reviewed video and found two students had entered the bathroom around the time when the threat was found.
The pair denied any involvement when interviewed by police and an investigation determined that no threat existed at the time.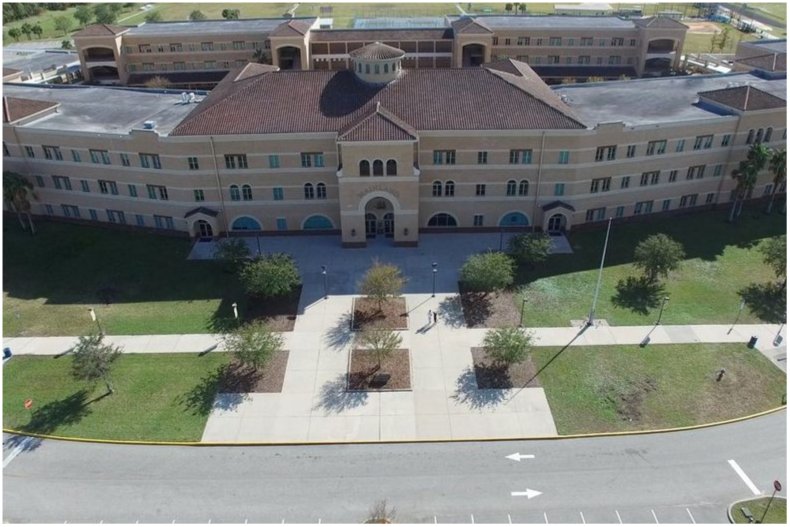 The following day, police said two groups of students in the school cafeteria "decided to capitalize on the threat" and collaborated with one another to create a panic.
A DBPD spokesperson said: "The groups can clearly be seen on video, getting into specific positions and locations within the cafeteria, timing their actions.
"Several female students walk towards the school administrator laughing and smiling, all the way, up until they reached the administrator, at which point one of the females tells the administrator that someone had a gun.
"At this same time, one of the male kids, already positioned near the exit to the cafeteria, waited until the female student made the statement, then looked at her and ran out of the building, causing a large crowd to follow him."
The incident caused misinformation, rumors and conspiracy theories about what happened to be shared online.
Video shared on social media platforms, including TikTok, showed students running out of the building and gathering by the street. One video shared on TikTok went viral with 1.8 million views.
There were 34 school shootings across the U.S. in 2021, according to Education Week. It added there had been 121 school shootings since 2018.
Detectives who examined the video said no gun was visible and no students flinched as would happen if a shot had been fired. Police added that at no time did anyone stand on a table and reveal a gun or fire shots, as had been posted online.
Police said: "The entire incident appears to have been a cruel prank by several students that has now gotten out of control due to internet trolls, misinformed people and, in some cases, people that are not even in Florida, or have kids that go to school at Mainland.
"Despite this being a false alarm, we will increase our law enforcement presence at the school on Monday to ensure everything goes smoothly."
Police said charges are pending for the pranksters, including for making a false report concerning the use of firearms in a violent manner against a person or persons—a second-degree felony.
The DBPD encouraged people not to share unverified information about the incident and asked people who know anything about the prank to contact law enforcement.
Newsweek has contacted the DBPD for comment.