David Hogg Sees Senate Gun Deal 4 Years After Surviving School Shooting
A school shooting survivor hailed the gun safety framework that a bipartisan group of Republican and Democratic senators agreed to on Sunday in the wake of recent mass shootings across the country.
"Today a bipartisan group of 20 Senators (10 D and 10 R) is announcing a breakthrough agreement on gun violence—the first in 30 years. Told you this time is different," tweeted David Hogg, the co-founder of March for Our Lives, which is a student-led movement that was formed after 17 people were killed in a shooting at Marjory Stoneman Douglas High School in Parkland, Florida, in 2018. Hogg was one of the survivors.
His remarks come after the senators reached an agreement on the framework to address gun violence plaguing the country, marking a significant step given that lawmakers have been divided over gun control issues for quite some time.
The deal includes measures that are in principle only since a legislative form has yet to be written. However, the framework covers enhanced background checks to those under 21 years old, funding mental health services and school security, and giving grants to states to enforce red flag laws.
The agreed-upon framework came after 18-year-old Salvador Ramos killed 19 children and two teachers at Robb Elementary School in Uvalde, Texas, after legally purchasing two AR-15-style rifles a few days before last month's shooting. Also, in that same month, 18-year-old Payton Gendron shot and killed 10 people at a grocery store in Buffalo, New York.
Proposed measures in Sunday's agreement also include penalizing those who illegally straw purchase and traffic guns, and adding convicted domestic violence abusers and those subject to domestic violence restraining orders to the National Instant Criminal Background Check System (NICS).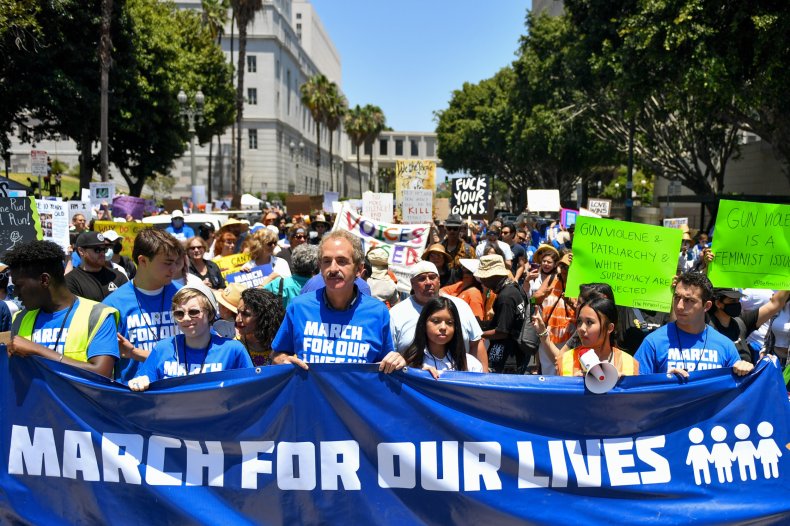 Senators Chris Murphy of Connecticut, John Cornyn of Texas, Kyrsten Sinema of Arizona, and Thom Tillis of North Carolina were the lead negotiators on the gun reform package. The proposal would need 60 votes to make it to the Senate floor once a legislative format is completed.
"The negotiations, led by Senator Chris Murphy, revealed a package that includes measures March For Our Lives has demanded for years, like closing the boyfriend loophole, which prevents perpetrators of domestic violence from purchasing guns," March for Our Lives said in a statement emailed to Newsweek.
"Thousands of Americans this weekend, including Democrats, Republicans, and gun owners in 450 cities made clear that the Senate must bring this plan to a vote. We cannot wait any longer—lives literally hang in the balance," Hogg said in the statement.
'Epidemic of Gun Violence'
March for Our Lives held meetings with 70 lawmakers to demand strict gun control legislation and organized over 450 events around the world to demand action, including an estimated 40,000 people in Washington, D.C.
"We need to be clear: there is more work to be done to save more lives, including requiring background checks for every single gun purchase nationwide. This bill, the first of its kind in 30 years, should be the beginning and not the end of Congress' work," Hogg added. "We must build upon the life-saving foundation it provides to go further and expand these laws until we bring an end to the epidemic of gun violence."
He also said that March for Our Lives will continue to call for gun control reform nationwide and "demand a vote on this bill and more federal legislation to end gun violence."
Meanwhile, President Joe Biden also praised the agreement, but said that "it doesn't do everything" that he believes is needed to help end gun violence.
"But it reflects important steps in the right direction, and would be the most significant gun safety legislation to pass Congress in decades," he said in a statement. "With bipartisan support, there are no excuses for delay, and no reason why it should not quickly move through the Senate and the House. Each day that passes, more children are killed in this country: the sooner it comes to my desk, the sooner I can sign it, and the sooner we can use these measures to save lives."