Shooting at Virginia 'Trump Train' Rally After Confrontation Near Robert E. Lee Monument
Police in Virginia responded over the weekend to reports of a shooting and confrontations which coincided with a political rally in support of President Donald Trump.
Richmond police said the mobile "Trump Train" demonstration entered the city on Sunday afternoon after originating in Henrico County, with participants driving to the Robert E. Lee statue at Monument and Allen avenues.
Confrontations with individuals at the circle ensued, police added in a statement, while some of the vehicles left the roads and crossed grassy medians near the area.
One female who was in the area reported she was pepper-sprayed by an unknown individual from a vehicle. The alleged attack took place shortly before 4:20 p.m. No other injuries were reported, police said.
Moments earlier, officers had been called to investigate a report of an unoccupied vehicle being struck once by gunfire near the Robert E. Lee statue at the 1800 block of Monument Avenue.
"Officers responded to clear the area and investigate the assault," Richmond police's statement said.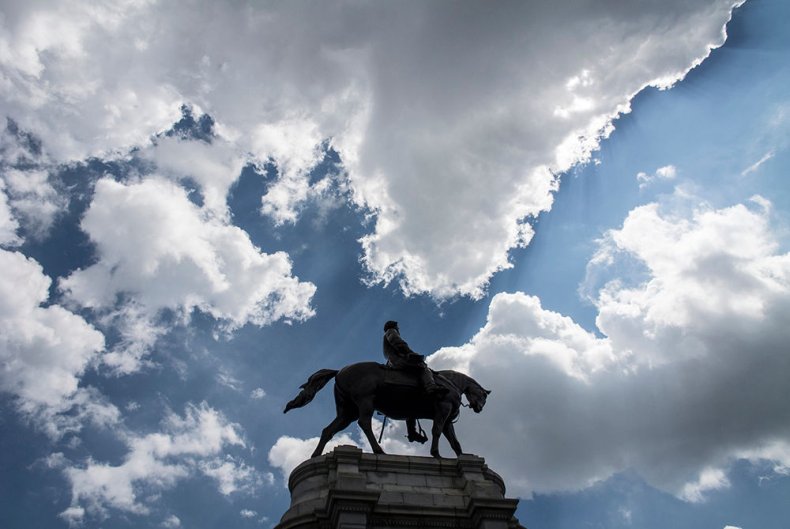 Road closures were enforced in the wake of the incidents, with the intersection at Monument Avenue and Meadow Street, Monument Avenue and Lombardy Street, Park Avenue and Allen Avenue, West Grace Stree and Allen Avenue shut to traffic.
Police said they would continue to maintain a presence in the area and monitor the vicinity overnight on Sunday.
"Once normal traffic condition resume the community will be notified," Richmond police's statement added. "Local traffic and emergency vehicles will be able to travel through the area."
Officers also appealed for members of the public with information concerning the incidents, including anyone with photos of individuals and vehicles involved in any assault, to come forward and contact Crime Stoppers at (804) 780-1000.
The incidents came just days ahead of the November 3 election, which will see Trump attempt to fend off Democratic challenger Joe Biden and retain the White House for another four years.
Recent opinion polls suggest Biden is on course to defeat Trump, whose 2016 victory came at the expense of former Secretary of State Hillary Clinton.
National polling currently shows Biden, former Vice President under Barack Obama, with a more than 8 percent lead over his rival.
In Virginia, which has 13 electoral college votes, the president is trailing behind Biden by more than 11 percentage points, according to FiveThirtyEight's poll tracker.
The state backed Clinton in the 2016 election, with the former first lady gaining 5 percent more of the popular vote than Trump four years ago.