Several Dead In Shootout Between Rival Mexican Cartel Gang Members
A shootout in the western Mexican state of Michoacán between rival drug cartel members has left at least six dead, with witnesses describing bodies left dumped along a state highway.
Police responded to reports of a heavy shooting confrontation between two cartels on Wednesday night.
Two alleged gang members were arrested and 30 vehicles were confiscated along with a haul of weapons.
One report citing witnesses suggested dozens had been killed while the official police death toll put the figure at six.
The El Comercio newspaper said up to 100 armed men from the Jalisco New Generation Cartel (CJNG) and United Cartels, the latter made up of at least five local criminal organizations, were involved.
Much of the fighting took place on the main road between the municipalities of Tocumbo and Tingüindín.
The attack was said to have begun in the small town of Tacatzcuaro, where a convoy of armored vans and trucks, known as narco tanks or monstruos (monsters in Spanish), of the CJNG approached Los Reyes.
Hitmen reportedly used AK-47 and AR-15 assault rifles, as well as .9 millimeter, .40 millimeter and .38 Super caliber pistols, authorities said.
Witnesses reported seeing several bodies thrown on the side of the road, all with gun injuries, some apparently alive and others dead, the drug violence monitoring website Narcos En Mexico said.
Members of the National Guard, Mexican Army, Michoacán Police and Municipal Police who were deployed found a total of 30 abandoned vehicles, some of which had been reinforced. Many showed bullet damage.
Police found the bodies of six alleged hitmen in the vehicles, along with 19 assault rifles, cartridges and magazines.
The bodies have been transferred to the local forensic medical unit where they are waiting to be identified and claimed by their families.
Michoacán has been plagued by gun battles between rival drug cartels, with the main group in the area known as the CJNG.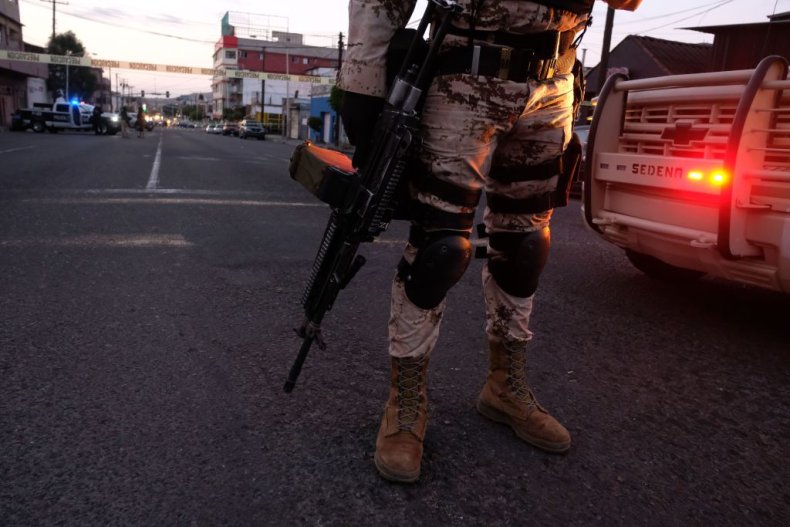 The organization is led by Nemesio Oseguera Cervantes, or "El Mencho", the most wanted drug trafficker by the United States and Mexico.
Earlier this year it was reported that he had built his own private hospital in the western state of Jalisco to avoid having to venture out of areas controlled by the gang.
He is also known for attempting to murder Mexico City's police chief.
The United States 
Drug Enforcement Administration offers $10million for information leading to the former police officer's arrest.
Michoacán ended 2019 as the sixth most deadly Mexican state by homicides, with 2,049 having been recorded over the 12 month period.