Shopper Baffled Over Mystery Zara Item Which Doesn't Seem to Fit Anything
A shopper has taken to the internet to try and figure out what a mystery item from Zara is, as it doesn't appear to fit anything.
The store is infamous for its models posing in awkward positions, but now one woman has brought another quirk to our attention, via social media.
Yasmin Taylor posted a clip to her TikTok account, @yasmin_logan, showing off the unusually shaped item.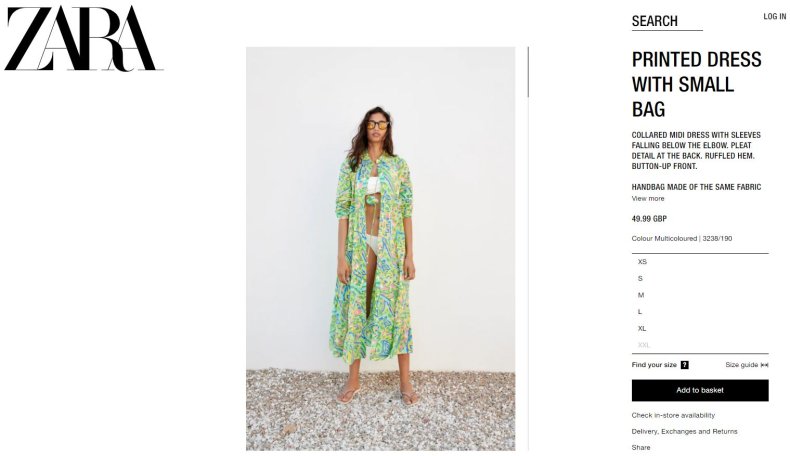 "Zara I need to know wtf this is," Yasmin, thought to be from Jersey, in the U.K., wrote.
It shows a small pouch with two strings on either side, in the same multi-colored pattern as her dress, which she received along with the frock.
She initially puts the matching accessory on her head, like a party hat, before putting it around her face reminiscent of a face mask, before finally tying it to her front, fashioning a one-sided bikini of sorts
But none of the options quite work, as the pouch doesn't fit any part of her body.
"Anyone out there that can tell me what this is?" she captioned the video, which can be seen here.
More than eight million people watched her video, and offered up some wild suggestions.
GW2MT: "Guys it's clearly a purse for your hamster."
Nicky.Bikini: "Looks like a coin purse."
"It's for when you go to the shop for just one egg, you can carry it home safely in this," Gertrude4711 wrote.
Heather quipped: "It's a bag to carry around your life savings."
@uastoriess added: "That's where I carry my patience."
Armada wondered: "Men's G-string?"
Ilysass reckoned: "I'm pretty sure that's a muzzle for your dog."
Jodie: "It's to wrap around your bun (hair) like artistic swimmers' hair style."
In a follow-up video shared a few days later, Taylor revealed she'd finally found a use for it.
"My WTF Zara item part 2. Could it be a cat hat?" she asks, showing her pet now sporting the matching headgear. She captioned the video: "Right @Zara what you saying? Is it a cat hat?"
According to the Zara website, the miniature pouch is in fact meant to be a handbag.
The website described the set as: "Handbag made of the same fabric with adjustable drawstring fastening. This set is indivisible and must be returned with its accessory."
But snaps show the model wearing the midi, long-sleeved dress costing £49.99 ($68.47), with the bag bizarrely around her neck.
Newsweek reached out to Taylor and Zara for comment.