'Fortnite' Drivable Shopping Cart Added To Battle Royale
After months of waiting, ridable shopping carts are finally getting added to Fortnite . A message added to the welcome screen (which you see when you boot up the battle royale), says that the four-wheeled mount will soon be playable. The text along with the cart reads "Roll into battle alone or with a buddy!" Carts are the first vehicles Fortnite has ever had, allowing players the first chance to get around the island in something other than their legs. How it will work is purely speculation, the cart is not yet playable in any Fortnite game mode.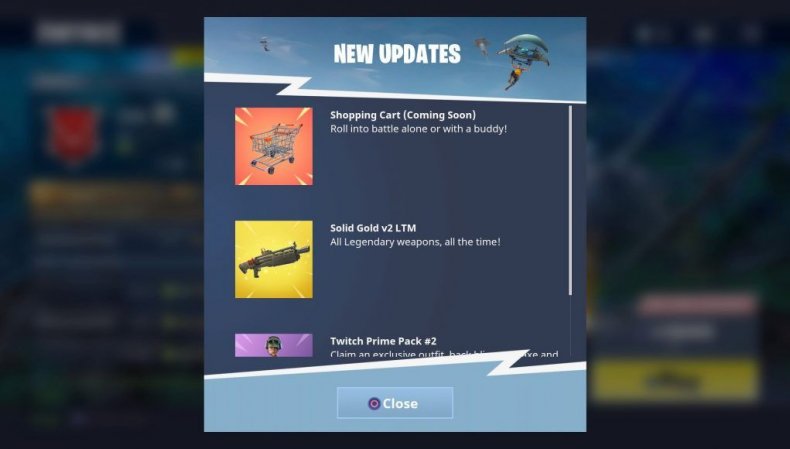 Expect these carts to hit the game during the next update, which will most likely go live on Tuesday or later this week. Like every item added to the game, expect to see a shopping cart related Battle Pass mission sometime over the next few weeks. Since it doesn't look like there's any mention of the mounts in the leaked week 5 challenges, Epic Games might wait before forcing players to crash into each other,
What are Shopping Carts in Fortnite?
Newsweek subscription offers >
Back in March, patch 3.0.0 brought an influx of shopping carts to Fortnite's map. Players were unsure if the carts meant anything until data miners found a "DrivableVehicles" folder hidden in the battle royale game folder. Cart models, vehicle animations and drivable functionality were all locked inside, dormant until a developer did something with them. After the update adding shopping carts you can ride to Fortnite , we finally know that those files weren't just a tease or a red herring.
It's unclear what the shopping carts can do yet, but expect them to work like they're real-world counterparts. You push the cart to go faster, braking with your feet or with a press of a button. A player can't shoot when pushing, but someone riding inside the basket is free to fire.
This post will be updated when the shopping cart goes live.
'Fortnite' Drivable Shopping Cart Added To Battle Royale | Gaming