Long queues appear and social distancing vanishes as shops in England reopen
Non-essential shops in England are beginning to reopen as lockdown restrictions are eased.
This has led to long queues at stores across the country, with hundreds of people in some cases waiting to get access to a physical store for the first time since March, when lockdown measures were introduced.
Scenes outside stores, as shown at the Nike store in central London, show that plans to retain a two-meter distance between customers, to limit the spread of COVID-19, have quickly vanished.
But measures put in place by retailers mean that the shopping experience inside the stores will be very different from what customers are used to, with safety paramount to shops remaining open.
One-way systems are in operation in many stores, with entry and exits marked on different doors. While they are allowed to touch items, they are discouraged from doing so.
Changing rooms are open but, after clothes have been tried on and given back, stores are either steam cleaning them straight away or putting them away from the shop floor for 72 hours.
"People should shop, and shop with confidence," U.K. Prime Minister Boris Johnson said about the re-opening.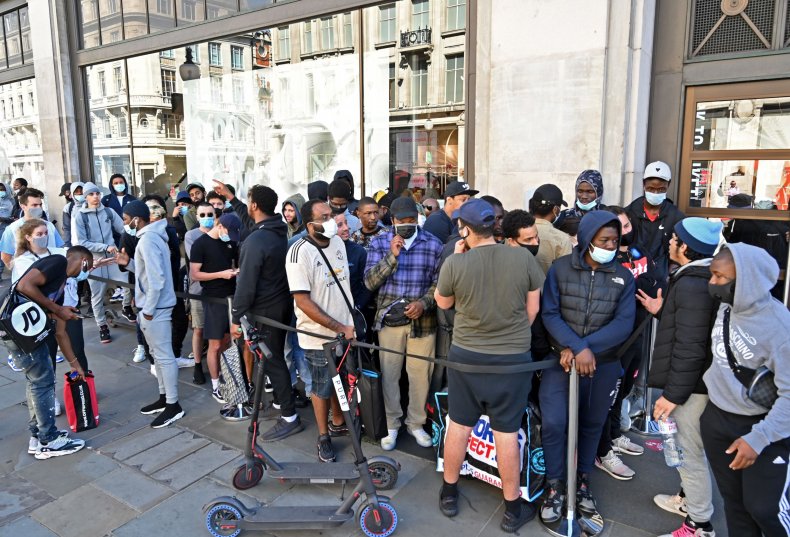 This is all part of new rules announced by U.K. Prime Minister Boris Johnson that come into force from June 15.
This means non-essential shops, zoos, auction houses, retail art galleries, photography studios and many more businesses can reopen.
The queues outside discount fashion retailer Primark have caused some people to criticize the U.K. consumer's approach to lockdown:
"People are queueing up outside Primark in Oxford Street since early morning hours!! We might find a cure for the Covid but will we ever find a cure for people's stupidity?" singer Hardip Barot tweeted.
But others have rushed to explain exactly why those queues might be there.
"Before joining the 'Primark queue slagathon' pls remember:
"a) some people CAN'T shop online as they don't have a credit/debit card b) money is tight for many now, so Primark is an affordable option c) many are buying clothes for their kids who've outgrown everything. Be kind," broadcaster and author Liz Fraser tweeted.
COVID-19 daily death figures in the U.K. are currently lower than at any other time in lockdown.
Changes in COVID-19 lockdown regulations from June 15 in England
Non-essential shops can open.
Pubs, restaurants and hairdressers will remain closed until at least July 4.
Churches, mosques and other places of worship can remain open for private prayer, though weddings and other group services are still not allowed.
Safari parks and zoos can open but indoor exhibitions will remain closed.
Outdoor cinemas can start allowing audiences again.
School pupils in years 10 and 12 (equivalent to 9th grade and 11th grade) are able to see their teachers, though a more full return is not happening until at least September after plans to reopen sooner were shelved.
Those living alone or single parents with children under 18 can now create a "support bubble" with one other household, intended to help those who have felt isolated by lockdown.
Face coverings are now mandatory on all public transport and in Uber cabs.
Vulnerable people who are "shielding" because of higher fatality risk from COVID-19 remain under stricter lockdown.