A shortage of custodial workers has prompted a Minnesota high school to hire its own students for the job.
Due to a range of complex and highly-debated factors—ranging from pandemic-related risks to long-standing grievances over working conditions and pay—schools across the country reported a dearth of bus drivers, custodial staff, substitute teachers, and other workers throughout 2021.
While the origins of the Anoka-Hennepin School District's janitorial shortage remain unclear, when faced with the problem, administrators devised an innovative solution.
According to the Star Tribune, the district, located northwest of Minneapolis, usually employs 220 custodial workers. This year, however, they were short by 18—a significant number which impacted the quality of their campuses and stretched existing staff too thin.
Tom Karp, assistant director of buildings and grounds, told the publication that he spent time trying to brainstorm a solution. He recalled: "I said, what if we looked at the untapped potential of high school kids?"
At Blaine High School, only seven out of the 10 full-time janitorial roles had been filled—making it the perfect place to pilot the new program. "We were immediately on board," said assistant principal Steve Drewlo. "We were really limited to having zero other alternatives."
Drewlo added, in a segment for NMTV News: "There's plenty of work for people to do, and we didn't have the personnel to do it. We couldn't do it. Period."
The program consists of a small group of students who each work for two hours after school. They earn $15.30 per hour, the same rate as the district's substitute janitors.
Administrators have found that the role is ideal for students, especially younger ones, as the job does not require transportation. Rather, the students simply stay on campus and then take the school activity bus home, if needed.
"We are really tight with our kids," noted Drewlo to Newsweek. "It's almost like they've been interviewing for this job for three years."
Currently, eight students are employed in the program, but that number is expected to grow. "It's virtually every day that we're getting a new inquiry about it," said Drewlo.
Additionally, the district is considering expanding the program to other schools.
"It took off a lot faster than what we even thought," Drewlo added. "It's been our way to survive our shortage. Otherwise...we weren't going to be able to uphold the standards that we're trying to have here."
He also noted that the school had already "tried three other avenues" to address the custodial shortage, primarily by using volunteers, but nothing gained traction.
Parents have also been pleased with the program, explained Drewlo, because "they know the environment" they are sending their children into.
Per the Star Tribune, Karp emphasized that the student workers are assigned a limited range of custodial duties, primarily Windexing surfaces, vacuuming, and taking out the trash. They do not clean bathrooms, locker rooms, or the school's kitchen. They are also not tasked with using any of the harsher chemicals typically involved in a custodial job.
A secondary effect of the program is a sense of pride in the students, for giving back to their peers and community
"It makes me feel kinda good because I'm helping out the community," said Blaine High School senior Ivan Belousav to NMTV News. "I'm making everything clean, everything look nice for my fellow students.
Newsweek reached out to the Anoka-Hennepin School District for comment.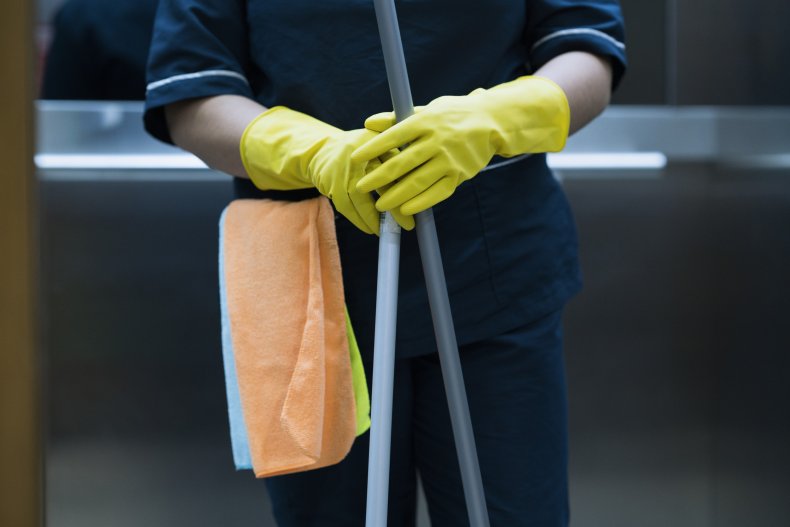 Updated 01/11/2022, 4:52 p.m. ET: This story has been updated with comments from Blaine High School assistant principal Steve Drewlo.