As U.S. Customs and Border Protection (CBP) continue to deal with a migration surge that has seen the agency encounter north of 164,000 people in the southwest over the past 10 months, local police are being forced to pick up some of the slack.
"The Border Patrol agents and the sheriffs are beyond a breaking point," Republican Congressman Tony Gonzales, who represents the district, told Newsweek.

Across Texas' expansive 23rd congressional district, which runs about 800 miles from south of El Paso to north of Laredo, responding to migrants trespassing through ranches and apprehending smugglers has become a normal part of the job for police, Gonzales told Newsweek.
The sheer size of the district, and the fact that its three primary border counties, Hudspeth, Presidio, and Brewster, are larger than some states, makes patrolling the area a challenge for both local and federal authorities. And because the per capita income of Texas' District 23 of just over $27,000 falls below the U.S average of almost $36,000, the area lacks resources to respond to the ongoing surge.
"The other part is they're very rural, so there's not a lot of people to begin with, but there's a lot of territory to cover," Gonzales told Newsweek.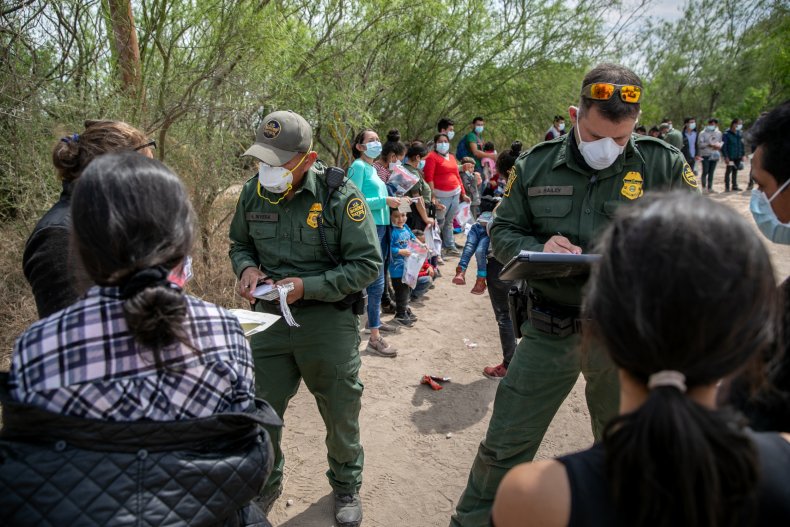 Gonzales said that the stress has led to a greater number of suicides and alcohol-related incidents for both Border Patrol agents and law enforcement. More officers have also retired, he said, and positions have become harder to fill.
Brewster County Sheriff Ronny Dodson, a Democrat, told Newsweek that his office has struggled with the tight staffing requirements, Gonzales mentioned, especially as more migrants have turned to smugglers as a means of entering the United States.
Dodson's 12 deputies who regularly patrol the county have seen an increase in human smuggling over drug smuggling. The deputies try to apprehend smugglers through monitoring checkpoints, but smugglers often seek ways to bypass these areas. To stay ahead of the changing dynamics, Dodson has relied on federal dollars divided out through a program called Operation Stonegarden.
"If that went away, we'd kind of be dead in the water," Dodson told Newsweek. "That's how we afford our vehicles, manpower, fuel, and report management systems"
Operation Stonegarden operates as a grant program under the Department of Homeland Security (DHS) which allows law enforcement to boost their capabilities through funding new hires, overtime hours, and equipment. To support small border law enforcement agencies like Dodon's, Gonzales aims to double the program's funding through a new bill.
Under Gonzales' Border Operations Strengthened by Stonegarden (BOSS) Act, funding would go from $90 million to $180 million for each fiscal year until 2025, with $60 million specifically designated for the purchasing of new technology. The bill would also allow currency seized at the southern border to be put into the grant and would require DHS to create reports on what can be done to improve CBP hiring and retention and what technology is needed. BOSS would also designate Mexican Drug Cartels as foreign terrorist organizations.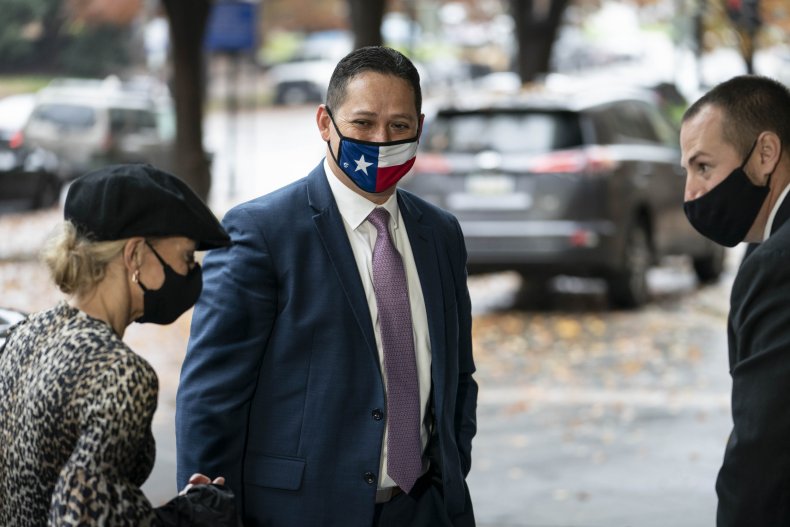 "When I first got elected (in 2020), here I am now representing this huge border district, and I made several trips early on, and when I met with folks, I asked them: 'If there's one thing I could do, what would you want me to do?'" Gonzales told Newsweek. "And this is where Operation Stonegarden kept coming up over and over again with the local law enforcement."
Gonzales said passing this bill is about creating solutions to the issues that law enforcement are facing right now. While he said issues at the border are bound to persist for some time, Gonzales sees this measure as something that supports U.S. interests along bipartisan lines.
Earlier this month, Gonzales held a bipartisan meeting with Border Patrol Chief Raul Ortiz and Capitol lawmakers, including Pete Aguilar (D-Calif.), Ken Calvert (R-Calif.), Salud Carbajal (D-Calif.), Chuck Fleischmann (R-Tenn.), Carlos Gimenez (R-Fla.), and Susie Lee (D-Nev.). The need for improved technology to maintain competitiveness with drug cartels, which now use drones to smuggle drugs, was a focus of the meeting. Gonzales sees Stonegarden as an answer to these needs.
"What this bill does is it puts some money towards the ability to use technology as a way to keep our country safe," Gonzales told Newsweek.
The CPB told Newsweek it has a longstanding relationship with both state and local law enforcement agencies in each state in which they operate.
"Operation Stonegarden is an example of this, which facilitates funding to state and local law enforcement agencies in support of border security," CBP told Newsweek in a statement. "We continue to leverage those longstanding relationships with state and local law enforcement, including deconflicting operations in the border region and responding to call outs from other law enforcement agencies."
Newsweek contacted the National Border Patrol Council labor union, and the Hudspeth, Presidio, and Brewster Country Sheriff's Offices but did not receive a response in time for publication.
Update: 2/15/22 3:08 P.M.: This article has been updated with the statement from CBP.
Update: 2/17/22 12:00 P.M.: This article has been updated with the statement from Dodson.