Short Supply of Monoclonal Antibodies May Force Oklahoma COVID Treatment Center to Close
Monoclonal antibodies are in short supply and an Oklahoma clinic may need to shut down if they don't start receiving larger quantities.
Monoclonal antibody treatments have been celebrated as a way to save lives and help reduce strains on health care systems by keeping some COVID-19-positive people out of the hospital. However, only one treatment has proven effective against the Omicron variant, creating a shortage of a treatment that was already in limited supply.
Jessica Deppin, a nurse practitioner at the COVID treatment infusion center in Oklahoma, told KFOR, that they've treated "thousands upon thousands" of people with monoclonal antibodies. However, they were at risk of closing down because they were out of doses and Deppin said "Oklahomans will die without this drug."
The nurse practitioner said she started getting nervous about a potential shortage when the Biden administration put a temporary allocation on the treatment. With seven states accounting for about 70 percent of orders, the Biden administration instituted a limit on how much could be ordered at any given time. The goal was to ensure supplies were available for patients in other states, but states that were in the middle of a surge pushed back, claiming that it would cost lives.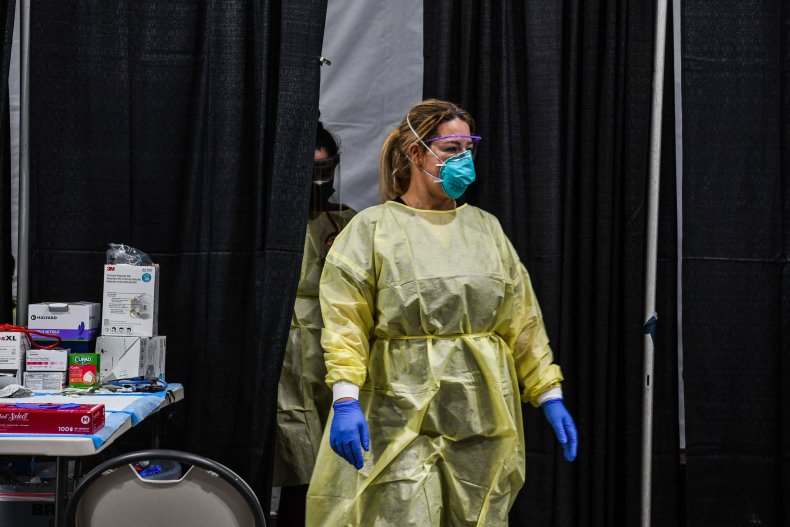 Fortunately, the clinic in Oklahoma received another shipment of about 114 doses, so they were able to keep their doors open. However, KFOR reported officials are concerned they might still have to shut down in the future if supplies don't increase.
Laynie Snider, who works at the treatment center, told KFOR that when there's a shortage of the treatment they have to "play God" and decide who is high risk enough to get the treatment.
Oklahoma has received at least 414 course of sotovimab, a monoclonal antibody treatment that's shown to be effective against Omicron.
Oklahoma isn't the only state feeling the impact of a shortage of monoclonal antibody treatments. Florida's surgeon general criticized the Biden administration's temporary allocation of the antibody treatment. In a recent letter to Health and Human Services (HHS) secretary Xavier Becerra, Florida Surgeon General Dr. Joseph Ladapo blamed the Biden administration for causing an "immediate life-threatening shortage" of treatment options to Florida as Omicron spread.
Ladapo urged the Biden administration to allow states to request an unlimited amount of any COVID-19 treatment. He added that pausing distribution of the two other monoclonal antibody treatments was "shortsighted."
The Biden administration paused the distribution of two treatments after they showed little promise of being effective at preventing hospitalizations in people who were infected with the Omicron variant.
Officials in New York, Texas and other states have also warned of a shortage in the treatment. While vaccinations are still America's best tool against the virus, officials have advocated for fighting the pandemic with as many tools as possible and the lack of monoclonal antibodies could add to the strain hospitals are already experiencing.