Shorter Show But Still Tall in Humor, 'Conan' Launches Anew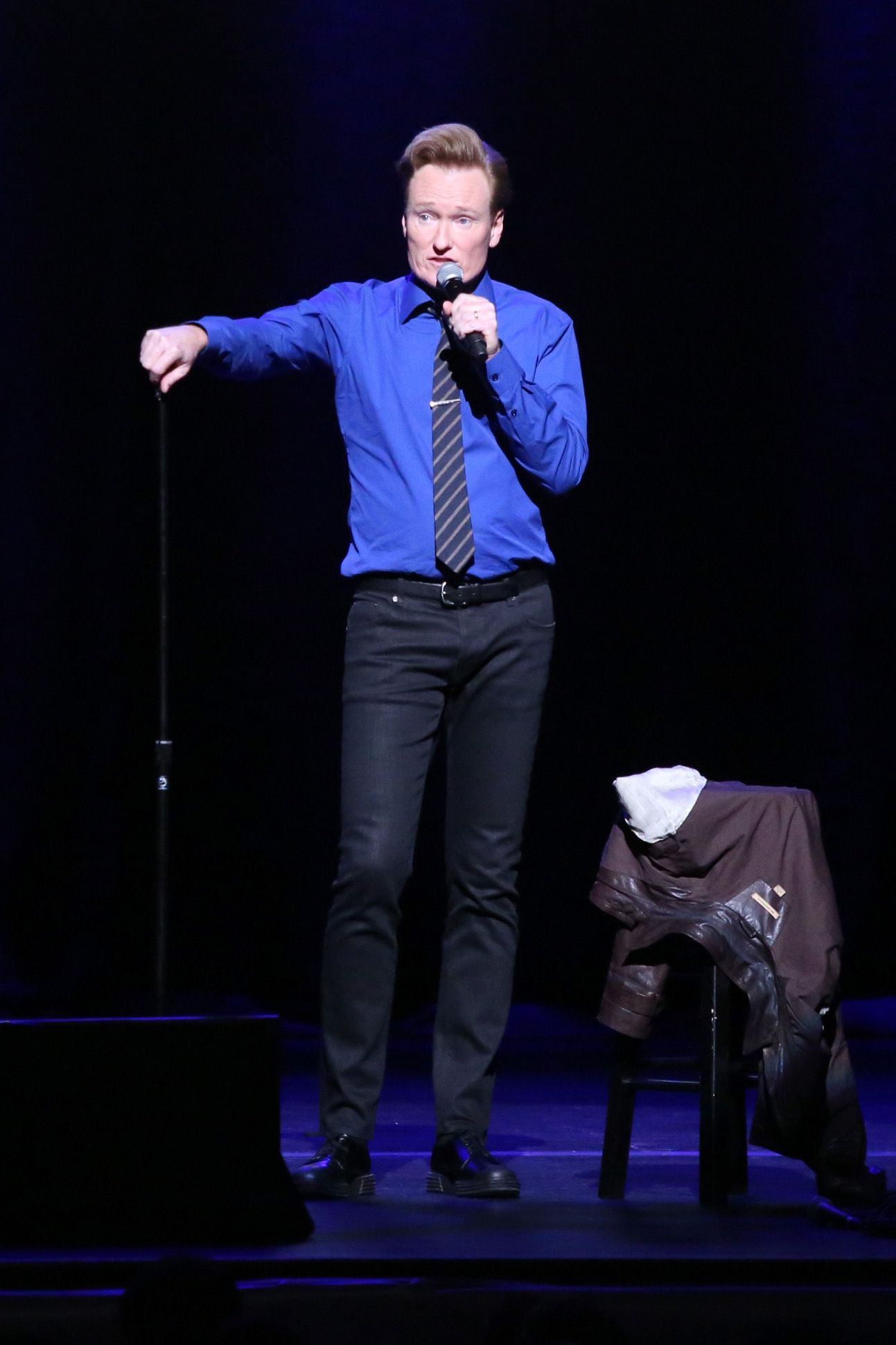 Conan O'Brien's spanking-new 30-minute talk show — aptly named Conan — debuted on TBS Tuesday night, but it's already been renewed until 2020.
"We're back with a 30-minute show, [but] I don't want you to worry about that," O'Brien said at the top of his monologue. "It may only be 30 minutes, but I assure you, it's going to feel like two hours."
In reality, the different incarnations of the extremely tall, red-haired Harvard Lampoon alumni and Harvard-graduate-turned-TV talk show host, currently rests on the fresh, downsized half-hour format touted as a streamlined version of his hour-long Conan talk show, which ran from 2010 to 2018.
Before that, O'Brien hosted The Tonight Show with Conan O'Brien from 2009 to 2010. Prior to that, he entered the late-night talk show fray with his original Late Night with Conan O'Brien, from 1993 to 2009.
The reason for the new shortened format, O'Brien told TVLine, is that he and his producers have switched to the new digital world in which shorter attention spans and multi-tasking seem to rule streaming and television services. Not to be outdone by the cool kids, they have adapted.
Last October, he said a 30-minute show would allow him to do "a higher percentage of the comedy in, and out, of the studio that I love," which "seems to resonate in this new digital world."
If you missed O'Brien during his October-to-January hiatus, perhaps a healthy dose of his well-received, critically acclaimed Conan Without Borders on Netflix will appease your withdrawals until you tune into his half-hour show.
Conan Without Borders is a side-splitting travelogue mixed with insightful historical perspective about his trips to Cuba and Korea, for starters. He interacts with everyday people, an appealing approach for fans who get him and his brand of humor.
He has entered the podcast world, too, with Conan O'Brien Needs a Friend. O'Brien recently wrapped up a comedy tour, too.
On January 19, O'Brien slayed with his usual witty comebacks as special guest on NPR's Wait, Wait, Don't Tell Me as the panel quizzed him in a segment they called, "Team Coco, meet hot cocoa!"
The revamped Conan boasts a more casual backdrop and laid-back attire, as The New York Times described it.
"This is how I dress in real life," he said. "I call my look 'hip biology teacher.'"
Long-time side-kick Andy Richter grumbled about the new set, saying "It looks like a strip club in 'Grand Theft Auto!"
Richter played Conan's fretting wife with him in a This Is Us parody, then Conan hosted actor Tom Hanks, who was O'Brien's first guest on the The Tonight Show in 2010. Hanks started calling him "Coco" at that time and the name has stuck, expanding O'Brien's brand to "Team Coco."
Asserted O'Brien about the nickname on Tuesday night: "That was all you. It has followed me. It will follow me to the grave."
Responded equally wise-cracking Hanks: "Well, it's because I couldn't remember your name."
Minus the authoritative desk and Richter's wise-guy podium of old, the new set also lacks Jimmy Vivino and the Basic Cable Band, according to TVLive.
But the shorter format seemingly doesn't detract from O'Brien's trademark humor and quirky take on the world.
As the New York Times coined it, "Shorter Show, Same Conan."