Highland Park Shooting: Seven Killed, Dozens Injured at July Fourth Parade
Seven people were killed and more than two dozen wounded during a shooting at a Fourth of July parade in Highland Park, Illinois, on Monday, according to law enforcement officials.
As of Monday night, six people were reported dead. The Lake County Coroner's office identified those individuals as Katherine Goldstein, 88, Irina McCarthy, 35, Kevin McCarthy, 37, Jacquelyn Sundheim, 63, Stephen Straus, 88, and Nicolas Toledo-Zaragoza, 78.
A seventh victim was confirmed during a Tuesday press conference. Their identity has not yet been released.
After an eight-hour search, police apprehended 21-year-old Robert E. Crimo III, who is suspected to be responsible and has yet to be formally charged.
While police believe that Crimo concealed his identity with a disguise before accessing the roof from which he fired, a motive remains unknown. Authorities say he acted alone in the shooting.
The Chicago Sun-Times reported the parade in the Chicago suburb was stopped when shots rang out shortly after 10 a.m. local time.
"As they fled the parade route on Central Street in downtown Highland Park, parade-goers left behind chairs, baby strollers and blankets as they sought cover, not knowing just what happened," the Sun-Times reported. "Even as people ran, a klezmer band, seemingly unaware of the gunfire, continued to play."
The newspaper said reporter Lynn Sweet was on the scene and witnessed multiple people covered in blood and blankets covering three bodies.
Sweet shared a brief video on Twitter of people running away when the shooting began.
A Facebook post on the local news page Lake & McHenry County Scanner reported that nine people were shot. The City of Highland Park confirmed that 16 people were transferred to the hospital.
WFLD, a Fox-affiliated station in Chicago, reported that one witness said he counted more than 20 gunshots fired. The station also said police told people to disperse because it was not safe.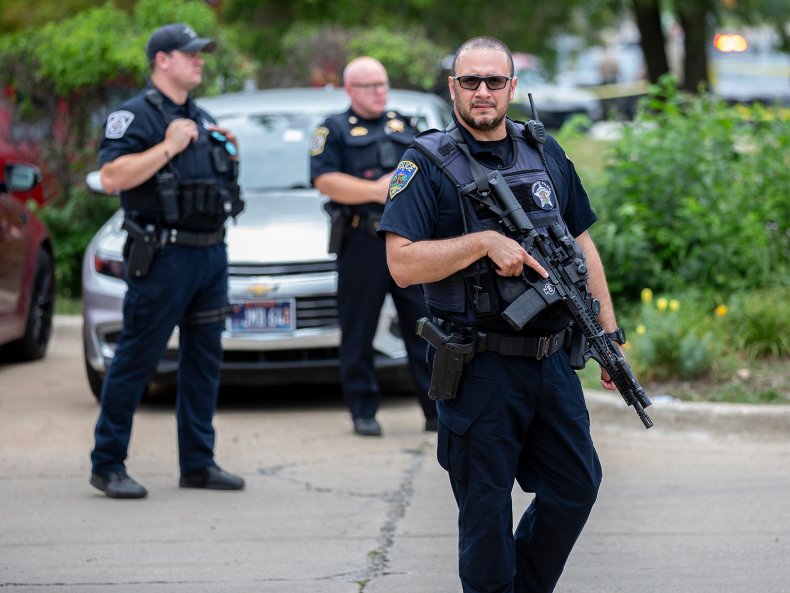 Highland Park is approximately 25 miles north of downtown Chicago in Lake County. The city's website wrote that its Independence Day parade was set to feature marching bands, floats and other entertainment.
At the time of the shooting, Highland Park's Facebook page has since warned residents in downtown to shelter in place and announced all of the day's Fourth of July activities have been canceled.
The Lake County Sheriff also posted on Twitter that the public should avoid downtown Highland Park as police respond to the shooting.
"STAY OUT OF THE AREA—allow law enforcement and first responders to do their work," the office wrote.
The Illinois State Police indicated on Twitter it was helping with the investigation.
"The Illinois State Police is currently assisting Highland Park PD with an active [shooter] situation that occurred at the Highland Park Parade," the department tweeted. "The public is advised to avoid the area of Central Ave and 2nd St. in Highland Park."
Democratic Representative Brad Schneider of Illinois, whose district includes Highland Park, wrote on Twitter that he was present at the parade when the shooting occurred.
"Hearing of loss of life and others injured. My condolences to the family and loved ones; my prayers for the injured and for my community," Schneider wrote. "Enough is enough!"
Newsweek reached out to the Highland Park Police Department.
Update 07/04/22 2:27 p.m. ET: This story has been updated to include more information.
Update 07/05/22 5:06 p.m. ET: This story has been updated to include more information.