Shots Fired at U.S. Embassy in Turkey Latest: Drive-by Shooting in Ankara
Unidentified gunman have fired on the U.S. Embassy in the Turkish capital of Ankara as relations between the two nations continue to deteriorate.
At around 5 a.m. local time on Monday, several shots were fired at the building from a vehicle, hitting a window in a security cabin but causing no injuries, Reuters reported.
Police are now searching for the attackers, who fled the scene in a white car. Four or five gunshots were heard. Although the embassy was set to be closed this week for a holiday marking the Islamic Eid al-Adha festival, such a brazen assault on the American Embassy speaks to the anger over the diplomatic crisis developing between the two NATO allies.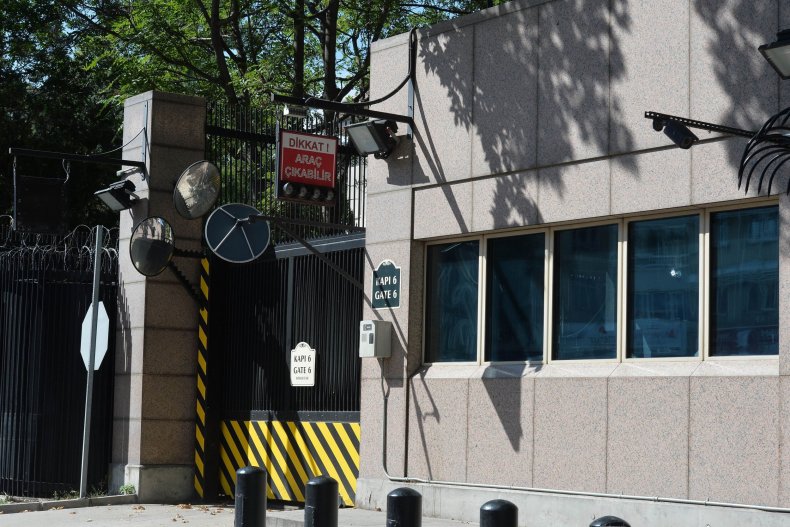 The U.S. has imposed sanctions on several Turkish officials to try and force the release of American pastor Andrew Brunson, arrested and accused of links to terrorist groups by the Turkish government. Brunson was arrested in a nationwide crackdown following a failed coup in 2016.
Turkish officials have said they will exchange Brunson for Fethullah Gulen, a Turkish cleric living in Pennsylvania whom Ankara accuses of being behind the coup. The U.S. government has refused to extradite Gulen, arguing that Turkey has yet to provide sufficient evidence to justify such a step.
President Recep Tayyip Erdogan previously gave a speech addressing the U.S., saying: "'Give us the pastor back,' they say. You have one pastor as well. Give [Gulen] to us. Then we will try [Brunson] and give him to you."
President Donald Trump has remained characteristically bullish. "They are now holding our wonderful Christian Pastor, who I must now ask to represent our Country as a great patriot hostage," he tweeted last week. "We will pay nothing for the release of an innocent man, but we are cutting back on Turkey!"
The American sanctions have sent the Turkish lira—already struggling alongside the country's sluggish economy—into a nosedive. Since August 10, the lira has lost 18 percent of its value. Erdogan responded by encouraging Turks to boycott American goods. This produced bizarre scenes of citizens destroying iPhones in a variety of ways, including with sledgehammers, fire and handguns.
The Ankara Embassy has been the target of attacks in the past, as has the American consulate in Istanbul. In 2013, a police officer was killed and several others injured by a suicide bombing outside the embassy. In the past year, two planned attacks have been foiled by Turkish police, one by a group of four Iraqis and the other by suspects linked to the militant group ISIS.