Shotzi Blackheart Is Ready to Bring Her 'Daredevil Spirit' to NXT
On a special holiday episode of NXT, Shotzi Blackheart made her WWE debut in a singles match against Bianca Belair. While she didn't get the victory, it marked the start of her meteoric rise.
Since that Christmas episode, the 26-year-old California native has had prominent moments on NXT and has been involved in high profile matches and was even a part of this year's Royal Rumble.
"[My rise] has been really fast. I really didn't know what to expect coming in. So to debut on Christmas was pretty great," Blackheart told Newsweek on Tuesday. "I was at Evolve three weeks before my debut match and it's all been wild. And getting to be in the Royal Rumble was insane. I still can't believe that was real. It's just been so much fun."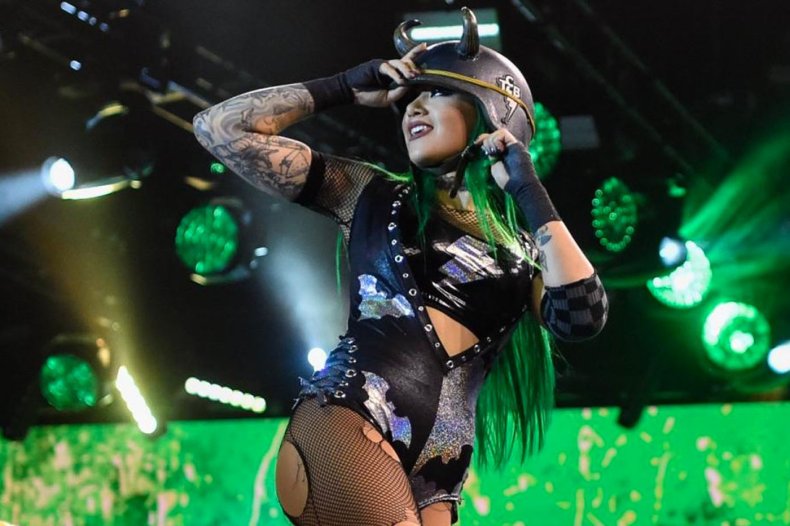 Blackheart began her professional wrestling career in 2014 and cut her teeth in the independent scene for promotions like Rise and Shimmer before signing with the WWE in 2019.
"As far as a performer, as a wrestler I have not changed anything," Blackheart said. "[WWE] are really awesome about letting me just be me. And do what I've been doing on the indies already so that's been really great."
What's better for Blackheart is being a part of the deepest and arguably the best division in all of WWE. The NXT women's division has a long history of developing some of the most talented women wrestlers of this generation.
Even RAW and SmackDown stars like Charlotte, Becky Lynch, Asuka and more all began their WWE careers in NXT.
"The NXT women's division is a game-changer for women's wrestling. Sara Amato is right behind that," Blackheart said. "She's an amazing coach and she drills us, she polishes us and she is the backbone behind all of that even before I got here it was always, 'NXT has the best women's division' and I want to be a part of it."
Blackheart says she loves bringing that "daredevil spirit" to the NXT women's division and her matches especially at this most recent NXT Takeover: In Your House where she, Tegan Nox and Mia Yim defeated Dakota Kai, Raquel Gonzalez and Candice LeRae.
Takeovers are what NXT superstars work to be a part of, and that's something that Blackheart was inspired by even before coming to WWE.
"I watched them all. When I was told about my match against Bayley and Sasha [Banks] it immediately took me back to their matches at Takeover against each other and just how they went balls to the wall and left it all in the ring," Blackheart said. "That's what I try to do every time I get into the ring and that's why I know they got that spirit and I have that spirit, Tegan's got that spirit and we're all going to be in the ring together."
Blackheart and Nox's work together in NXT has earned them a Women's Tag Team Championship opportunity against Bayley and Sasha Banks, two legends of the black and gold brand, this Wednesday. Blackheart says that Sasha and Bayley's singles matches were a game-changer for women's wrestling.
"I've been a fan of theirs since I started wrestling. As my career evolved I watched their careers evolve in WWE," Blackheart said. "It's amazing that I get to get in there with girls that I've looked up to for so long."
This is Bayley and Sasha Banks' second reign with the Women's Tag Team Championships so Shotzi and Tegan will need to pull all the stops to come away victorious, but Blackheart feels the chemistry with her tag partner is only getting stronger.
"It's been so great she's so much fun. Her energy is great, she pumps me up, she makes me feel good," Blackheart said. "I think we already have very good chemistry together. Also this all kind of happened by accident, but I love working with her."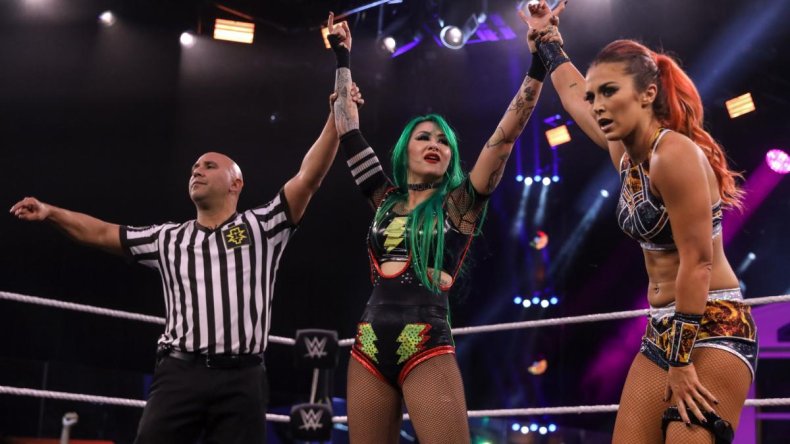 Winning the Women's Tag Team Championship will allow Blackheart and Nox to appear on all three brands of WWE to defend the titles. Although Blackheart lists Nikki Cross and Alexa Bliss, Asuka and Kairi Sane, and The IIConics as teams she would love to face if she wins the tag title match on Wednesday, it's what the win would mean to the NXT brand that Blackheart is looking to accomplish.
"It's also a pride thing for NXT. A lot of times people like to call us the developmental brand," Blackheart explained. "I feel like we can prove that's not the case and bringing those titles to NXT really shows that."
NXT airs every Wednesday at 8 p.m. EDT on USA Network.